We may earn an affiliate commission if you purchase products through links on our website. As an Amazon Associate, we earn from qualifying purchases. Learn more.
Thunderbolt 5: Latest Updates, Specs And Release Date
Unveiled in September 2023, Thunderbolt 5 represents the latest leap in high-speed wired connectivity, doubling the bandwidth of Thunderbolt 4.
Offering blazing fast speeds up to 120Gbps, support for multiple 8K displays, and beefed up power delivery, Thunderbolt 5 supercharges data transfer and powers the most intensive creative workflows.
While you get most of the same features as Thunderbolt 4, these are the most notable upgrades of Thunderbolt 5.
Thunderbolt 5 Specifications and Upgrades
Bandwidth

– The increased bandwidth of 80 Gbps bi-directional data is double that of Thunderbolt 4.

Bandwidth Boost

– Bandwidth Boost technology dynamically allocates data speeds up to 120 Gbps when you connect higher-resolution monitors.
Monitor Support – You can connect multiple 8K monitors or choose between three 4K monitors at 144Hz and lower resolution displays with up to 540Hz refresh rate.

Power Delivery

– It has a minimum power delivery of 15W, with the maximum going up to 240W, keeping even the most powerful laptops charged up during intensive workloads.

Technology

– It uses USB4 V2 technology and applies the same Pulse-amplitude modulation, PAM-3 signaling that enables higher bandwidths.
It's also backward compatible with Thunderbolt versions that use USB-C connectors, namely Thunderbolt 3 and Thunderbolt 4.
Additionally, it offers many of the same features as Thunderbolt 4, with support for wake-from-sleep (while using a dock) and Intel VT-d-bases DMA protection.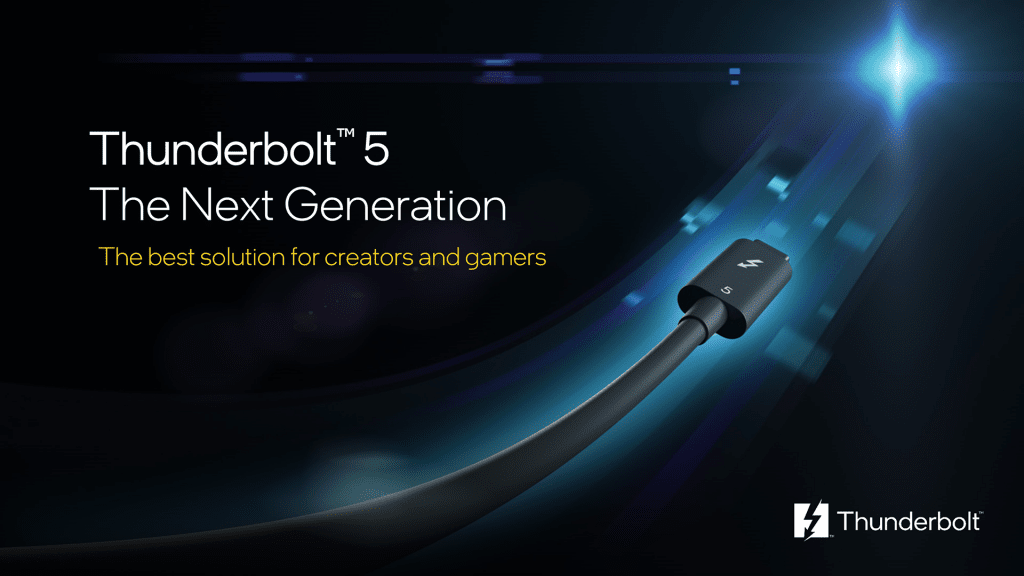 Thunderbolt 5 vs Thunderbolt 4 vs Thunderbolt 3: At a Glance
The table provides an at-a-glance view of how each version of Thunderbolt progresses in a few crucial areas. Further in this article we discuss a more detailed breakdown of what these changes mean for real-world usage.
| Feature | Thunderbolt 5 | Thunderbolt 4 | Thunderbolt 3 |
| --- | --- | --- | --- |
| Total Bandwidth | 80 Gbps & 120 Gbps with Bandwidth Boost | 40 Gbps | 40 Gbps |
| Data Transfer Bandwidth | 64 Gbps | 32 Gbps | 32 Gbps |
| Display Support | Up to 3x 4K@144Hz, multiple 8K, lower res @540Hz | Up to 2x 4K 60Hz or 1x 8K 60Hz | Up to 2x 4K 60Hz |
| DisplayPort Version Support | 2.1 | 1.4 | 1.4 |
| Charging | Up to 240 W | Up to 100 W | Up to 100 W |
| Minimum Power Delivery | 15W | 15W | 7.5W |
Bandwidth Improvement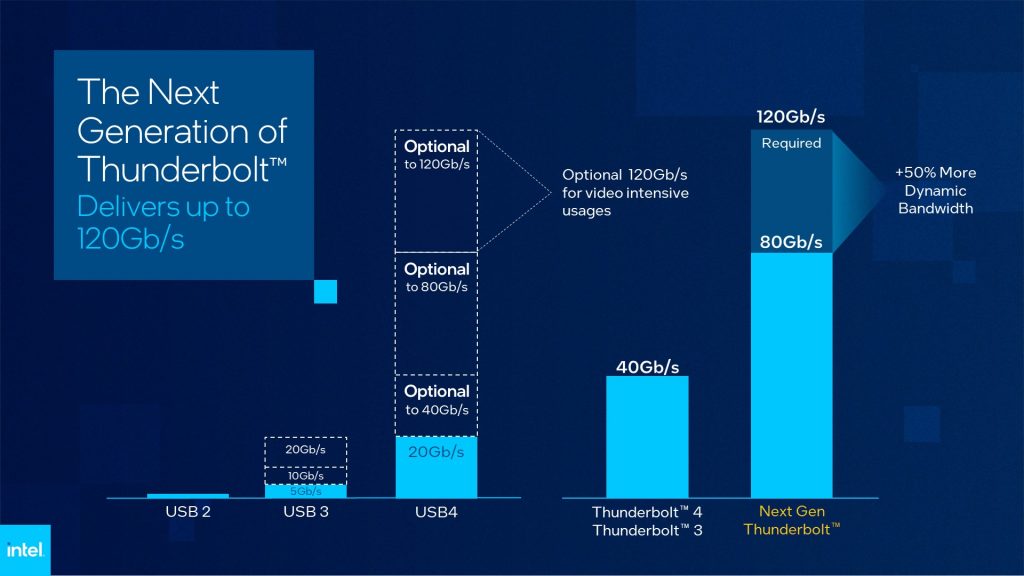 Thunderbolt 5 uses four data channels to connect the host computer and peripheral devices.
2 channels are for sending data and 2 are for receiving data.
Each channel has a bandwidth of 40 Gbps.
This gives Thunderbolt 5 a total bidirectional bandwidth of 80 Gbps across the four channels.
This will matter when discussing Bandwidth Boost.
So, what does this mean for the end user?
The increased bandwidth results in less waiting time when transferring large amounts of data. For example, if you need to move hundreds of gigabytes of raw video footage files from one computer to another, Thunderbolt 5 enables transfer speeds of up to 10GB/s.
Compared to Thunderbolt 4's 5GB/s, this cuts the transfer time in half.
This saves time for content creator and IT staff.
The time savings provided by Thunderbolt 5 are significant for content creators and IT administrators who often need to transfer large video files or multiple backup volumes.
It makes it faster to manage large personal media libraries.
For typical home and small office use, this level of bandwidth is rarely needed. However, many of us have large personal media libraries that we've spent time curating.
With Thunderbolt 5, you can quickly transfer and back up these libraries to RAID storage or portable hard drives.
While the ultra-high bandwidth of Thunderbolt 5 may exceed the needs of everyday users, it provides substantial time savings for power users working with very large files.
The increased speed makes managing and transferring high-resolution video libraries much more efficient.
What is "Bandwidth Boost"
A significant upgrade provided by Thunderbolt 5, besides the doubled bandwidth of 80 Gbps, is the new Bandwidth Boost feature.
Bandwidth Boost enables the Thunderbolt controller to dynamically allocate up to 120 Gbps of bandwidth, surpassing the standard 80 Gbps offered by Thunderbolt 5.
Thunderbolt 5 is designed to detect and dynamically reallocate an additional data channel (out of the four existing ones we discussed earlier) to offer as much as 120 Gbps data transfer speed.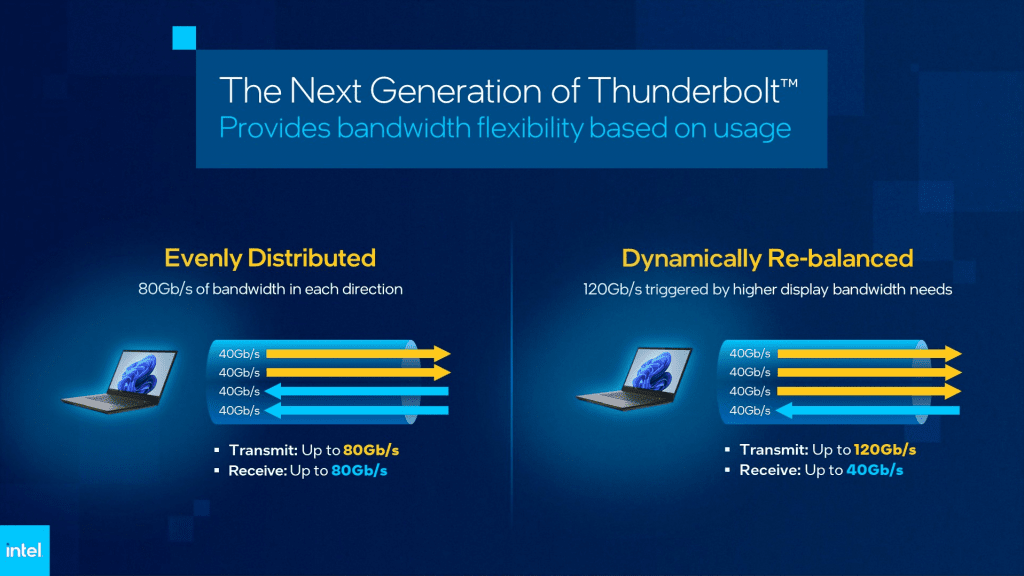 But there's a catch…
You can't use the 120 Gbps for transferring large volumes of data.
Instead, Thunderbolt 5 triggers the 120 Gbps transfer mode when it detects a display that requires greater bandwidths to support higher resolutions and features like HDR or multi-monitor setups that require enhanced bandwidths to support high-resolution displays.
While Bandwidth Boost is suitable for multiple monitor setups and high-resolution displays essential for content creation workflows, it's also ideal for high-performance gaming, which requires high refresh rates that demand greater bandwidth for video signals.
Thunderbolt 5 has limited use for content consumption because most mainstream content is still exclusively available in 4K resolution, eliminating the need for high-resolution monitors.
So until content producers adopt higher resolution like 8K, there is a limited need for Thunderbolt 5 for typical users.
Display Performance Improvements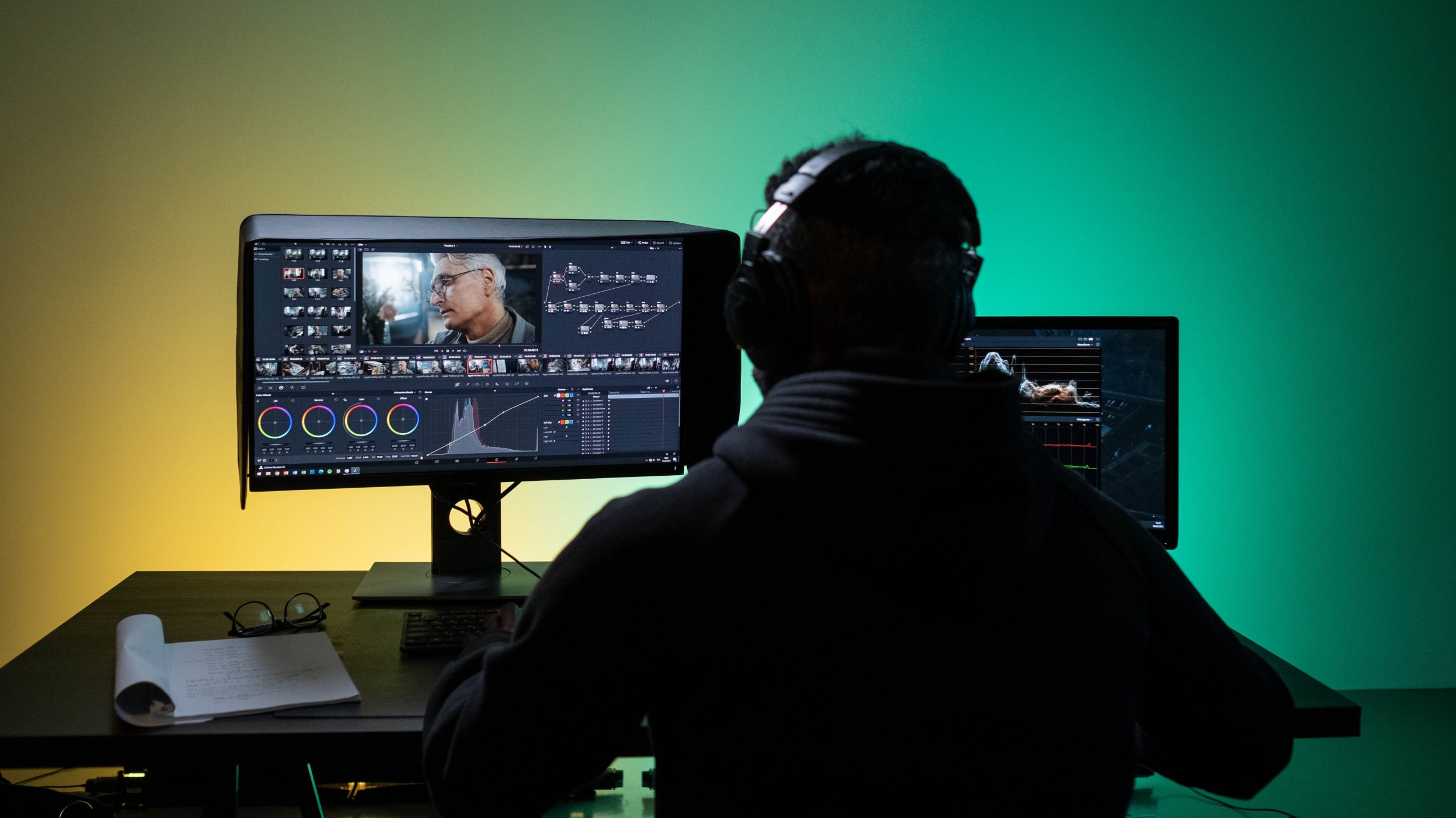 (tl;dr) Thunderbolt 5 supports:
Multiple 8K displays
Up to 3 x 4K displays at 144Hz
Up to 540Hz refresh rate for lower resolutions
Thunderbolt 4 allowed users to connect dual-4K monitors or a single 8K unit, giving Thunderbolt a considerable upgrade from Thunderbolt 3.
Thunderbolt 5 goes a step further and enables the use of
multiple 8K monitors

.

It achieves this by supporting DisplayPort v.2.1 and 120 Gbps data transfer speeds, both vital elements of this offering.

While Thunderbolt 5 supports 80 Gbps bi-directional data, with Bandwidth Boost it can kick it up a notch by connecting a high-resolution display that triggers the 120 Gbps speeds for video support.

Multiple 8K displays aside, gamers and content creators will experience immersive visuals never seen before, as Thunderbolt 5 supports up to three 4K displays running at a 144Hz refresh rate. And if you want better refresh rates, Thunderbolt 5 enables you to achieve up to 540Hz by sacrificing resolution.

Granted, 8K videos are hard to find, and the content creation industry has yet to adopt it wholeheartedly, but it is a technology of the future.

On Intel's admission, Thunderbolt 5 attempts to provide for "today's and tomorrow's" requirements.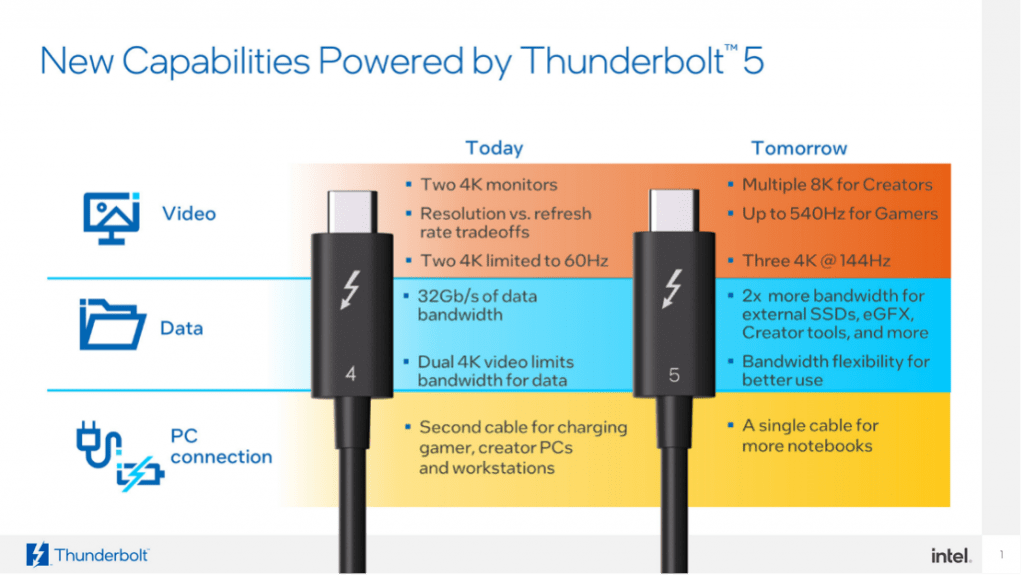 Doubled PCIe Bandwidth to 64Gbps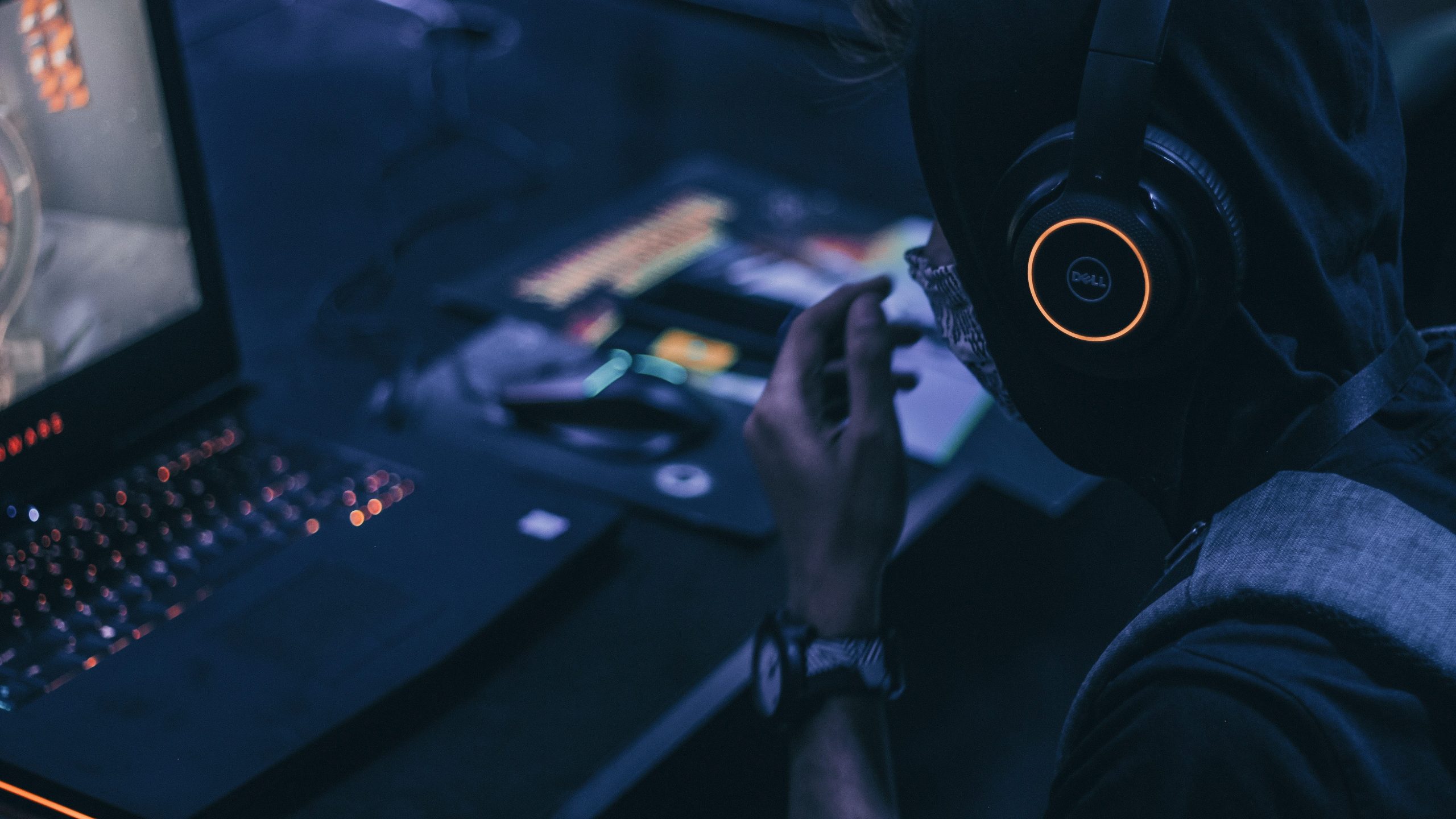 Thunderbolt 5 offers 64 Gbps PCIe data bandwidth, allowing you to use PCIe Gen 4 components like SSD storage and graphics cards.
Another of the biggest upgrades in Thunderbolt 5 is the doubled PCIe bandwidth to 64 Gbps, enabling full support for PCIe 4.0 components.
Previous versions of Thunderbolt capped PCIe speeds at 32 Gbps, limiting their ability to take advantage of the fastest modern accessories and peripherals.
With 64 Gbps of throughput available, Thunderbolt 5 can fully utilize bleeding-edge PCIe Gen 4 SSDs, discrete GPUs, video capture cards, and other add-on cards at their maximum rated speeds.
Gamers can also enjoy silky smooth gameplay by hooking up high-end PCIe 4.0 graphics cards to Thunderbolt 5 external GPU enclosures.
Content creators will appreciate the ability to use professional gear like PCIe 4.0 video capture and audio interface cards at full bandwidth.
Power Delivery Improvements
One of the most exciting upgrades in Thunderbolt 5 is the increased power delivery.
Thunderbolt 5 supports up to 240W power delivery on at least one port.
This allows you to charge even the most power-hungry laptops while you continue to work.
The minimum power delivery for Thunderbolt 5 is 15W, the same as Thunderbolt 4, and double that of Thunderbolt 3, which is 7.5W.
While mainstream laptops need less power, 240W can handle the demands of workstation laptops for video/image editing and high-end gaming laptops.
This extra power capacity is great news for gamers and creative professionals who use resource-intensive applications.
Faster Speeds, More Bandwidth, and Longer Cable
Thunderbolt 5 is based on USB4 V2, which uses an upgraded signaling mechanism called PAM-3 (pulse amplitude modulation).
PAM-3 is an enhanced signaling technology that plays a crucial role in doubling the bandwidth of the communication channels.
It does this by passing an additional data bit per clock cycle, thereby increasing data throughput.
Further, it ensures that Thunderbolt 5 works with existing passive cables up to one meter (3.3ft.), and cables up to 2 meters are in development.
Conclusion
Thunderbolt 5 will significantly enhance your computing experience, provided you have extraordinary requirements that match Thunderbolt 5's capabilities.
Most mainstream users and workflows have modest demands easily met by Thunderbolt 3 or 4.
However, Thunderbolt 5 is an excellent upgrade for intensive applications like content creation and high-end gaming. Intel has taken immense care of the needs of such power users, and Thunderbolt 5 will find widespread acceptance and immediate adoption from users involved in these roles.
Answers to Frequently Asked Questions
What is the difference between Thunderbolt 4 and Thunderbolt 5?
The main differences between Thunderbolt 4 and Thunderbolt 5 are:
Thunderbolt 5 has double the bandwidth at 80 Gbps compared to 40 Gbps with Thunderbolt 4.
Thunderbolt 5 introduces a new Bandwidth Boost feature that can provide up to 120 Gbps speeds for high resolution displays.
Thunderbolt 5 supports multiple 8K displays while Thunderbolt 4 was limited to one 8K or dual 4K display.
Thunderbolt 5 allows up to 3 x 4K displays at 144Hz refresh rate versus Thunderbolt 4's support for a single 4K display at 144Hz.
When are Thunderbolt 5 devices coming out?
According to Intel, the company will release Thunderbolt 5 technical specs and development resources to device makers in Q4 2024.
This means the first Thunderbolt 5 certified devices will likely arrive sometime in 2024-2025.
Is Thunderbolt 5 backwards compatible?
Yes, Thunderbolt 5 is fully backward compatible with previous versions of Thunderbolt that use USB-C connectors, including Thunderbolt 3 and Thunderbolt 4. Cables, accessories, and peripherals will continue to work on Thunderbolt 5 ports.
What is the transfer speed of Thunderbolt 5?
Thunderbolt 5 supports up to 80 Gbps bi-directional data transfer speeds. With the new Bandwidth Boost feature, it can provide speeds up to 120 Gbps to high-resolution displays that require the extra bandwidth.
---
Resources & Acknowledgements