We may earn an affiliate commission if you purchase products through links on our website. As an Amazon Associate, we earn from qualifying purchases. Learn more.
Envoy Pro SX Thunderbolt Powered SSD Review & Speedtest
A fast, compact, and high-capacity storage drive is a handy tool in today's highly digitized world. From time to time, we all need to transfer voluminous data in our personal lives for data backups and collaboration with colleagues in our professional lives.+
Table of Contents
The OWC Envoy Pro SX SSD is an excellent solution that's perfect for the job. Besides all that we mentioned earlier, its performance is at par with rival devices, and it's easier on your pocket too. This is especially true for Mac users who need additional storage but at a pocket-friendly price.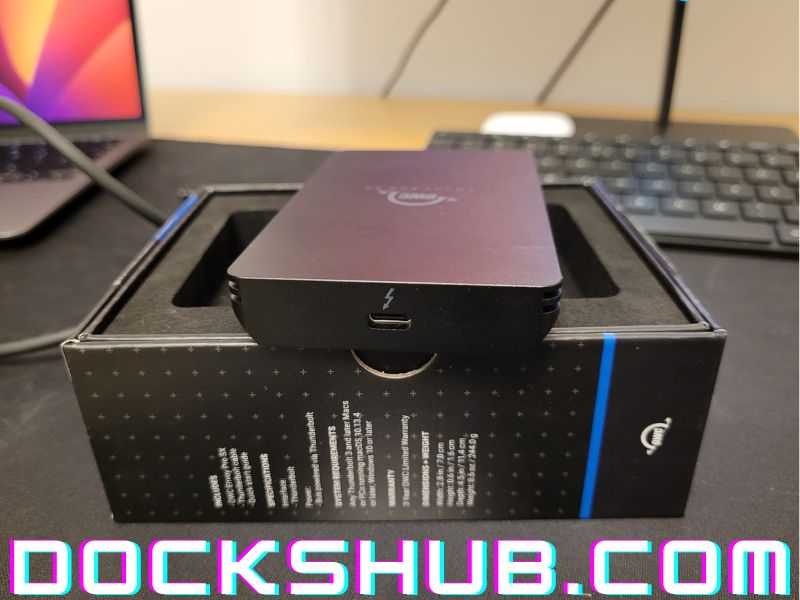 Design
The Envoy Pro SX is a bus-powered external SSD, making it an excellent standalone device for travel. You won't need external power adapters as the device draws power from the data bus you use to connect it to your computer. Of course, this also means fewer cables to manage, resulting in a clutter-free work environment for improved efficiency.
It has a sturdy all-metal enclosure that protects the device from rough handling, making it long-lasting and durable. Its unibody outer shell makes it impervious to dust and water, thus giving it an impressive IP67 rating for environmental elements.
OWC (the manufacturers) cleverly incorporates ridges along the side edges of the shell. So, apart from an enhanced grip, these ridges act as heatsinks to ensure that the drive remains cool even during prolonged operations. It's fair to say that the Envoy Pro SX has a simple and minimalist design that features a USB-C port on the rear panel and an LED on the front panel that indicates the power and activity status.
However, we are sure that this external drive's compact size will excite you the most. The 4.5×2.8×0.6-inch (LxBxW) body will not only fit in your laptop bag but also your pocket (literally and metaphorically), making it convenient to carry everywhere you go, and its 231 grams won't weigh you down.
Technology
The Envoy Pro SX natively uses Thunderbolt 3, which promises data transfer speeds of up to 40Gbps or roughly 5GB/s. Of course, when dealing with storage drives, what matters most is the read/write speed which we'll discuss in the next section.
For Thunderbolt capabilities, the device employs Intel's JHL6340 Thunderbolt 3 controller chipset, which supports a single Thunderbolt 3 port configuration and is the main reason behind the device's compact size.
However, keeping your expectations in check is advisable as data transfer speeds depend on the computer you are using. The drive uses a USB-C Thunderbolt 3 interface and is compatible with older USB versions with lower speeds than Thunderbolt 3. So while you can use the Envoy Pro SX with an older computer with USB-C ports, the actual data transfer speeds will be those of the USB version and not the drive's Thunderbolt 3 specifications.
This M.2 NVMe SSD drive uses an M.2 drive interface for facilitating high data transfer rates using Thunderbolt functionality. It employs PCIe 3.0 data lanes that support data transfer speeds of about 1GB/s on a single data lane.
Performance
The Envoy Pro SX Thunderbolt 3 external SSD is fast and can transfer vast volumes of data in a very short time, but don't just take our word for it.
We put the Envoy Pro SX through the works to give you a report based on first-hand experience. We hooked up the drive using a Thunderbolt 4 port on our M1 MacBook Air with 8GB RAM. To measure the read and write speed of the drive, we downloaded and installed AJA System Test, an easy-to-use app that measures drive performance. Here is a small video that shows the results.
Read/write speeds depend on several factors, including the number and size of files you transfer. For this reason, we ran a couple of tests with varying data sizes. The drive yielded a read speed of 2472MB/s and a write speed of 2145MB/s for a 4GB data block.
For a more significant 16GB block, the read speeds were marginally lower but still impressively fast, with a rate of 2460MB/s. The write speed took a noticeable hit and measured 1972MB/s. But considering the size of the data block, we were suitably impressed with it.
Compatibility
The Envoy Pro SX is compatible with all leading operation systems. It's a plug-and-play device, so novice users can use it right out of the box without downloading and installing device drivers. But it's advisable to check your system's specifications to ensure you have a compatible port to use this external drive to its optimum capabilities.
The drive is compatible with macOS 10.13.4 and later. We connected the drive to our MacBook running on macOS 13.4.1, which detected the drive instantly, and we were on our way in no time.
Mac users will love this device. Besides its simple operations, the drive is the easiest and most pocket-friendly way to cater to your ever-expanding storage needs. Per GB of storage space, it works out considerably cheaper than if you were to buy additional storage from Apple, and you have the added advantage of portability.
The Envoy Pro SX is also compatible with Windows 10 64-bit, Windows 11, and you can use it with Windows Server 2016. So in terms of compatibility, the drive is versatile, and as long you use a Thunderbolt port, you will derive unmatched benefits from it.
Verdict
The Envoy Pro SX is a versatile storage solution irrespective of the workflow you use it for. Whether your work involves being in the great outdoors and harshest environments, the Envoy Pro SX is rugged enough to handle any workflow you can throw at it.
However, durability is one of many reasons the Envoy Pro SX is so versatile. We love that the drive uses Thunderbolt 3 and offers excellent data transfer speeds, which significantly helps streamline your work. And with variants up to 4TB, you'll get a drive that best suits your workflow and budget.
Moreover, it's a combination of the drive's compact size, read/write speeds, durability, and the availability of high-capacity variants that make the OWC Envoy Pro SX so unique.