We may earn an affiliate commission if you purchase products through links on our website. As an Amazon Associate, we earn from qualifying purchases. Learn more.
Dell WD22TB4 Review – The First Modular Thunderbolt 4 Dock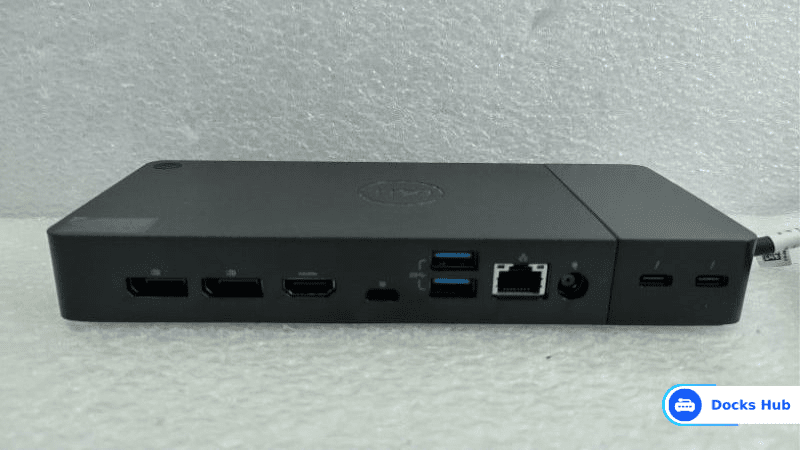 The Dell WD22TB4 Thunderbolt 4 Dock introduces a concept of modularity that stands out in the docking station market. This isn't just about connectivity; it's a forward-looking solution designed to evolve with advancing Thunderbolt technologies.
Best For
Dell laptop users aiming to leverage specific features like 130W power delivery, MAC-passthrough, integrated power/sleep button.
Users seeking a future-proof docking solution, because you can upgrade it to Thunderbolt 5 later on.
IT departments in corporate environments, if users have Dell laptops
Professionals needing seamless multi-display setups
Considerations
Some features are exclusive to Dell devices (MAC-passthrough, integrated power/sleep button)
Max power delivery is 90W for non-Dell laptops, not 130W
Upgrading the WD19 costs almost as much as a new WD22; similarly, the WD22 upgrade might equal the price of a new TB5 version upon its release. This remains to be seen, however.
Our Verdict
The modular design of the WD22TB4 allows for a simple upgrade path as new Thunderbolt iterations roll out, eliminating the need to purchase a new dock entirely. Thunderbolt 5 specs were recently announced, with devices expected in 2024. This provides flexibility and future-proofing not seen in other Thunderbolt docks.
The WD22TB4 is an extremely reliable dock coming from the reputable Dell brand that is a leader in the docking station market. For IT staff managing remote Dell laptop users, it's a great choice given the seamless integration and optimized experience for Dell machines.
The proprietary features like 130W charging, MAC pass-through, and integrated power/sleep buttons create a more streamlined experience specifically for Dell users.
The WD22TB4 is an excellent option for Dell-standardized corporate environments needing to equip remote workers. But non-Dell users may want to consider alternatives without proprietary limitations or more Thunderbolt ports for maximum flexibility.
For Dell users and IT teams, the docking experience is highly reliable, integrated, and optimized.
Last Amazon Price Update on 2023-12-03 at 22:56 UTC+3
Unboxing the Dell WD22TB4: A First Look
What's In The Box
The WD22TB4 comes in simple and straightforward packaging, with a box containing:
WD22TB4 docking station with attached 0.8m Thunderbolt 4 cable
180W power adapter
Quick start guide and regulatory/safety documentation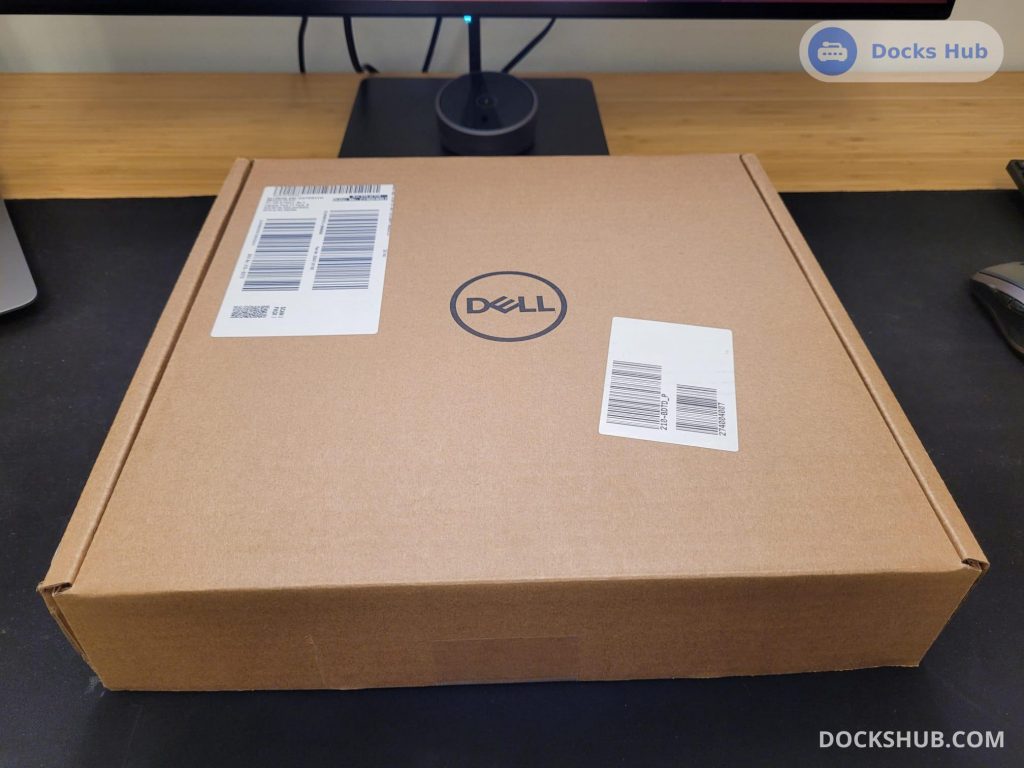 WD22TB4 Look & Feel
The dock has a plastic body in two different tones – a smooth texture for the removable Thunderbolt 4 module and a grainy texture for the main section. The build quality feels sturdy and premium.
The swappable module is locked in place with screws on either end for easy removal during upgrades. It can be easily removed with a standard Phillips screwdriver.
The power adapter has a chunky feel, but it doesn't feel cheap in any way.
In terms of design, the WD22TB4 closely resembles the previous WD19S docks, the key difference being the upgraded Thunderbolt 4 module. Like the WD19S, it lacks the two 3.5mm ports included on earlier WD19 models.
My initial impressions are positive. The dock seems well-made and equipped to provide Thunderbolt 4 speeds and power delivery. The modular design enables simple upgrading in the future.
Setup and Real-World Usage Insights
Getting started with the WD22TB4 was quick and painless. Simply connect the Thunderbolt cable to your laptop and the power cable to an outlet. The dock is plug-and-play with no drivers required.
The dock worked seamlessly with my MacBook, with no need for DisplayLink software. It delivers plug-and-play connectivity across platforms.
I tested setting it up on both Windows and macOS devices. In both cases, the dock was recognized immediately after connecting the Thunderbolt cable.
The WD22TB4 offers wide cross-compatibility, supporting Thunderbolt-equipped laptops from Dell and other major manufacturers.
For Dell notebooks, the dock provides full 130W power delivery, while it supplies up to 90W for non-Dell systems.
External SSD Test
I tested an external Envoy Thunderbolt PRO FX SSD and found minor reduced write speeds through the dock (1300MB/s vs 1900MB/s), but the read speed was unaffected. The SSD still delivered fast performance.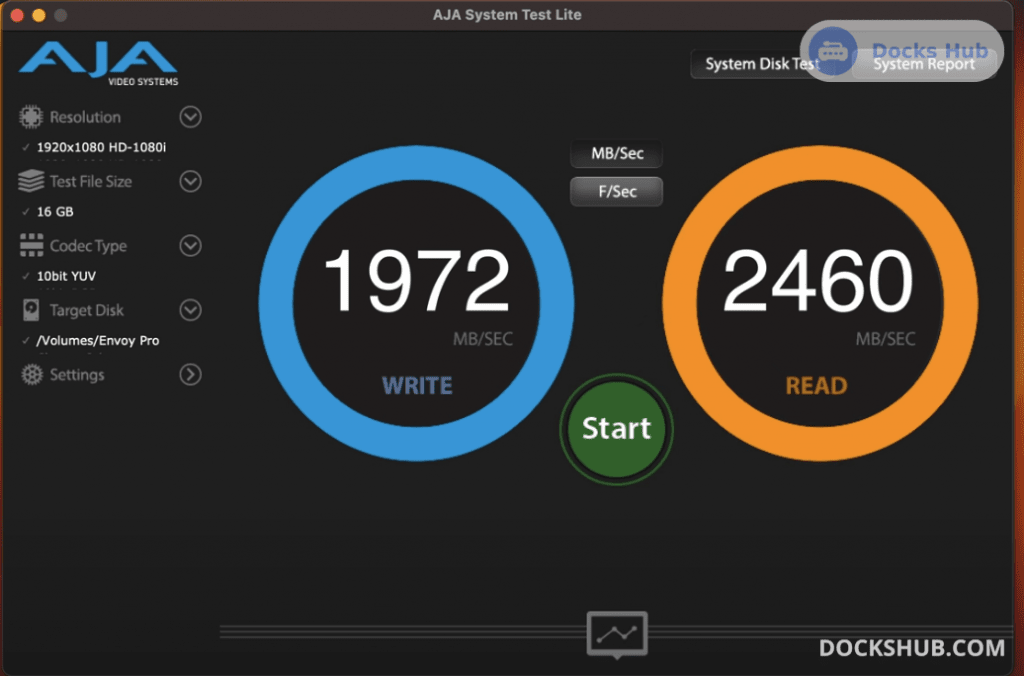 Integrated Power Button
The WD22TB4 has an integrated power button that can sleep or wake up only compatible Dell laptops. This feature allows you to dock your laptop with the lid closed and still power it on/off from the dock.
It would be interesting to test if the button can be reprogrammed for use with other laptop brands. The ability to control the power state right from the dock is a handy inclusion for those who dock with the lid shut.
4k @ 144Hz DisplayPort Performance
The dock had no issues driving a 4K 144Hz monitor, delivering fluid high refresh rate performance, however, HDR didn't work.
HDR worked at 4K 120Hz but not at 144Hz, a limitation others have reported as well.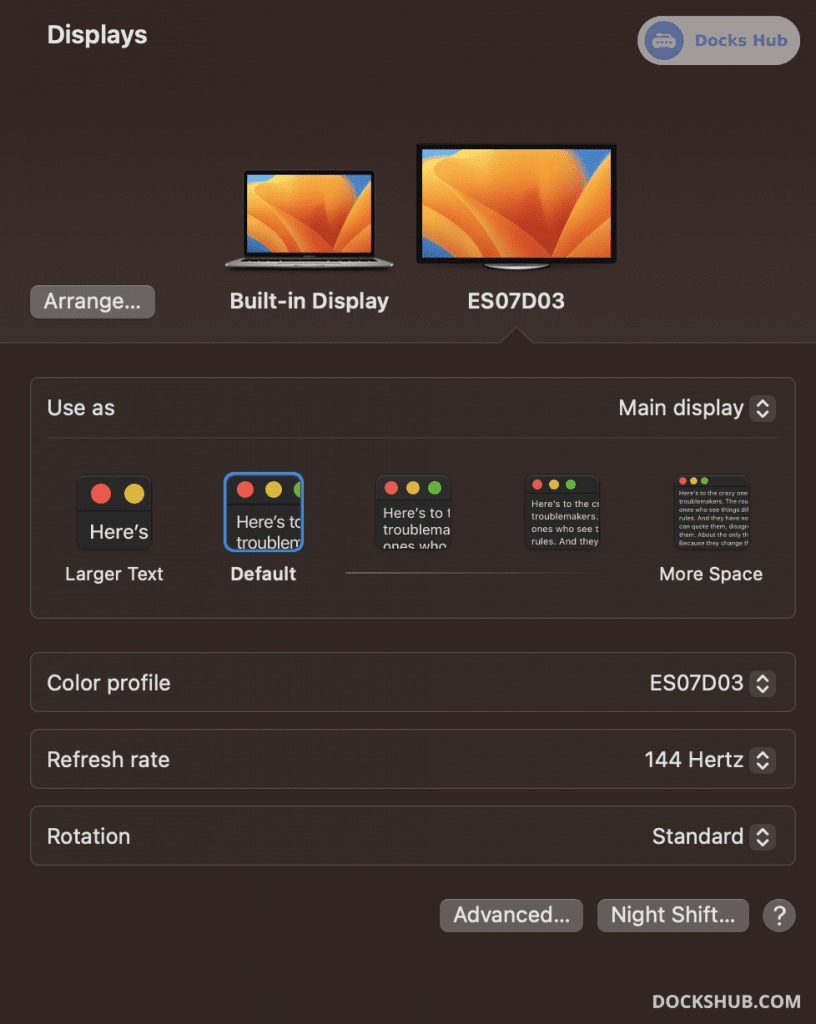 This happened for both DP 1.4 and USB-C monitor connections, although for USB-C, I had to adjust the USB-C Bandwith Priority Setting from the monitor menu to use less bandwidth for the built-in USB Hub and more for the refresh rate.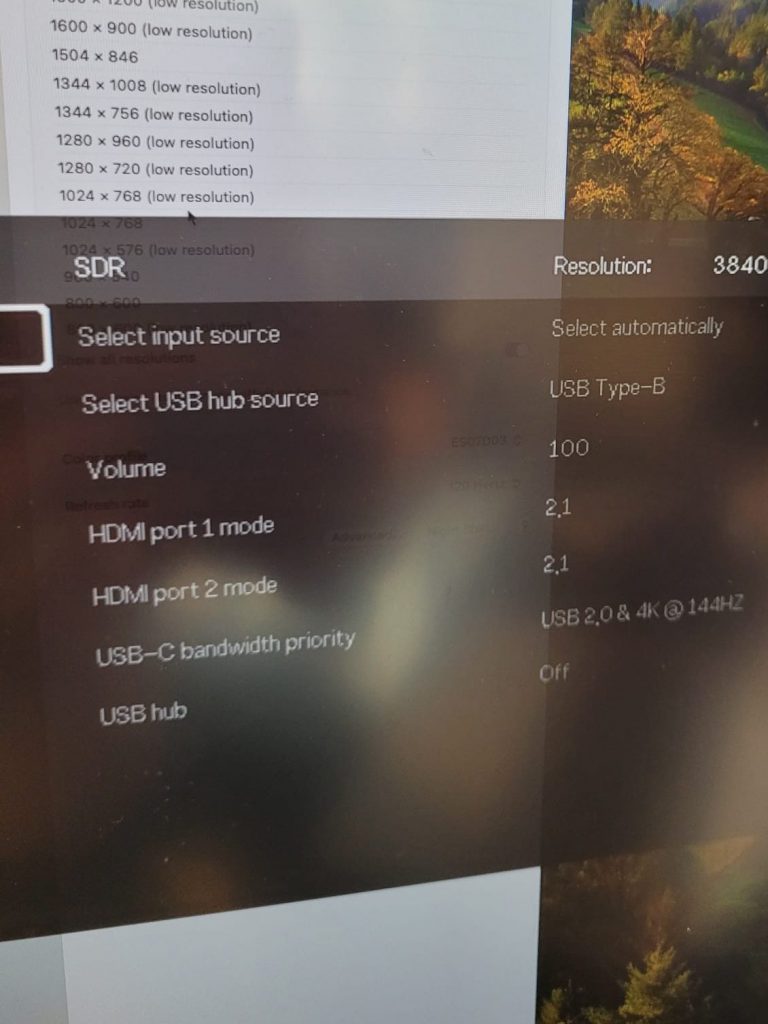 Power Drop & Beeping Sound
One occurrence worth noting – the power dropped for a second, and when it came back, the dock started making a beeping sound (see video). Not sure what triggered this alarm-like behavior, but after restarting the dock, the beeping went away.
Subtle Fan Noise
The dock uses an internal fan for cooling. I'm using a fanless M1 MacBook Air, and the fan noise is noticeable but relatively quiet. It is a low hum compared to the complete silence of a fanless design.
However, the fan noise is unlikely to be distracting for most users. Unless you are used to a perfectly silent workspace, the WD22TB4's cooling fan blends into the background. The fan allows the dock to run cooler and avoid potential thermal throttling.
For those accustomed to fanless operation, there will be an adjustment period for the WD22TB4's audible cooling. But the fan noise is a reasonable trade-off for the dock's ample power delivery and connectivity. Most users will find the WD22TB4 runs quietly enough for distraction-free work.
Monitor Performance on Thunderbolt Systems
If you're using the dock on a Thunderbolt connection, it can support up to 4 displays at 4k resolution. There are multiple ways of setting the resolution and refresh rate, but, basically, you get: 3 x 4K (3840 x 2160) @60 Hz + 1 x 4K (3840 x 2160) @30 Hz
Or, if you prefer to keep the 4 monitors at the same 60hz refresh rate, you can drop the resolution on the 4th monitor: 3 x 4K (3840 x 2160) @60 Hz + 1 x QHD (2560 x 1440) @60 Hz.
Monitor Performance on Non-Thunderbolt Systems
For non-thunderbolt systems, you can only get 4 displays by daisy chaining one of them using DisplayPort. The best resolution for non-Thunderbolt system is 3 x QHD (2560 x 1440) @60 Hz + 1 x HD (1280 x 720) @ 60 Hz
There are a lot of tweaks you can make to the refresh rate and resolution. For the full list of permutations of display setups, I recommend checking out the official Dell table.
Dell WD22TB4 Feature Highlights
As I said before, setting up the dock was fuss-free for me. You have to hook up your laptop, and it will immediately set the dock up; just make sure it is running the latest updates.
The laptop will start charging itself with a 130W power delivery if it's a Dell or 90W for other non-Dell brands.
Notable Specs
As usual, the dock packs a wide range of productivity and connectivity features. The major features of the dock you'd want to know are listed below:
Power Delivery: 130W (Dell systems), 90W (non-Dell systems)
Video Resolution: 5K @ 60Hz (Single Display) with HBR2/HBR3 (High Bit Rate), Thunderbolt™ systems, 8K @ 60Hz with HBR3 Thunderbolt™ systems supporting Display Stream Compression, 4K @ 60Hz (Quad Display)
Video Interfaces: 2 x Full size DP1.4, HDMI 2.0, USB-C Multi-function DisplayPort, 2 x Thunderbolt™ 4 USB-C
USB Ports: USB-A: (3) USB 3.2 Gen 1 (1 with PowerShare), USB-C: (2) USB 3.2 Gen 2 (1 with DisplayPort 1.4 Alt Mode)
Networking: Gigabit Ethernet
Security Slot Type: Kensington lock slot, Noble Wedge lock slot (cable lock sold separately)
Wireless vPro supported by the notebook, tablet, or workstation
Kernel Direct Memory Access (DMA) protection
Thunderbolt™ 4 (Type-C Connector) with 0.8m cable
Pass-Through MAC Address (only for Dell commercial laptops)
Wake on LAN (only for Dell laptops)
Wake on dock (only for Dell laptops)
For more in-depth technical specifications and usage details, Dell provides the WD22TB4's complete user manual available online.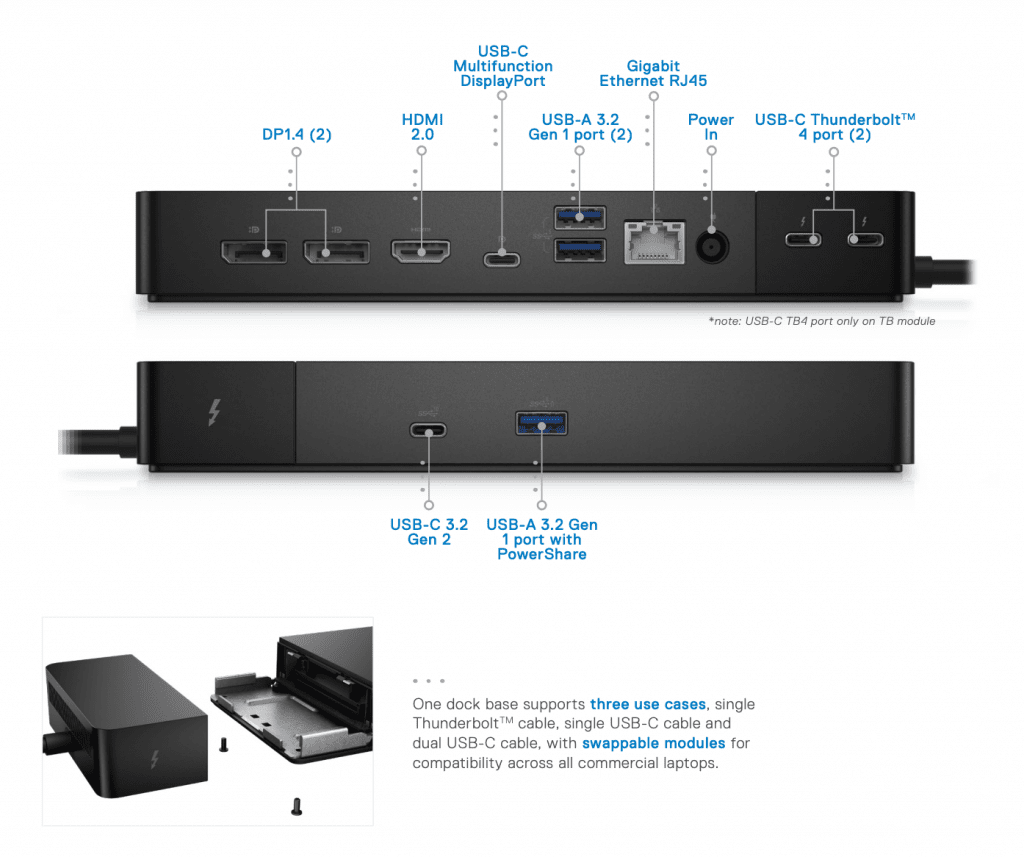 DisplayPort Multi-Stream Transport (MST)
The WD22TB4 supports DisplayPort Multi-Stream Transport (MST).
This lets you daisy-chain compatible monitors from a single DisplayPort output.
For example, you can connect one monitor to the DisplayPort port and then daisy-chain another monitor from the first one. This stacks multiple displays on one output.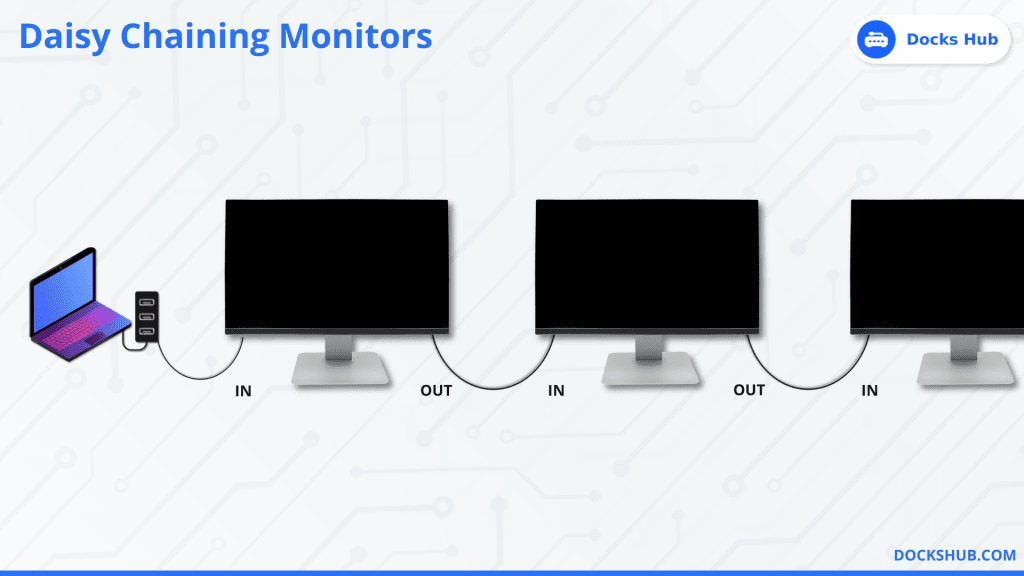 The WD22TB4 can daisy-chain up to 4 monitors from a single DisplayPort.
This MST capability provides an easy path for upgrading existing multi-display setups. Instead of running separate cables for each screen, MST daisy-chaining simplifies deployment and cable management.
Dell-Specific Perks
The WD22TB4 offers some extras just for Dell laptops:
130W power delivery (90W for non-Dell)
Integrated power/sleep button
Pass-through MAC address
These features aim to optimize the experience for Dell notebooks. However, they don't work with non-Dell devices.
As mentioned earlier, the power button is non-functional when connected to a MacBook Pro. I'm not aware of a solution to reprogram it currently. I'll update the article when I find one!
Also, MAC pass-through is exclusive to Dell laptops and is not enabled on non-Dell laptops.
MAC pass-through lets your computer's unique network identifier (MAC address) be recognized on a network, even when connected through a dock. Without this feature, the network sees the dock's identifier instead, which can cause security or access issues, especially in tightly controlled network environments. While this may be common in strict network settings, it's less of a concern in everyday or home networks.
Dell WD22TB4's Upgradeable Thunderbolt 4 Module
The WD22TB4's upgradeable Thunderbolt 4 module provides a clever way to future-proof without making users buy an entirely new dock. For most enterprise settings, the existing ports remain relevant even though new standards like HDMI 2.1 and DP 2.0 are emerging.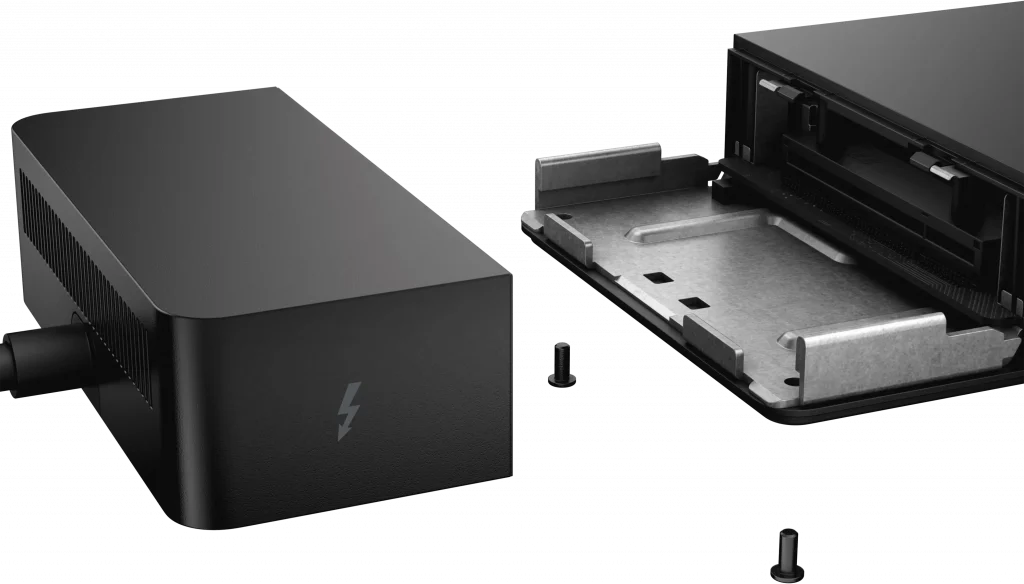 So, instead of overhauling the whole dock, Dell made the key upgrade – the Thunderbolt module – swappable. This allows adding support for more Thunderbolt devices as the technology progresses. An example is running a Thunderbolt monitor and NVMe drive simultaneously.
Rather than a top-to-bottom redesign, the modular approach gives a cost-effective Thunderbolt 4 upgrade for current Dell dock owners. The interface standards on the rest of the dock still meet most corporate needs. Dell smartly focused on upgradability for the key Thunderbolt connectivity that will see more rapid change.
For a business with 10 older docks, upgrading just the modules could extend their useful life 5 more years for 1/3 the cost of brand new docks. This modular upgradability leads to major cost savings and e-waste reduction – keeping existing devices relevant longer.
Conclusion
In summary, the Dell WD22TB4 delivers robust connectivity and power delivery in an innovative modular design. It provides up to 130W charging for Dell laptops and 90W for non-Dell, driving up to four 4K displays.
The swappable Thunderbolt 4 module enables simple future upgrades while a wide range of ports meets today's needs. Dell-specific features like MAC pass-through and integrated power controls are ideal for corporate fleet usage.
Setup is quick and painless across platforms with true plug-and-play driverless connectivity. Real-world performance remains speedy even when driving multiple monitors and peripherals.
There are some limitations, like lower power delivery and inactive power buttons for non-Dell notebooks. But the thoughtful design, ample ports, and modular upgradability still provide some nice benefits.
Overall, the clever modular approach and Dell-optimized features make the WD22TB4 an excellent choice for enterprise environments using Dell laptops. It earns an easy recommendation for corporate or small business users with Dell notebooks.
Personally, I'm impressed with the dock's performance, potential savings in upgradeability, and thoughtful design.
---
Resources & Acknowledgements