We may earn an affiliate commission if you purchase products through links on our website. As an Amazon Associate, we earn from qualifying purchases. Learn more.
Anker PowerExpand+ 7-in-1 Thunderbolt 3 Mini Dock Review
With port-limited lightweight laptops, external docks can expand connectivity. The Anker PowerExpand+ 7-in-1 Thunderbolt 3 Mini Dock provides the essential ports in a compact format. However, its constantly humming fan seems at odds with silent ultraportables.
This review examines the dock's specs, real-world usage, and pros & cons. I evaluate if the overall value outweighs the audible noise for improving workspace connectivity.
Key Takeaways
7 ports including Thunderbolt 3 (upstream), USB-C, USB-A, HDMI, Ethernet, SD card reader
45W power delivery and 4K/60Hz video output
Straightforward setup, but loud fan noise in testing
Compact design, but the dock runs warm, and the power cable is short
Convenient port expansion but constant hum may diminish the silent computing experience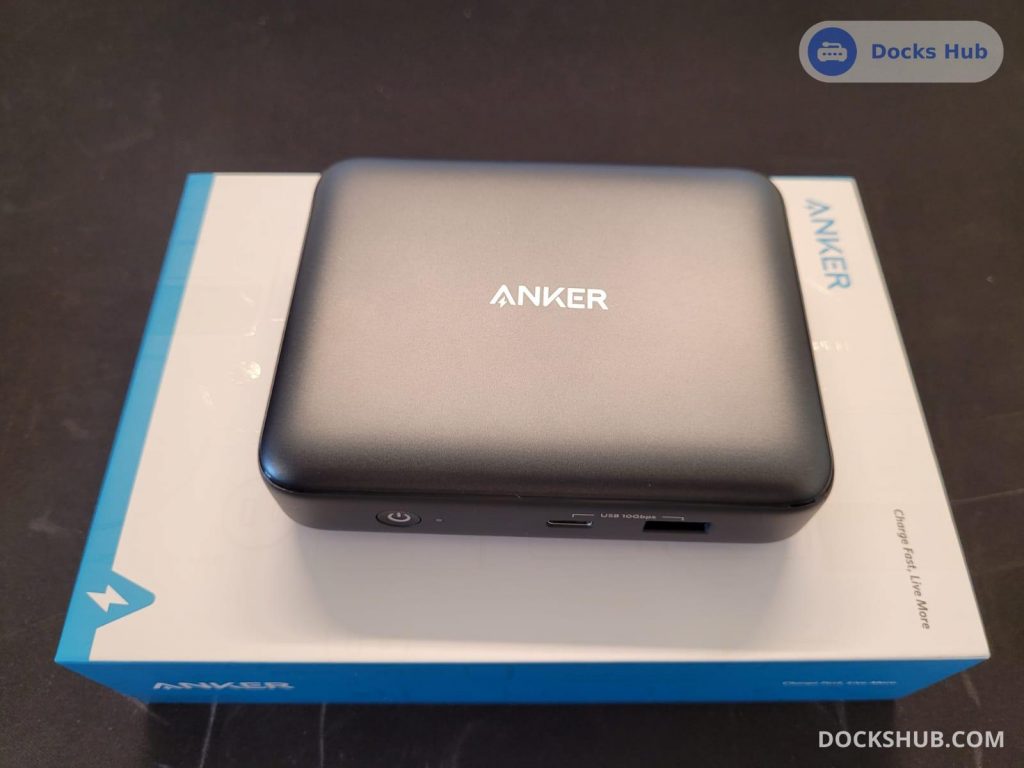 Anker PowerExpand+ Specifications
The Anker PowerExpand+ offers several useful features for today's professionals:
Max 45W Charging for Laptop
HDMI 2.0, supporting up to 4k@60Hz
1Gbps Ethernet
USB-A 3.1 Gen 2 (10 Gbps, 5V/1.1A)
USB-C 3.1 Gen 2 (10 Gbps, 5V/0.9A)
SD/MicroSD 4.0 Card Slots
1 x Thunderbolt 3 Port
When all ports are in use, the maximum power output is 36W
USB-C and USB-A provide file transfer speeds of up to 10 Gbps
A power button that turns on/shuts down the dock.
The multiple ports and power delivery make it easy to connect and charge various devices, while the compact size maximizes portability.
Unboxing & What's in the Box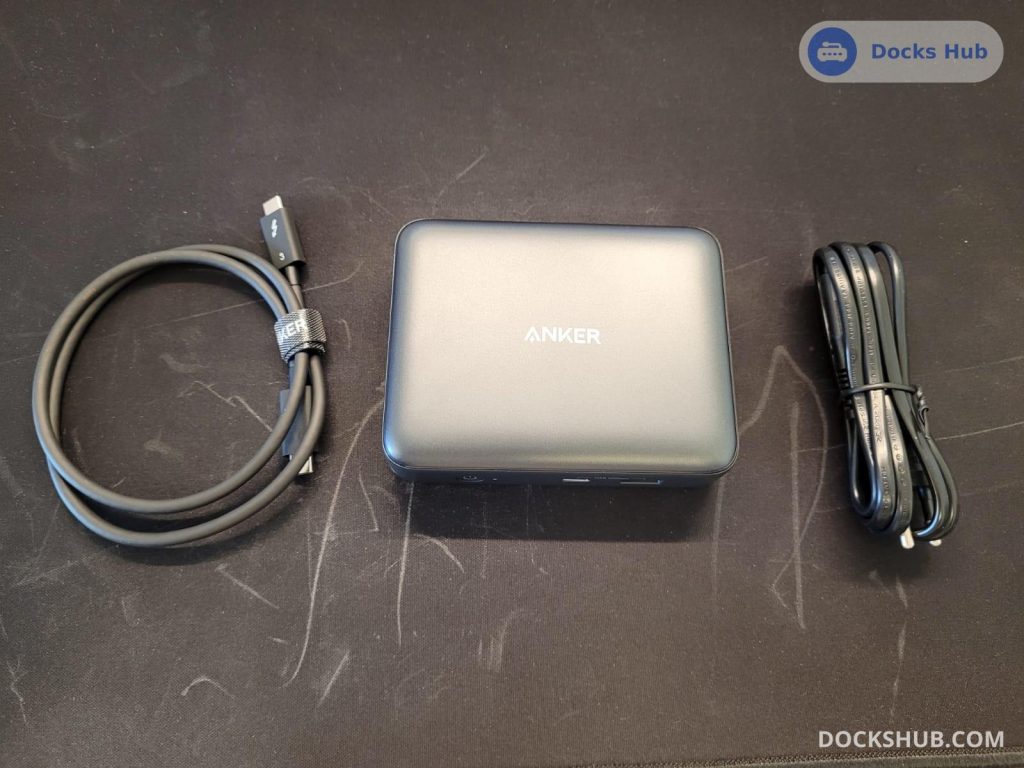 The unboxing experience is straightforward. Within the package, you'll find:
AC power cord
A 1m (3.2 ft) Thunderbolt 3 cable for the upstream TB3 port
The Anker dock
Setting Up the Anker PowerExpand+
Setting up the Anker PowerExpand+ is a breeze, especially if your system already has the necessary Thunderbolt drivers installed. It's pretty much a plug-and-play experience, as evidenced by the prompt on my Mac OS, which requested permission to connect to the dock.
The compact size of the dock is evident when placing it beside the laptop, as shown in the size comparison image: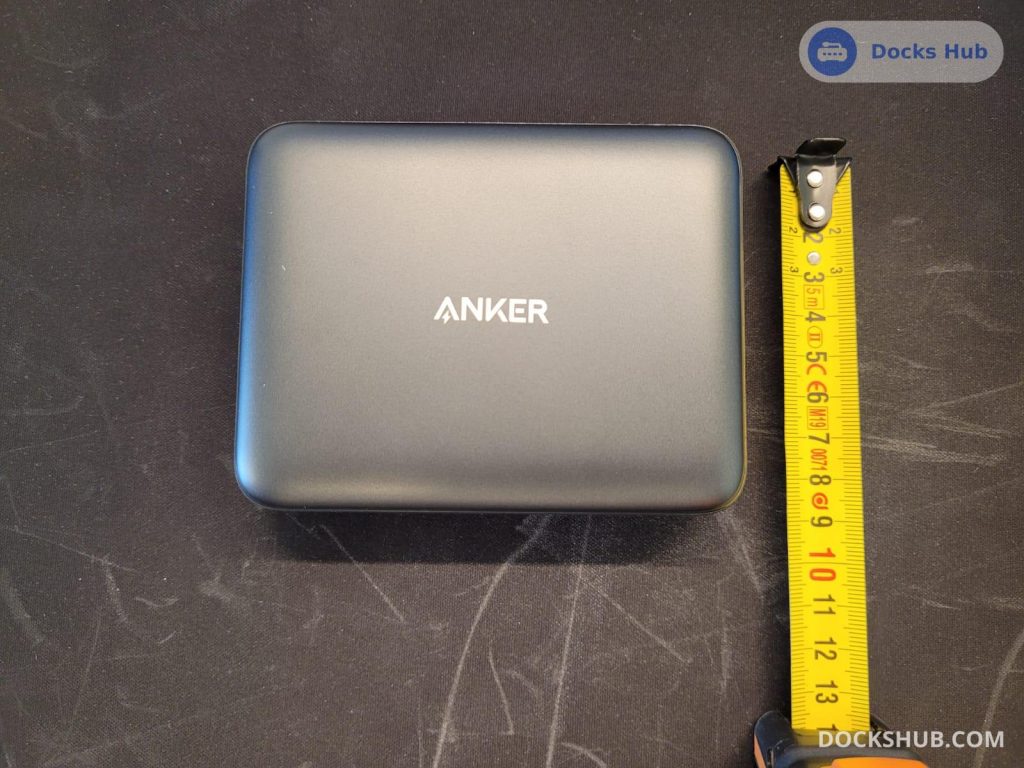 Real-World Usage Insights
The Anker PowerExpand+ is sleek and has a small footprint, which works great with slim and light laptops like my MacBook Air.
It truly shines by expanding connectivity options for laptops that are scant on ports while persevering that minimalist aesthetic.
The dock delivers on its promise of 4K @60Hz video output over HDMI. It worked flawlessly when connected to a 4K monitor.

The PowerExpand+ also features LED indicators that clearly display when the dock has power and a secure connection to the host laptop. This provides easy and intuitive confirmation that the dock is ready to use.
However, the dock is not without its quirks. The fan, clocked at 33dB in the official specifications, is quite loud, especially when compared to the Dell WD22TB4.
The cooling system also induces a noticeable vibration, which resonated through my lightweight bamboo desk.
The dock does get warm, and I tested it in the fall in a room with the air conditioning on. I can only imagine the heat and noise levels in a warmer setting.
The power cable, at about 1 meter, felt short for my setup, forcing me to place the dock at the table's edge.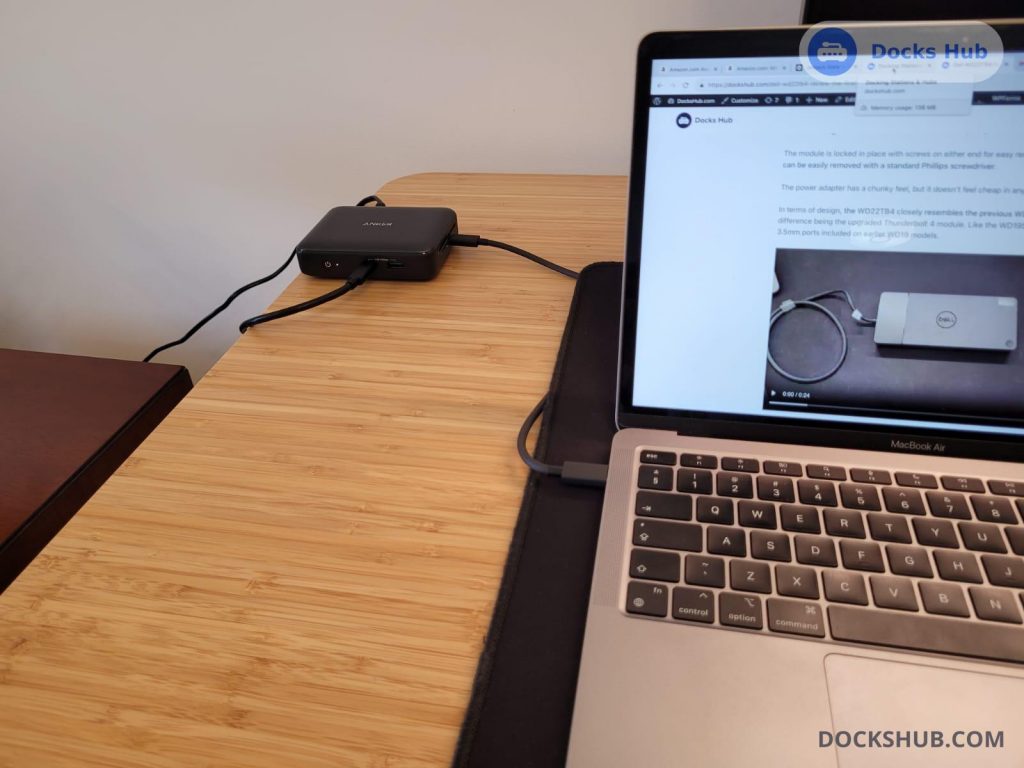 The variety of ports on the dock is well-illustrated in the following images, showcasing the Thunderbolt 3 port, card readers, and ventilation system that attempts to keep the unit cool.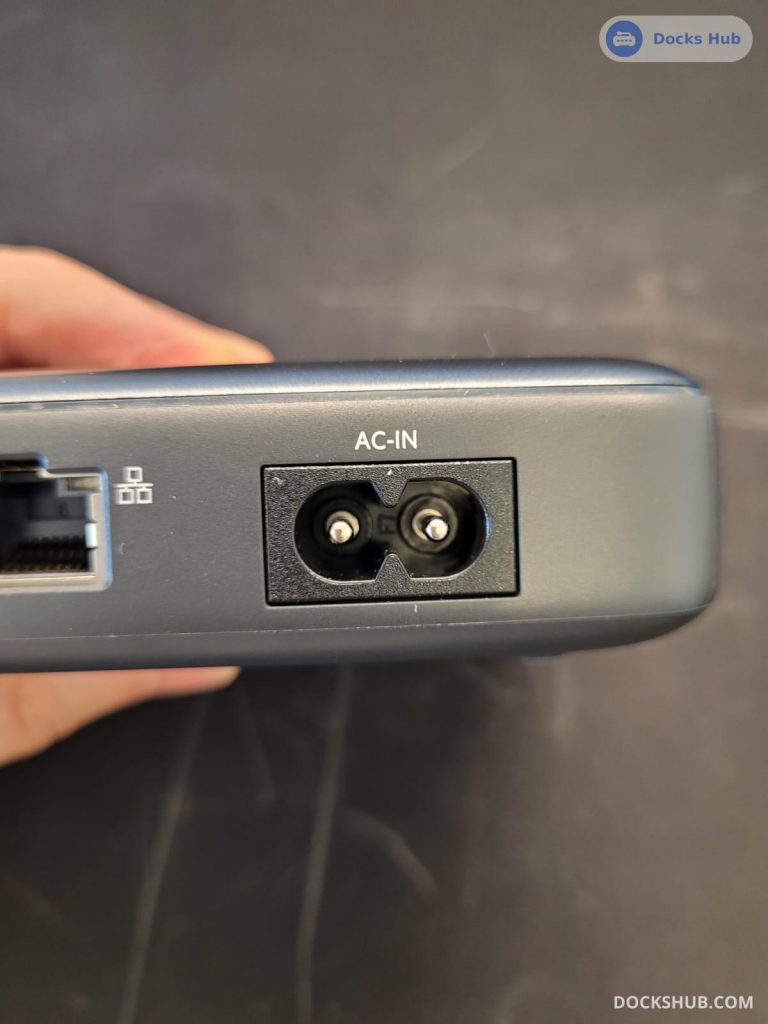 Although the dock claims to provide a maximum of 45W charging, this output drops to 36W when all ports are in use.
One major limitation is the single Thunderbolt 3 port, which is used to connect to the host laptop. This rules out daisy-chaining other Thunderbolt devices, which was a bummer when I realized my Envoy PRO SX Thunderbolt SSD couldn't connect to the non-Thunderbolt 10Gb/s USB-C port on the dock:

Pros
Design: The minimalist design, small footprint, and absence of a power brick are plus points. It's aesthetically pleasing on the desk and portable.
Ease of Use: The setup is easy, and the plug-and-play feature is handy for those not keen on wading through setup manuals.
Port Selection: The variety of ports, including the SD card slot, HDMI, Ethernet, USB-A, and USB-C ports, provide a good range of connectivity options.
4K Output: The HDMI 4K@60Hz output is as advertised, providing crisp display output.
Cons
Fan Noise and Heat: The dock gets noticeably loud and warm, which might be a turn-off, especially in quiet or warm environments.
Power Cable Length: The power cable could do with some extra length for more flexibility in setup.
Only one external monitor via HDMI 2.0: A dock with a single video output feels more like a hub or a USB-C to HDMI adapter.
The inability to daisy-chain other Thunderbolt devices due to the single Thunderbolt 3 port can be a limitation for some users.
Power Output: The drop in power output to 36W when all ports are in use could be a downside when charging power-hungry devices.
Conclusion
The Anker PowerExpand+ offers a versatile selection of ports, making it a useful companion for port-limited laptops like the MacBook Air.
However, its loud fan noise seems at odds with pairing it with slim, silent laptops. In testing, the dock produced a noticeable humming that was louder than a fanless laptop. It did not appear to throttle the fan speed at any time.
The decision to focus on portability and not include an external power brick resulted in a portable product that is loud and hot.
Due to the constant audible noise, the Anker PowerExpand+ may not be an ideal match for thin and light laptops that require 35-45W power delivery and have very few built-in ports. These ultraportable devices are designed to run silently, so the loud dock interferes with that experience.
For laptops with existing fan noise, the dock's humming may be less obtrusive. But for truly silent laptops, the noise could be a drawback despite the convenient port expansion.