We may earn an affiliate commission if you purchase products through links on our website. As an Amazon Associate, we earn from qualifying purchases. Learn more.
TobenONE 18-in-1 (UDS030) Universal Docking Station Review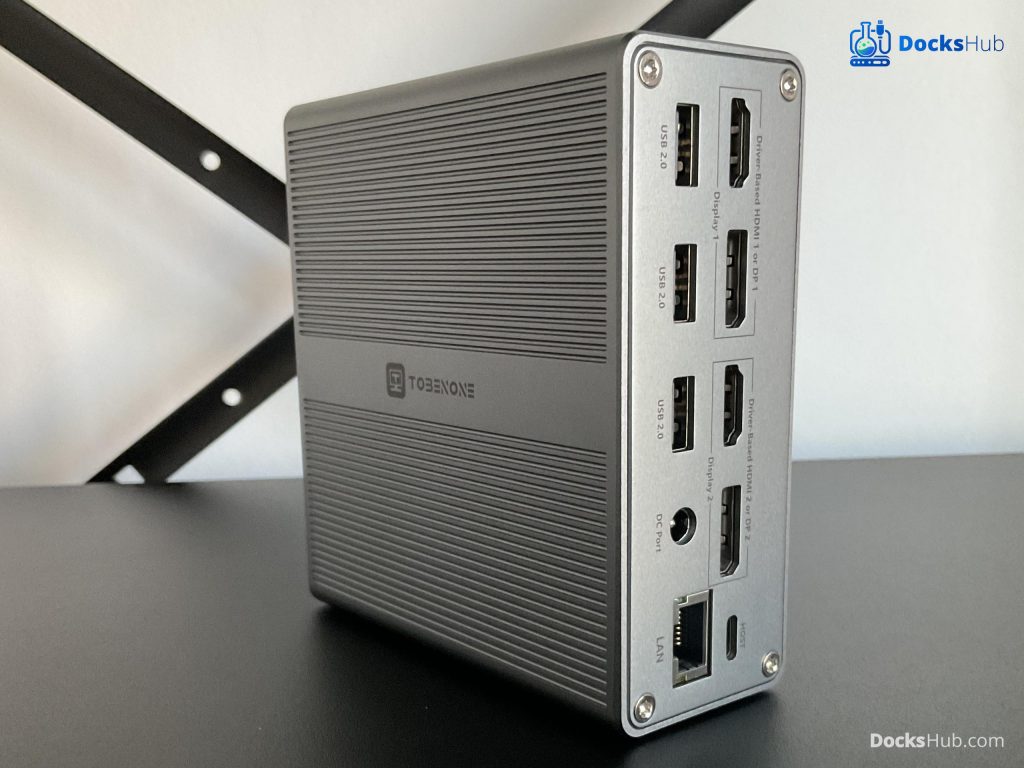 Practical and Versatile Docking Station for Daily Use
The TobenONE 18-in-1 UDS030 docking station provides an impressive array of legacy ports at an affordable price point. With 8 USB-A ports, this docking station is ideal for those who still have multiple peripherals using the older USB-A connector.
The compact silver design matches Apple's aesthetics nicely. While it lacks advanced networking features found on corporate-focused docks, the TobenONE UDS030 offers homeowners solid value.
Best For
Home office users with many USB-A peripherals
Professionals requiring 2x 4K @ 60Hz displays for multitasking
Extending older laptops lacking USB-C ports
Anyone seeking an affordable dock for basic productivity without advanced networking needs
Considerations
DisplayLink reliance compresses video, limits streaming, and lags gaming/GPU use.
Does not have Thunderbolt, but it works with Thunderbolt laptops.
Lacks MAC passthrough, wake-on-LAN and other advanced networking features needed in corporate environments.
Our Verdict
The TobenONE UDS030 is a highly practical choice for home office users who need abundant USB ports for keyboards, printers, external drives, and more.
It lacks advanced features suited for corporate environments yet provides tremendous value for personal workstations. But for simply extending your legacy laptop's productivity, the TobenONE dock delivers where it counts.
Its solid metal construction should withstand daily use for years to come. If you need a flexible, affordable dock to breathe new life into an aging laptop, the feature-packed UDS030 is difficult to beat. One thing to note is the lack of Thunderbolt 3/4 ports and the abundance of USB-A ports and 1x downstream USB-C port.
If you need USB-C, this dock may not meet your needs. But for those with many legacy USB-A peripherals, the UDS030 provides an ideal connectivity hub.
Connectivity & Ports
The TobenONE UDS030 Docking Station is an excellent choice for both modern USB-C laptops and traditional USB-A laptops.
Its diverse array of ports enables you to connect a wide range of devices, such as keyboards, mice, phones, and more, regardless of your laptop's port type.
The docking station is equipped with an ample 8 USB Type-A ports. While USB-C may be the emerging standard, USB-A remains the most commonly used connector for many peripherals and accessories.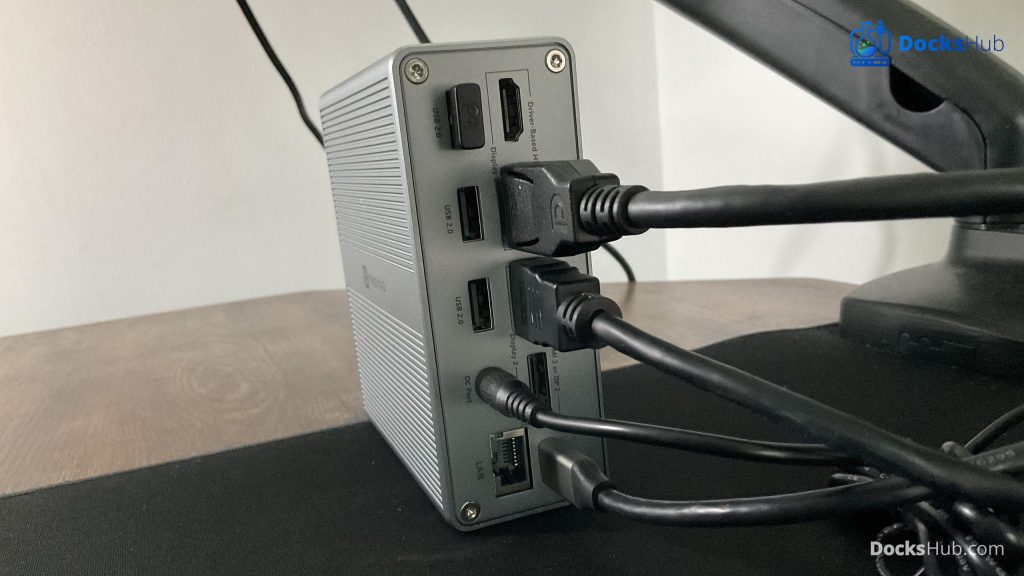 Front Ports
| Feature/Port | Description/Specification |
| --- | --- |
| SD Card Slot & MicroSD Card Slot | Both slots can work simultaneously |
| USB-C Port | For data transfer or charging devices |
| USB-A 3.1 Port | 10 Gbps high-speed data transfer |
| 3x USB 3.0 Ports | 5 Gbps data transfer speed, primarily for data transfer |
| Audio Combo Jack | 3.5mm port for headset |
The front ports are designed for versatility and easy access to commonly used connections.
The USB-A 3.1 and USB 3.0 ports are suitable for high-speed data transfer, while the USB-C port also offers charging capabilities.
The front USB ports on the docking station work best for data transfer, not peripherals. Connecting devices like a mouse or keyboard to these front ports may cause them not to function properly.
While the front ports allow quick access for transferring files from a USB drive, they are not ideal for permanent connections.
For best performance, plug-in peripherals to the designated ports at the back of the docking station instead.
Meanwhile, the SD and MicroSD card slots provide additional convenience for accessing data directly from memory cards.
Back Ports
| Feature/Port | Description/Specification |
| --- | --- |
| USB-C Host Port | Connects to your laptop |
| RJ45 Ethernet Port | Gigabit (10/100/1000 Mbps) for stable wired internet access |
| 3x USB 2.0 Ports | Ideal for peripherals like keyboard, mouse, printer, and webcam |
| 2x Pairs HDMI/DisplayPort | For connecting to external monitors. Use only one at a time for each monitor |
| Power Port | Must be connected to the supplied power cord to operate the docking station |
The back of the docking station has ports for connecting external displays and peripherals. There is the HDMI 1 port and DisplayPort 1 port pair, as well as an HDMI 2 port and DisplayPort 2 port pair – for each pair, you can only use one port at a time, not both simultaneously. These allow you to connect up to two external monitors.
The gigabit RJ45 Ethernet port provides wired internet connectivity. The 4 USB 3.0 ports are for connecting peripherals like a mouse, keyboard, external storage, etc. The docking station requires the included power cord connected to the power port to operate.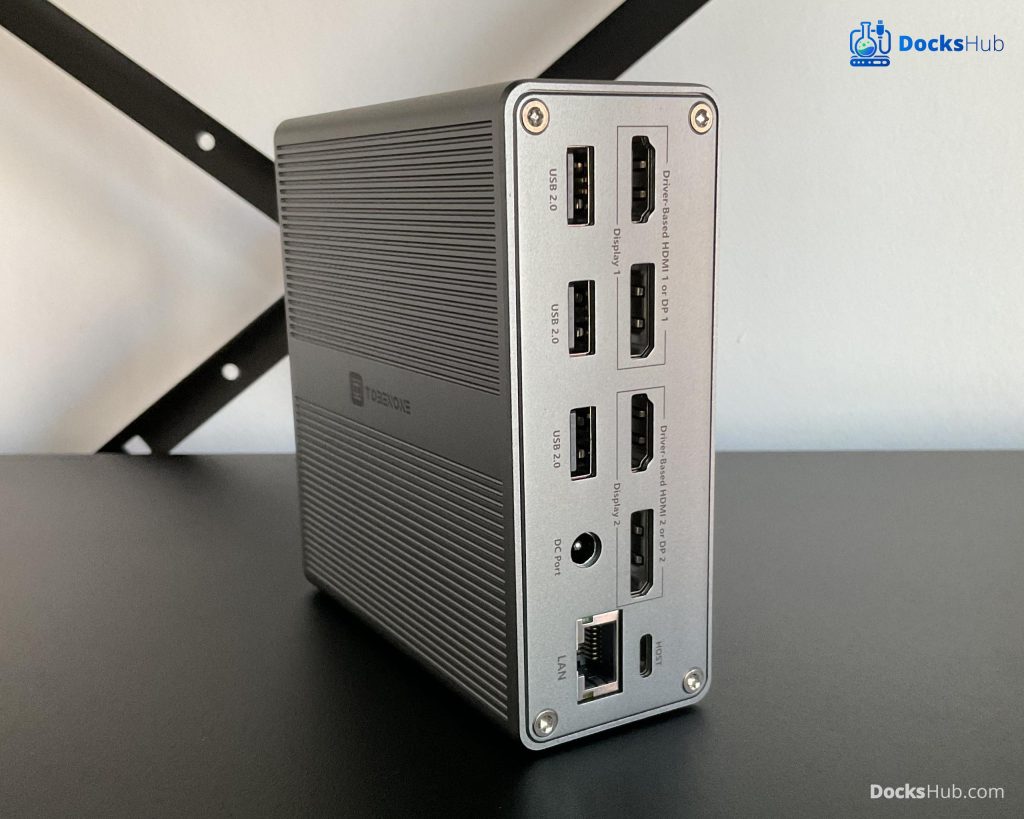 Note on USB-C Support
Before using a USB-C docking station, check if your laptop fully supports USB-C. Ensure your laptop:
Has a USB-C port.
Can charge through its USB-C port.
For example, my ASUS ZenBook's USB-C port does not support charging, so I have to connect both the laptop's charger and the docking station's charger separately.
If your laptop supports USB-C charging, you can conveniently connect just one USB-C cable from your laptop to the docking station. This allows for simpler cable management and avoids the need for multiple power bricks.
What's in the Box
The TobenONE 18-in-1 UDS030 docking station package contains:
The TobenONE 18-in-1 UDS030 docking station
A 65W DC power adapter, which is quite compact
A detachable power cable that allows for easier storage of the power adapter and cable, since they can be folded more neatly
A USB-C to USB-C host cable
A USB-C to USB-A adapter conveniently attached to the host cable, for connecting the dock to USB-A if your laptop doesn't have USB-C
An after-sales card with a QR code to view the docking station manual digitally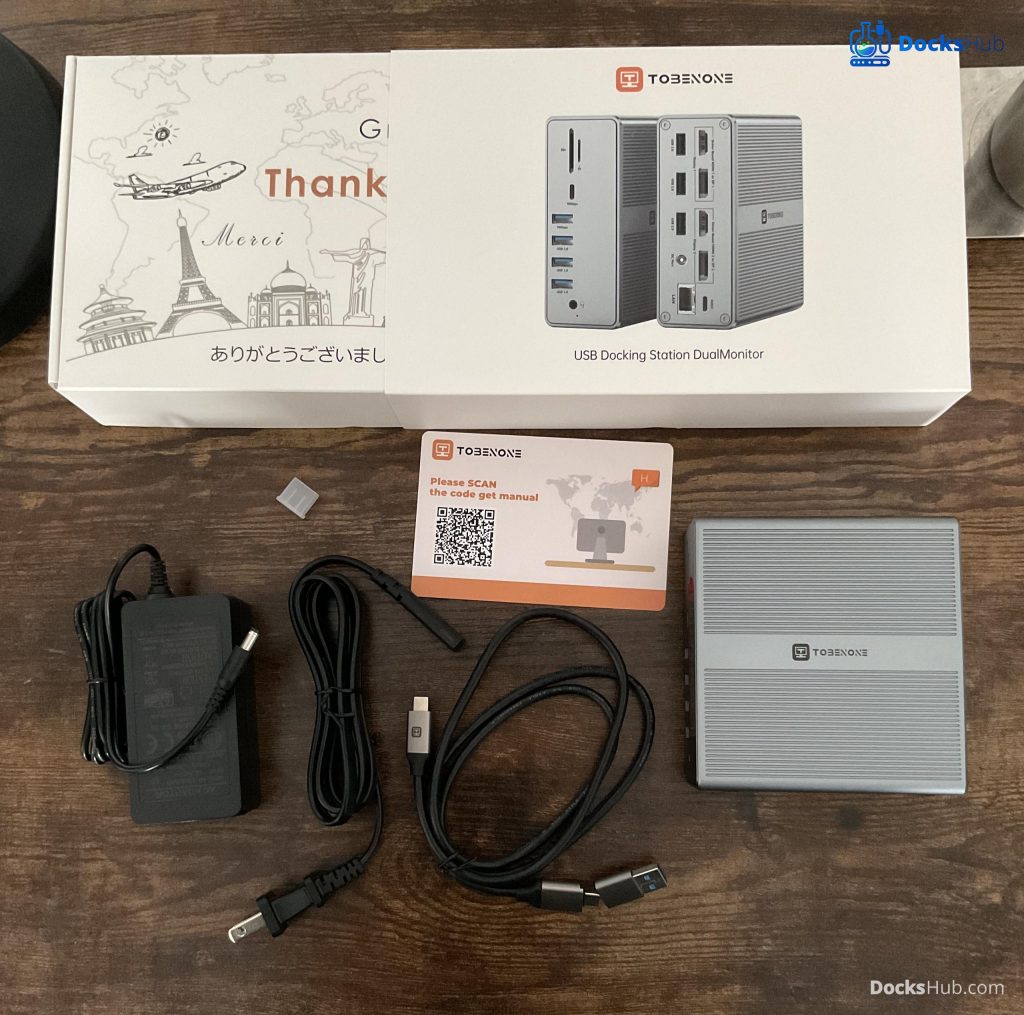 The packaging is high quality with cute graphics. I appreciate seeing a brand put care into its image.
Compatibility
Operating Systems Compatibility
The TobenONE UDS030 dock is compatible with Windows 11, 10, 8.x, 7 and macOS 10.14 and newer after installing the DisplayLink driver.
It does not support macOS 10.13.x and earlier or Linux/Unix systems.
Whenever they mention they don't support Linux/Unix, I assume it's because they don't officially support it. But DisplayLink is available on some distros to my knowledge, so I'll have to test this out myself and update this article after.
We'll discuss DisplayLink in the next section.
Laptop Compatibility
The docking station is compatible with most modern laptops including MacBook Air and Pro (2016 onwards), Dell XPS, Precision, Latitude and Alienware, HP Spectre, EliteBook, Envy and ZBook, Lenovo ThinkPad and Yoga, Asus ZenBook and ROG, Microsoft Surface Pro, Laptop and Book, and Acer Aspire and Swift models.
There isn't a laptop specifically mentioned as not being compatible with it.
Displays & Graphics
The docking station supports up to 2x 4K displays at 60Hz through DisplayLink technology. However, this is achieved through DisplayLink technology rather than native outputs.
Each display can be connected via either HDMI or DisplayPort, with the dock providing two pairs of ports (labeled pair 1 and pair 2).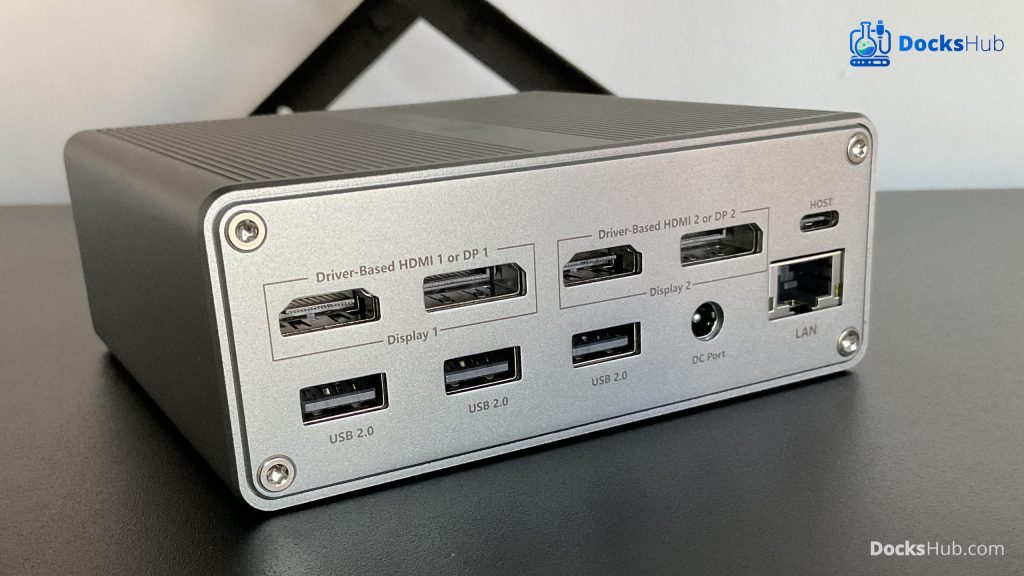 Requires DisplayLink & What This Means
The TobenONE UDS030 docking station uses DisplayLink technology for its dual monitor support. This requires you to download and install the DisplayLink driver on your laptop.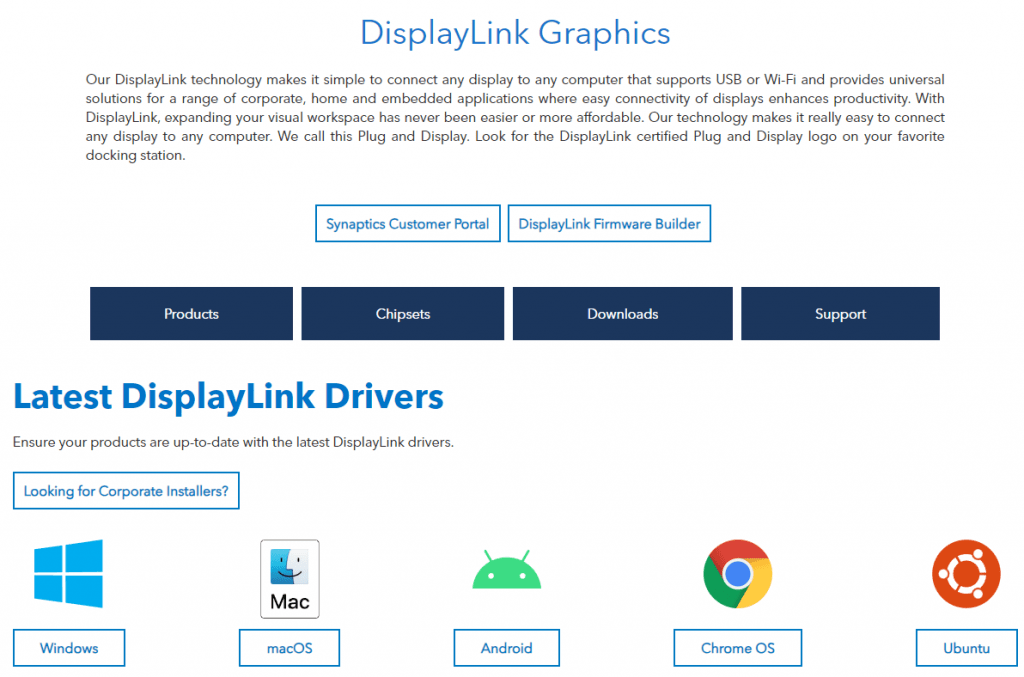 What is DisplayLink?
DisplayLink is a technology that allows you to connect extra monitors to your laptop using your USB port.
It works by compressing the video signal and sending it over USB instead of directly from your graphics card.
Max refresh rate for docking stations with DisplayLink is 60Hz, no matter what your display settings or monitor settings say. Even with a lower resolution, you won't go past 60Hz. Just check ufotest.com when in doubt.
It's Good for Older Laptops without USB-C
Lots of corporate USB-C docks use DisplayLink, so they can be compatible with older laptops that don't have USB-C video output.
The included cable has a USB-A to USB-C adapter, so you can connect two monitors from just one USB-A port. This makes it great for adding dual displays to older systems.
Possible Issues with Streaming Platforms
When using DisplayLink, you may run into issues with protected content from streaming platforms like Netflix, Hulu, Amazon Prime Video, etc., appearing only on one monitor. This process can trigger copyright protection errors that block playback on the secondary monitor.
The compression alters the original digital signal, which streaming platforms can detect as unauthorized copying.
Worked on Windows: I haven't had a problem with this when watching Netflix and Disney+, but it's best to be aware of the possibility.
Black Screen on Mac: Unlike my experience on Windows, on my Mac, I've been unable to watch Netflix or likely other streaming video services. Only subtitles appear, and the video image is completely black.
Whatever the case, even though streaming worked for me on Windows, you should assume that streaming won't work while using DisplayLink. Or, if you really like the dock and also want to use streaming platforms, you could risk it. My primary daily driver is Windows, so the TobenONE works great for me in this case.
Not for Gaming
For gaming, DisplayLink can introduce lag or delay since it compresses the video signal and sends it over USB. For fast-paced games where timing is important, you'll get the best experience using a direct HDMI or DisplayPort connection.
TobenONE also doesn't recommend it for gaming or software requiring a dedicated graphics card, and I agree with them.
Setup, Installation & User Experience
The TobenONE 18-in-1 docking station requires installing DisplayLink software to extend displays, unlike some plug-and-play models.
DisplayLink installation is quite easy. I tested it on my Windows 10 PC, Windows 11 ASUS ZenBook, and M1 MacBook Air. On all systems, getting DisplayLink up and running was simple and straightforward.
Although an extra step compared to plug-and-play devices, DisplayLink installation is remarkably quick and painless. This initial software installation is a small tradeoff for the docking station's versatility in supporting mixed operating systems and external displays.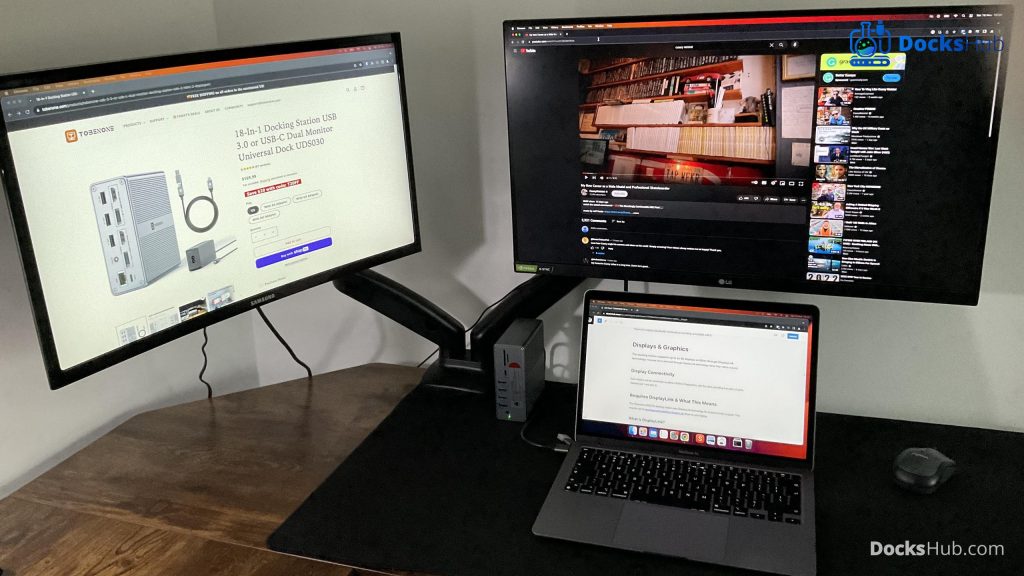 Connecting to Windows
The first-time docking experience with the TobenONE docking station on my Windows devices initially showed a USB connectivity issue notification. This occurred both when using the USB-C port directly or a USB-A connection through the included adapter. The notification led to a Microsoft support page for fixing USB-C problems in Windows.
The page lists various troubleshooting tips for different USB-C error messages. In my case, after an initial period without any specific fixes, the notification went away on subsequent connections – suggesting experiences may vary across hardware and software configurations.
The first-time issue was inconvenient, and I'm not sure what the reason was still. However the docking station delivered reliable connectivity once up and running.
Connecting to Mac
Connecting it to my Mac was straightforward. I just connected it and allowed whatever permissions were needed, then installed DisplayLink, and it worked right away without issues.
Audio
The audio is just fine. Same as connected directly to your computer.
I did have a scare initially because of my outlet, which caused the audio to be choppy. I switched the outlet and the audio from TobenONE is now perfect.
On Windows the audio is picked up immediately through the dock. On Mac, you'll need to go to your sound settings and change your audio output device.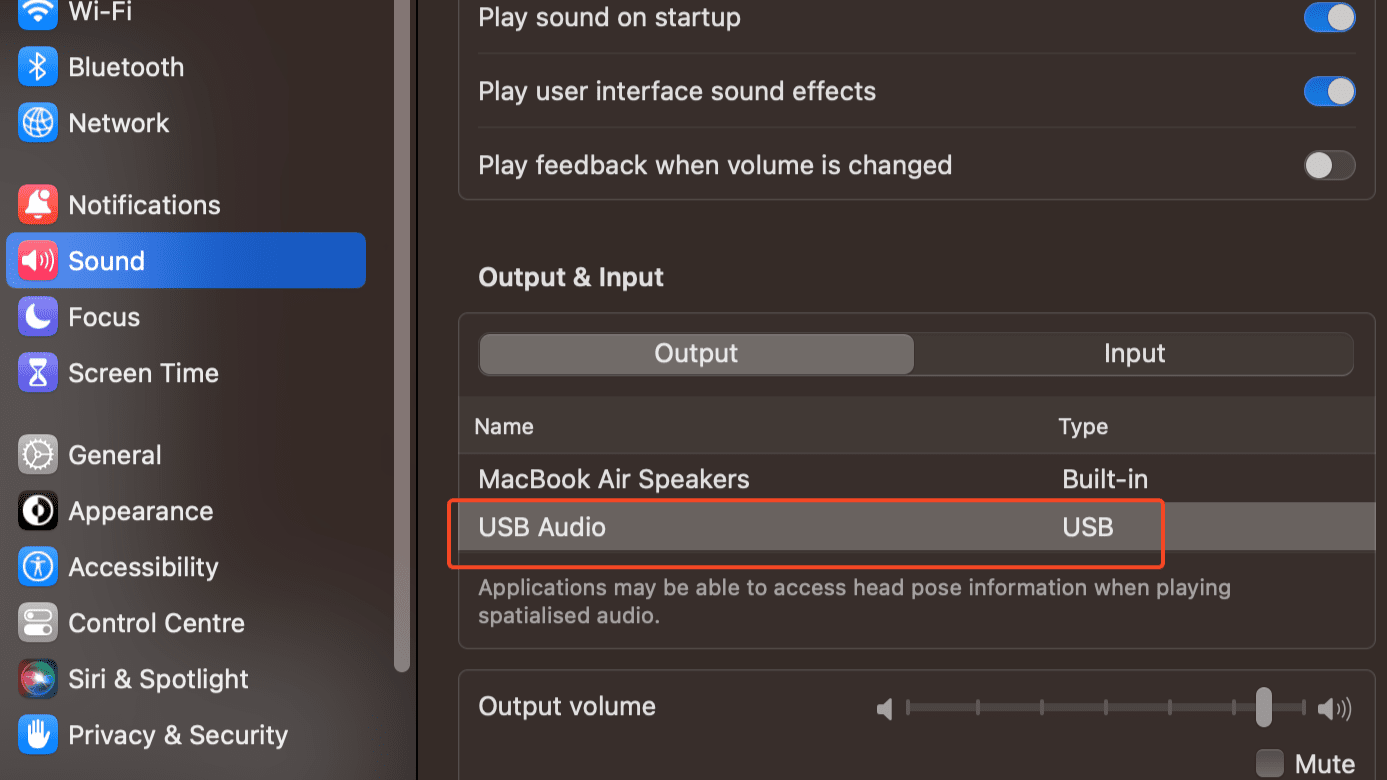 Heat Dissipation
I left 2x 4K videos running for 15 minutes, and the dock stayed at about 40-41°C (104-105.8°F). However, it's expected that since DisplayLink compresses videos so they can even be passed through a USB-A port, they won't be too demanding.
I didn't have both my 4K monitors available and used a 2K one and an older model.
I'll stress test it more with 2x 4K monitors, an external SSD, and SD cards all at once, and will update the article soon.
Noise
The TobenONE 18-in-1 doesn't make any noise at all.
Power Delivery
The included 65W adapter charged my MacBook Air M1 without any issues, and it should be enough to charge most standard laptops.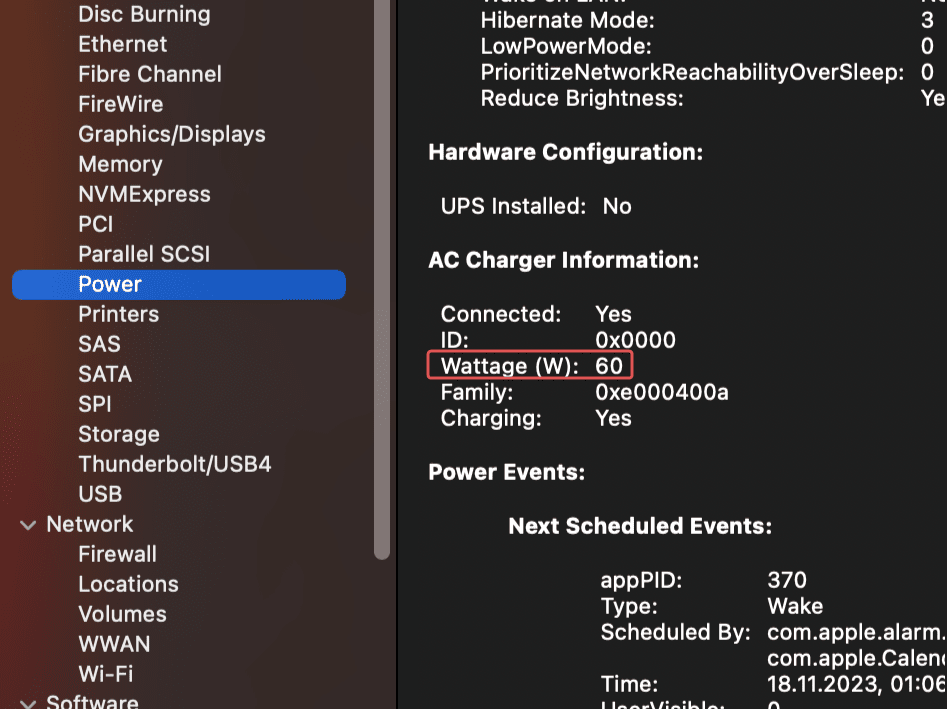 If you have a high-power laptop or need fast charging above 65W, this dock won't support that. Before purchasing the TobenONE UDS030 dock, check your laptop's specific power needs to confirm compatibility.
Given that docks like this could be used for legacy laptops, you should double-check that your laptop supports USB-C charging. As I've said before, my ZenBook doesn't, and I don't really think of it as an old laptop.
The docking station delivers the same wattage for charging my MacBook Air M1 as the original adapter that came with it. This assures me – and should reassure potential buyers – that the docking station is just as effective for charging, making it a solid alternative to the OEM charger.
The dock also has an LED power indicator, which is useful for debugging.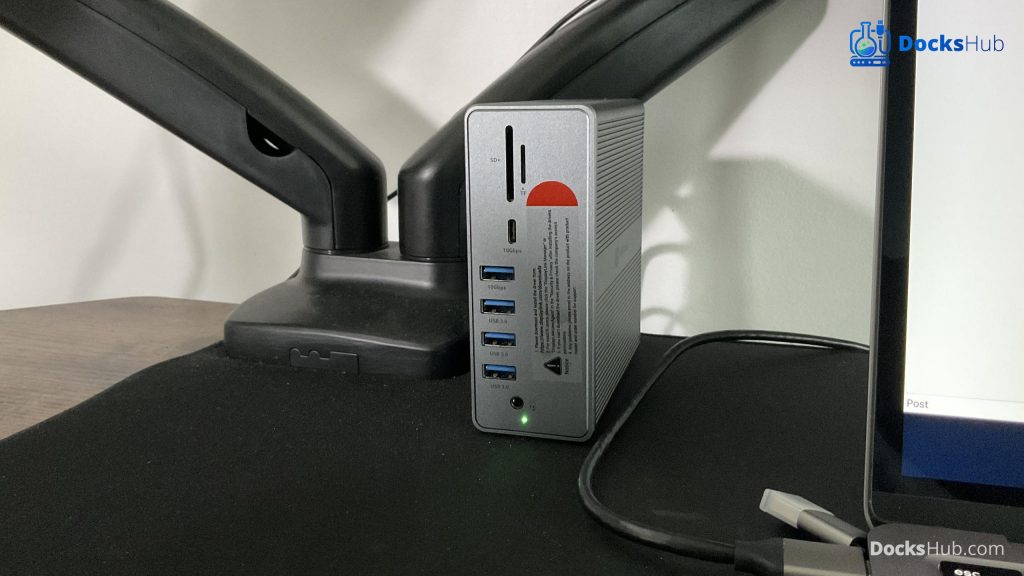 Build & Design
The TobenONE UDS030 docking station features a modern all-metal design that is both durable and aesthetically pleasing.
Its sturdy metal construction gives it a premium feel that can withstand daily use.
You can position it horizontally or vertically and it will likely seamlessly integrate with your workspace.
While its default position is vertical, it feels just as natural horizontally.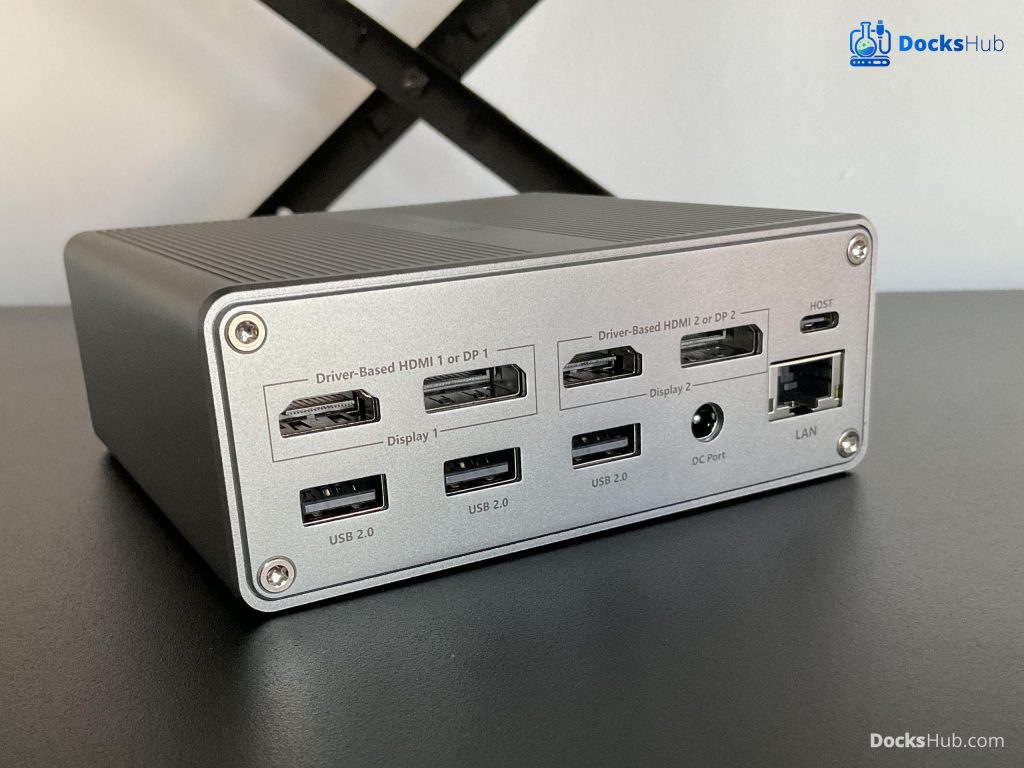 It has rubber feet to prevent sliding on surfaces when positioned vertically.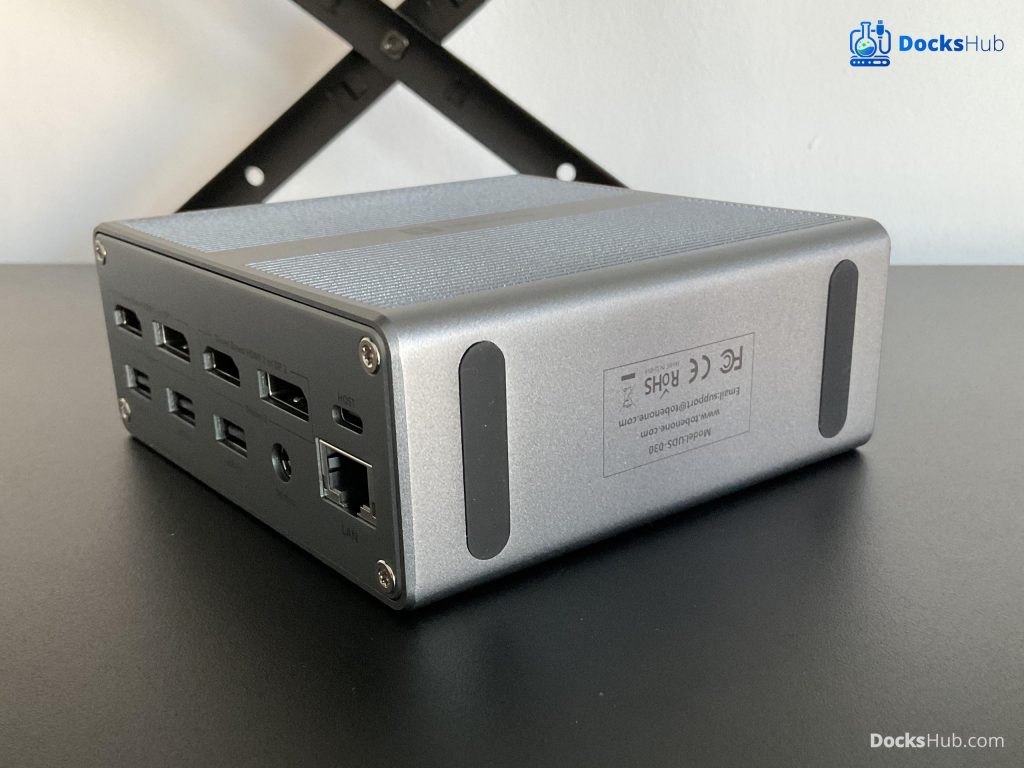 Its small footprint and silver exterior complements Apple products and fits conveniently into most workspaces.
Networking Options
The TobenONE 18-in-1 offers basic and straightforward docking station features and lacks some of the advanced networking capabilities often required in corporate settings, like MAC passthrough and wake-on-LAN.
MAC Passthrough allows a docked laptop to use the MAC address of the docking station instead of its own unique address. This enables the laptop to seamlessly integrate into the corporate network without needing to be reconfigured each time it is connected or disconnected from the dock.

Wake-on-LAN is a technology that allows a device to be powered on remotely through a network signal. This allows IT staff to power up devices for maintenance, updates or access even when they are powered down or in sleep mode. It's an important feature in corporate settings because it allows centralized control and maintenance of many devices without physical access to each one.
The TobenONE 18-in-1 UDS030 is great for home office use or smaller office use where the user can manage their own docking station, but for larger corporate environments where IT staff has to ensure everything is running smoothly, it's not ideal.
Brand, Support, & Community
I started seeing TobenONE's products talked about since 2022. Based on the positive online reviews and recommendations, they seem to consistently deliver quality and reliable products.
Beyond just this specific docking station, TobenONE seems to be upfront about product capabilities, which I like. For example, they openly state this 18-in-1 model is not intended for intensive gaming or GPU-accelerated software. I appreciate this transparency and focus on setting realistic expectations.
Given my own experience with their docking station, which provides good value, along with positive reviews of some of their other products, I believe TobenONE knows their business and customers well.
I trust them to deliver products that work as advertised, and I look forward to trying more of their devices in the future.
Regarding support – I haven't encountered anything I couldn't handle myself. But I have been in communication with them, and they seem to answer emails in record time.
Also, there are many other reviews that seem to praise the support they received from TobenONE , and haven't found any complaints so far.
This is the first time I've used a TobenONE product, but as I try out more, I'll keep this section updated.
Price & Value
The TobenONE 18-in-1 docking station offers good value for the price. It ticks all the boxes for a docking station in its category, and it's affordable for most home office setups.
You get enough USB-A ports (4x USB 3.0 and 3x USB 2.0) so you can hook up all your accessories like keyboard, mouse, external storage, printer, etc.
It also handles dual 4K displays at 60Hz so that you can have a nice multi-monitor productivity station.
The all-metal design means it's built sturdy and will last.
TobenONE even offers an extended warranty if you provide feedback, so customer service looks solid.
For your home office, where you need mostly USB-A, it has all the USB-A ports and display connections you'll need, including one USB-C port, but without advanced stuff like Thunderbolt.
If you just need a straight-up USB/display dock that works and doesn't cost a lot, the TobenONE 18-in-1 gets the job done.
TobenONE also has a Facebook community group at TobenONE Community where you can discuss their products and connect with other users. It's great to see a company enabling open feedback and building a community around their brand.
Warranty
TobenONE offers a 1 year warranty for all their products purchased from their authorized seller on Amazon. If purchased through other sellers, then you'll have to contact them directly.
You can contact them regarding your warranty here: https://tobenone.com/pages/warranty
Bonus +1 year warranty: To my understanding, you get an additional 1 year extended warranty by visiting this page, and you provide TobenONE with your experience with your product that you've been actively using for at least 5 days.
I like this because it also suggests to me that they want feedback so they can do whatever they can to improve their products.