We may earn an affiliate commission if you purchase products through links on our website. As an Amazon Associate, we earn from qualifying purchases. Learn more.
Thunderbolt 4 on AMD: How Far Away Is It?
It's most natural to think that since Intel developed Thunderbolt, this versatile connectivity interface won't be available on an AMD-based computer. But nothing can be further from the truth!
It's late 2023, and AMD motherboards and laptops feature Thunderbolt, meaning the proof-of-concept exists. So why are there so few AMD computers with Thunderbolt? Read on to find out more.
What is Thunderbolt 4?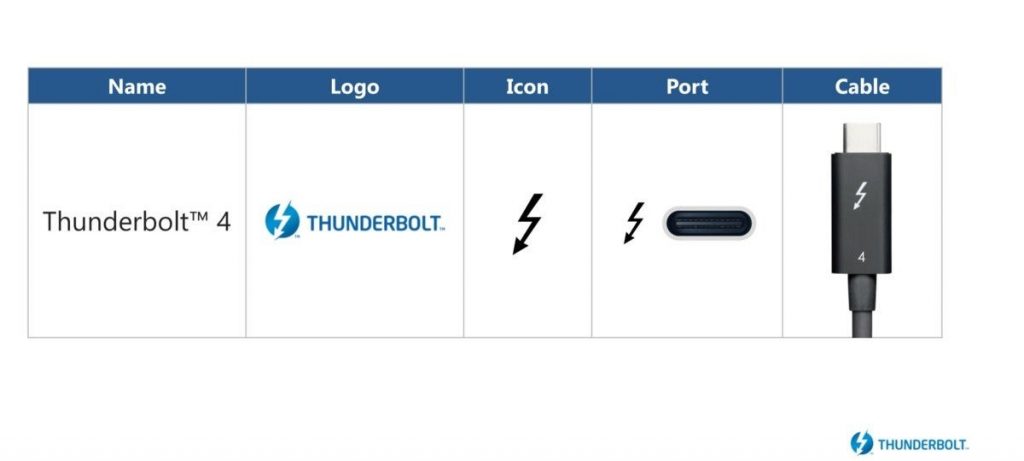 Thunderbolt 4 is an advanced, high-performance port that is the latest evolution in connectivity technology. It's been specifically made to enhance data transfer, video, and power delivery capabilities, providing an efficient solution for contemporary computing and peripheral connectivity requirements.
The highlight feature of Thunderbolt 4 is a minimum bandwidth requirement of 32 Gbit/s for PCIe links, allowing accelerated data transmission, optimizing (and usually increasing) performance, and reducing completion times for a wide range of tasks.
Thunderbolt 4 supports dual 4K displays (DisplayPort 1.4) at minimum, which lets multi-monitor setups have higher bit rates for each display, directly translating to better image quality across almost all display configurations.
One of its even better upgrades is the integration of Intel VT-d-based Direct Memory Access protection, which mitigates the risks of a physical DMA attack, safeguarding sensitive data and maintaining system integrity in case your device is ever compromised.
Furthermore, Thunderbolt 4 supports Thunderbolt Alternate Mode USB hubs ("Multi-port Accessory Architecture"), expanding connectivity options beyond traditional daisy-chaining.
Thunderbolt 4 is an Intel-patented technology, so manufacturers require a license to use it. While its application was limited to MacBooks and Intel-based computers, you now have several AMD-based options, too.
Although expensive, AMD-based Thunderbolt solutions (read motherboard and laptops) are beginning to emerge on the market. Sure, manufacturers pay a premium for licensing fees, and there is the added cost of additional controllers.
Moreover, with limited demand, manufacturers are reluctant to take the leap until they see profitable feasibility. However, manufacturers will see better economies of scale with growing interest and increased consumer demand for AMD-based Thunderbolt solutions, resulting in affordable devices for consumers.
How is Thunderbolt 4 better than other technologies?
To have a better idea of how exactly Thunderbolt outshines other technologies and if it's worth spending time and money, take a look at comparing it with the most common alternatives, namely, USB4, Thunderbolt 3, and USB3: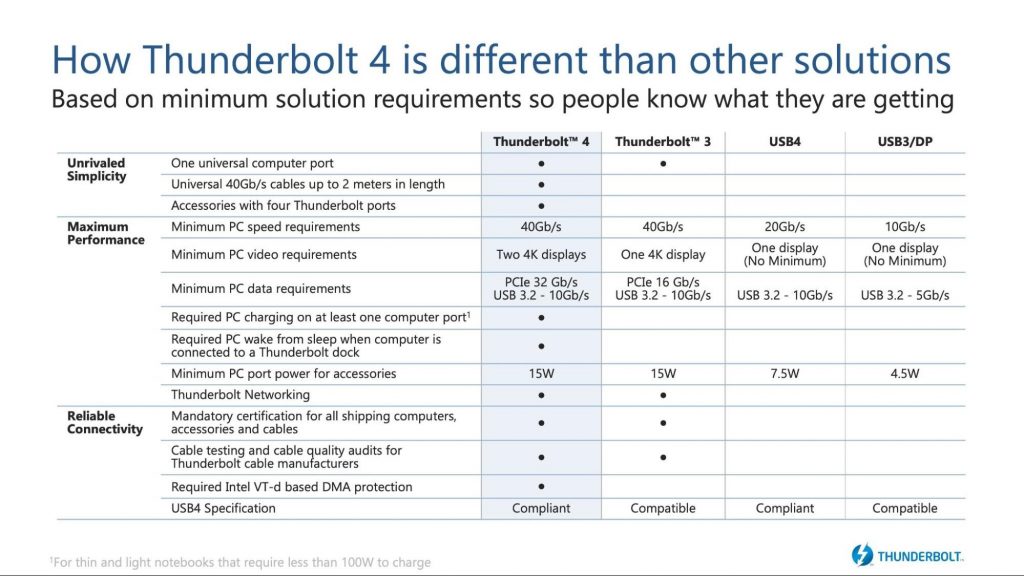 The only head-to-head competitor for Thunderbolt is USB4. Based on 5 common denominators, below is a comparison of both that mentions Thunderbolt's superiority over USB4.
Speed and Performance: Both USB 4 and Thunderbolt 4 offer impressive data transfer speeds of up to 40 Gbps. However, Thunderbolt 4 has higher minimum performance requirements compared to USB 4. For instance, Thunderbolt 4 requires support for at least two 4K displays at 60Hz or one 8K display at 30Hz, while USB 4 does not have such stringent requirements.
Compatibility: Thunderbolt 4 is backward compatible with all previous versions of Thunderbolt and USB. So, you can use a Thunderbolt 4 port with any Thunderbolt or USB device. On the other hand, USB 4 is compatible with USB 3.2, USB 2.0, and Thunderbolt 3 devices.
Power Delivery: USB 4 and Thunderbolt 4 support power delivery of up to 100W. This means you can use a single cable to connect and power your devices, reducing clutter and improving convenience.
Security: Thunderbolt 4 offers enhanced security features compared to USB 4. It requires Intel's VT-d-based direct memory access (DMA) protection, which helps to prevent physical attacks on the system, such as rogue direct memory access (DMA). USB 4 does not have this requirement (a small thing to mention here is that the average user is unlikely to encounter such attacks).
Cost and Availability: Thunderbolt 4 controllers are more expensive than USB 4, making devices with Thunderbolt 4 ports more expensive. Furthermore, while Thunderbolt 4 is commonly found on Intel platforms, it's less common on AMD platforms. USB 4, on the other hand, is more widely adopted due to its lower cost.
USB4 and Thunderbolt both bear uncanny resemblances to each other when talking about their main features. For a more detailed comparison of their extended specifications that differentiate them, refer to the table below: –
| Feature | Thunderbolt 4 | USB4 |
| --- | --- | --- |
| Maximum Speed | Up to 40Gbps | Up to 40Gbps |
| Minimum Link Speed | 32Gbps | 20Gbps |
| Minimum Video Support | Two 4K displays | One 4K display |
| Licensing Costs | Higher | Lower |
| Data Transfer Protocol | Thunderbolt protocol | USB4 protocol |
| Power Delivery | Up to 100W | Up to 100W |
| Minimum PC port power for accessories | 15W | 7.5W |
| Compatibility with Older Devices | Yes, with adapters | Yes, with adapters |
| Universal 40Gbps cables | Yes | No |
| Accessories with four Thunderbolt ports | Yes | No |
| Required PC charging on at least one computer port | Yes | No |
| Required PC wake from sleep | Yes | No |
| Thunderbolt networking | Yes | No |
| Mandatory certification | Yes | No |
| Cable testing and cable quality audits | Yes | No |
| Required Intel VT-d-based DMA protection | Yes | No |
| Daisy Chaining Support | Yes | No |
| Required Cable Type | Thunderbolt or USB-C | USB-C |
Indeed, Thunderbolt has the upper hand over all other options. Being Intel and Apple proprietary tech, you'll find it on many Intel laptops and, of course, on the newer MacBooks. Therefore, since AMD is Intel's direct competitor in the CPU market, the question of whether AMD supports Thunderbolt (or if it ever will) arises.
Thunderbolt on AMD Compatible Desktop Motherboards
Thunderbolt can be implemented on AMD platforms through a discrete Thunderbolt chipset that connects to the CPU via PCI Express. Take the example of the ASUS ProArt B550-CREATOR, an AMD motherboard that supports Thunderbolt 4.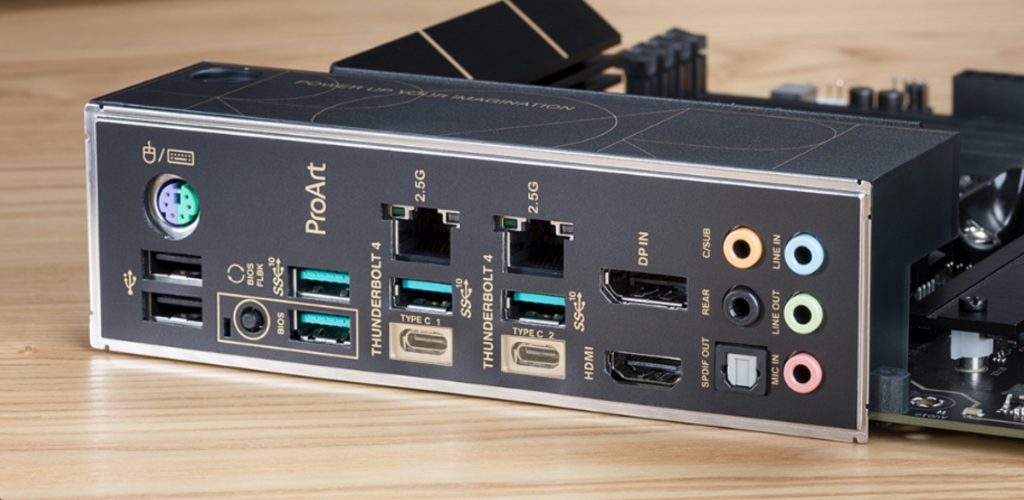 The ASUS ProArt B550-CREATOR motherboard is a unique offering in the market as it is the first AMD AM4 motherboard to support Thunderbolt 4. Each of the two Thunderbolt 4 Type-C ports on the ProArt B550-CREATOR delivers up to 40 Gbps of bidirectional bandwidth, supports up to two external 4K displays, and extends PCIe bandwidth to 32 Gbps.
Here are some other AMD-compatible motherboards housing discrete Thunderbolt chipsets or headers:
ASRock Phantom Gaming ITX TB3 for Ryzen
ASRock X570 Phantom Gaming
ASUS ProArt B550-Creator
MSI MEG Z490I
Do note that these motherboards' naming conventions and specifications may vary depending on region, so it's always a good idea to check the manufacturer's website to confirm Thunderbolt support.
Earlier, before Thunderbolt came into existence, the fundamental designs of most AMD laptops were not inherently compatible with Thunderbolt support. This was primarily because the intellectual property blocks of AMD Laptop's APUs were finalized before the Thunderbolt specifications were made available.
Some AMD laptops supported Thunderbolt, but this was achieved through an external controller connected to the APU's PCle controller. However, this solution is only feasible for some, as it increases the cost of the components, leading many manufacturers to opt out of this feature.
So far, on desktops, it seems Thunderbolt support for AMD is getting a bit less obscure (a good thing for us end users), but a desktop is fully modular. You can slap a dozen processors on the same AM4 chipset motherboard without problems.
The story is a bit different with laptops, however. Modularity isn't an option (mostly), and since laptops are complete packages, there comes the matter of acquiring licenses for Thunderbolt support.
Do We Have It As Much on Laptops?
Finding an AMD-powered laptop with Thunderbolt is challenging as there aren't any entry-level and mid-range computers. A handful of AMD laptops feature Thunderbolt, but they are on the higher side of the price spectrum, making it unaffordable for users on a tight budget.
Here are some AMD Laptops that feature Thunderbolt.
Asus TUF Gaming A16
Razer Blade 14
Corsair Voyager a1600
HP Dragonfly Pro
But before you click Add to Cart, take a moment to consider what it is that Thunderbolt needs to work on an AMD laptop. Essentially, a Thunderbolt controller with a PCIe interface would suffice. Remember when laptops (not too long) ago had PCIe expansion slots, enabling you to enhance your laptop's capabilities using the laptop's equivalent of an Add-in Card?
That's right! We are talking about Modularity.
We know modularity works well with desktops. But what if we give modularity to a laptop? Do we get the magic combo?
The Modular Framework Laptop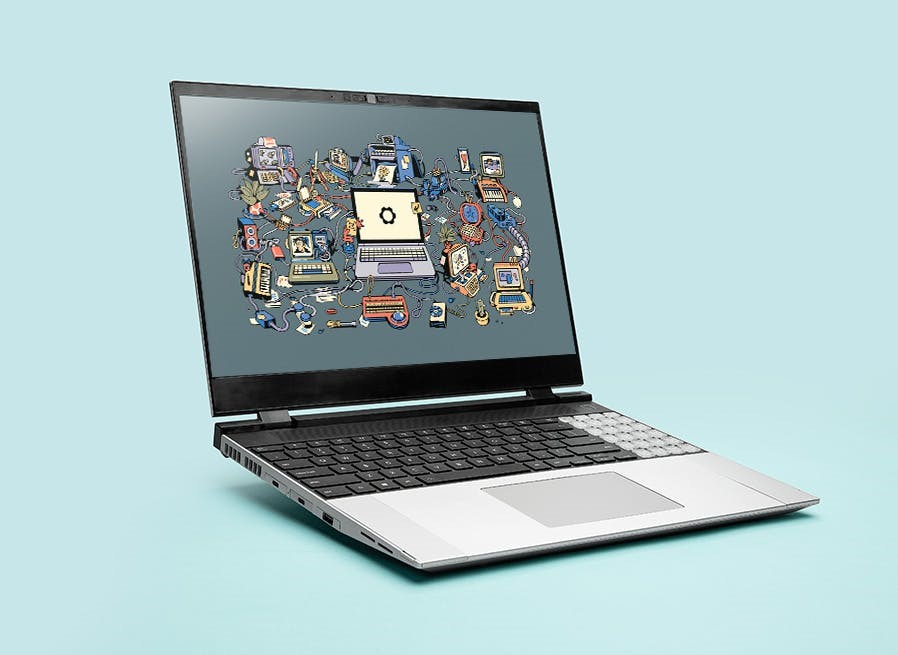 The Framework Laptop 16 (Image credit: Framework)
The only 'truly modular' laptop we have in the market is the Framework Laptop.
The Framework Laptop, launched in 2021, has garnered attention due to its fully modular build. This thin, lightweight laptop allows users to change many parts, including the RAM, SSDs, motherboard, and processor. What sets it apart is its modular port system with six USB4 connectors.
Users can add USB, HDMI, DisplayPort, Ethernet, or audio jacks, among other things. There's also support for SSD modules that let you expand your storage without opening up the chassis. The laptop comes with four bays on the 13" model (and six bays on the 16" model), and users can choose modules to outfit the laptop with their configuration of USB-C, USB-A, HDMI, DisplayPort, microSD, ultrafast storage, a high-end headphone amp, and more.
The long-term success of this modular device rests on the upgradable parts made available to customers over the years. The company has taken steps, like opening an online marketplace, to fulfill its promise of giving users the tools they need to customize, repair, and upgrade their laptops. This level of customization and upgradeability makes the Framework Laptop stand out in the market.
To sum up in a line: Yes, this is a laptop with near desktop-level customization.
Theoretically, you could make a particular PCIe chipset that enables Thunderbolt support on this laptop, but Framework doesn't sell an expansion card tailored for this. Custom garage-made solutions aside. There must be an unofficial way to enable Thunderbolt support on the AMD mainboard.
But USB4 and Thunderbolt are essentially identical when compared down on their foundation. Thunderbolt is just a bunch of extra features. USB4 should be able to do most Thunderbolt stuff easily. Also, getting licenses for AMD boards is hard, so probably the USB4s you see are essentially 'non-branded Thunderbolt ports?'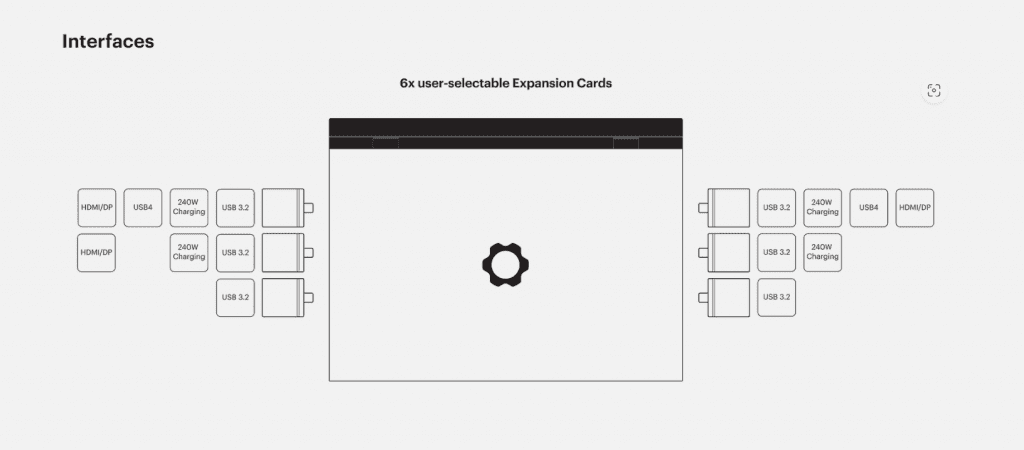 The confusion clears up a bit if you know that the USB-C expansion card is just a pass-through card, so when it says it supports those specs, it means that it supports up to those specs. Still, the ports you plug into must also have stated specs (Framework could've indicated this better for their 16" model). They mention it explicitly for their 13″ model, as shown in the following picture.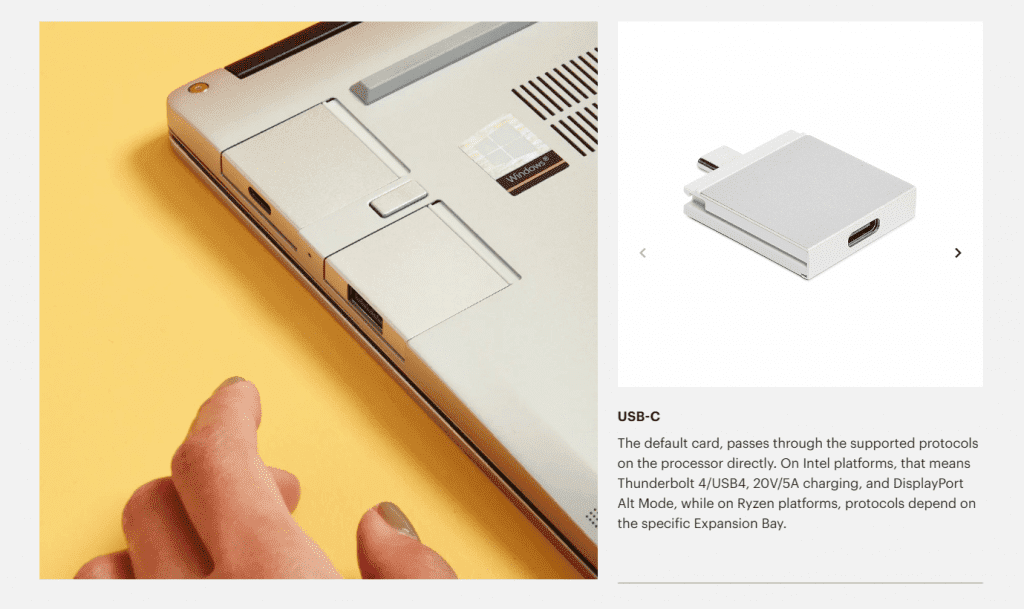 Does the AMD version support Thunderbolt?
Depends on what you mean by Thunderbolt. Most of Thunderbolt's features have been absorbed into USB4, so if you have a proper full-featured USB4 socket, it will be compatible, i.e., support external GPUs, PCIe tunnel, etc. Depending on if it's certified by Intel, it may or may not be called Thunderbolt.
The two USB4 slots on the back of the AMD model will have the same capabilities as the Intel models' 4 USB/Thunderbolt slots. Only the front slots have restrictions.
In one sentence: You get two "Thunderbolt" ports on the AMD, just without the certification.
If you require Thunderbolt certification, get the Intel board. The AMD boards with USB4 and all options enabled will comply with Thunderbolt 4 but won't have the Thunderbolt certification.
The Future of Thunderbolt and AMD
Thunderbolt™ 4 is an Intel certification. It's USB4 with all options enabled, Intel testing, and licensing fees paid to Intel. It's sporadic for AMD boards to have Thunderbolt, which is not just for Framework but generally. The Framework laptop is just one example of how AMD chipsets are finally gelling in with better, more feature-rich proprietary tech like this.
The likelihood of AMD developing its proprietary tech, while less, cannot be ruled out altogether. Demand for Thunderbolt will increase, and OEMs will need something from AMD's side to continue with them.
We'll eventually see more manufacturers adopt Thunderbolt or at least provide all the bells and whistles, perhaps with a new marketing term. That will be fine for power users, although it would require a lot of 'internet digging' to know what exactly comes loaded in your machine. Everyday users may not even need the extra features and would find USB4 pretty capable (remember how they're essentially very similar? That means USB4 is blazing fast too).
Also, desktops have advanced in the right direction, with plenty of options to choose from. However, if you're looking for a Thunderbolt-certified AMD laptop in the market right now, your choices are limited to exorbitantly-priced devices that'll break the bank!