We may earn an affiliate commission if you purchase products through links on our website. As an Amazon Associate, we earn from qualifying purchases. Learn more.
Lenovo ThinkPad Universal USB-C Dock v2 Hands-on Review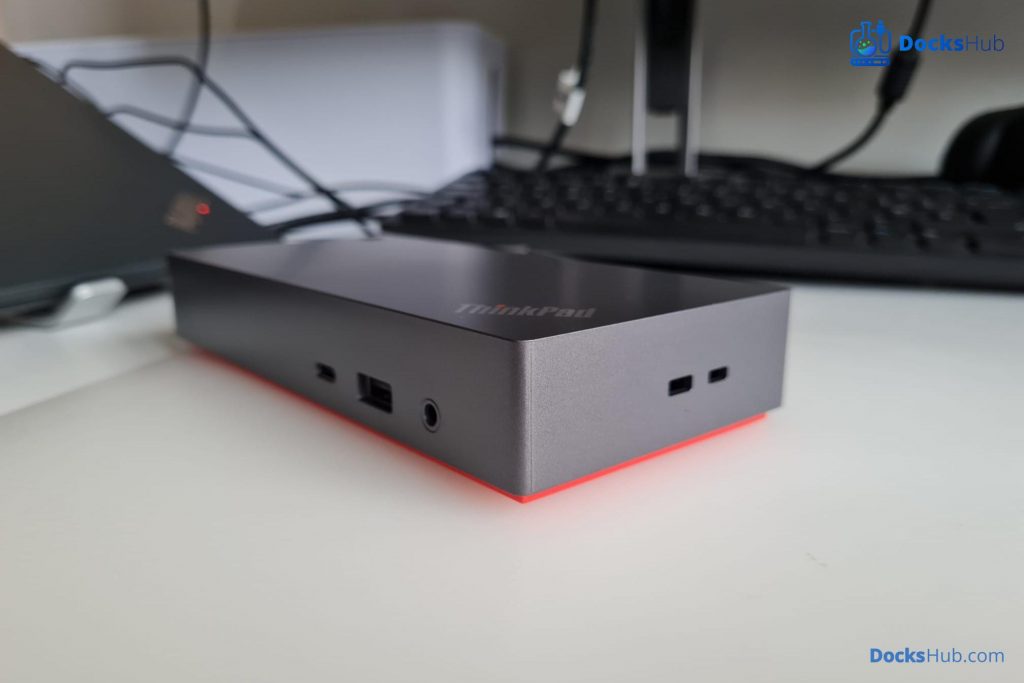 Versatile and Corporate-Ready Docking for ThinkPad Users
The Lenovo ThinkPad Universal USB-C Dock v2 lives up to the premium ThinkPad name with its versatile connectivity, seamless performance, and networking features that IT teams need. Offering the perfect docking solution for ThinkPad professionals, this dock expands productivity through streamlined setup, robust ports, and support for multi-monitor efficiency.
Best For
ThinkPad users needing to connect many USB-A accessories and peripherals
Companies and IT professionals using ThinkPads that need secure, managed docks
ThinkPad users wanting multi-monitor productivity (up to 3x 4K displays)
Professionals using ThinkPads who value versatile ports and good value
Considerations
Advanced features like mirrored power may only work fully on ThinkPads, not other Lenovo/non-Lenovo notebooks
Doesn't have Thunderbolt 3/4
Included 90W adapter only delivers 65W to laptop (135W adapter sold separately for 100W delivery)
Our Verdict
The ThinkPad USB-C Dock hits the sweet spot between price and performance. With robust port availability, streamlined usability, and crucial security traits, it's an excellent choice for ThinkPad professionals needing a productivity boost.
With 8 USB-A 3.2 ports, the ThinkPad USB-C Dock maintains legacy connectivity so you can continue using existing USB peripherals and accessories. The sophisticated design matches your ThinkPad notebook with a polished aesthetic. Ports are conveniently located and easy to access.
While it lacks Thunderbolt, the ThinkPad USB-C Dock still provides versatile, secure docking at a good value.
Support for up to three 4K displays allows you to multitask efficiently across an expanded desktop.
The ThinkPad USB-C Dock is a stellar choice for corporate IT environments where unified device management and protection are required. With its robust security features and remote management capabilities, the dock enables IT teams to easily deploy, control, and safeguard ThinkPads being used by professionals across the organization.
Unboxing & What's in The Box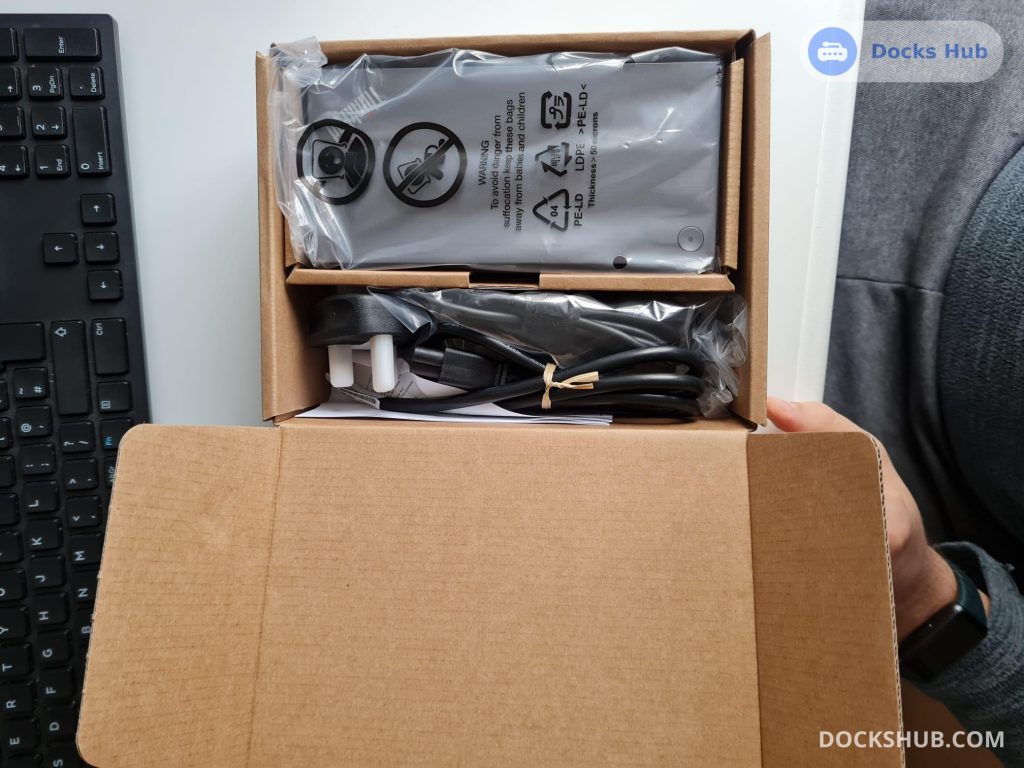 In the ThinkPad Universal USB-C Dock v2 package you get:
The dock itself.
A 90W power adapter for powering the dock and delivering up to 65W to your laptop, with a detachable cable
A 1-meter USB-C cable for connecting the dock to your laptop.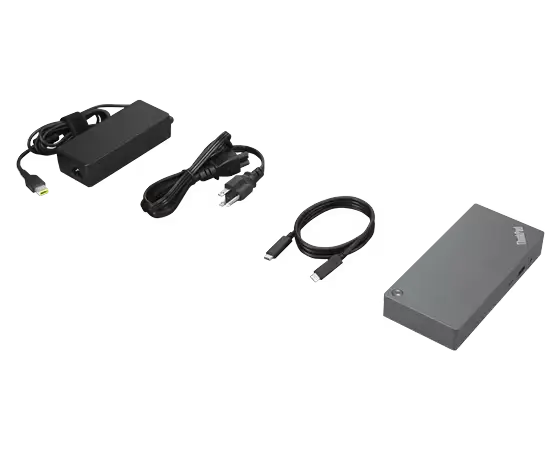 Design and Build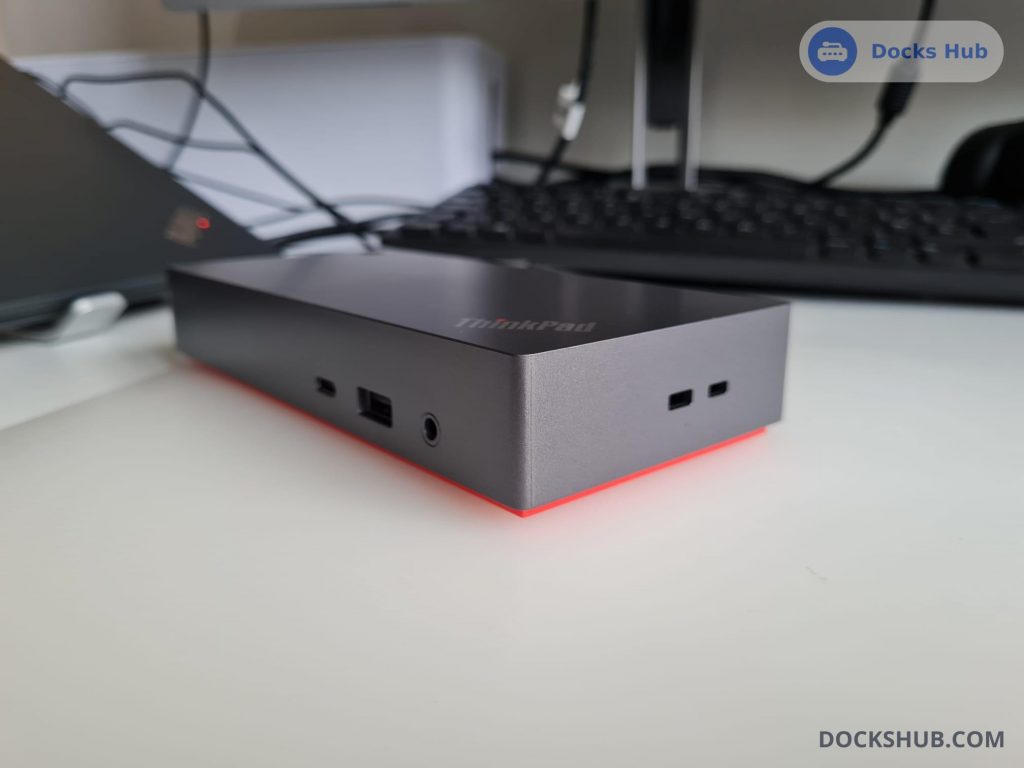 The dock looks sleek and stylish, like the usual ThinkPads aesthetic. It has different ports that are easy to reach. There's a Kensington lock slot and a NanoSaver lock slot too, so you can secure the laptop if you use it at work. You can see the slots in the angle view picture.
Power Delivery
Included Power Adapter (up to 65W): The dock includes a 90W power adapter that can supply up to 65W to connected laptops, which meets the needs of most ThinkPad models.

Separately Sold

Slim-Tip Power Adapter (up to 100W): An optional 135W slim tip power adapter can be procured separately, extending power delivery to laptops up to 100W.
Connectivity
Multi-Display Support: Supports up to three external monitors (2x 4K@60Hz, and 1x 4K@30Hz), catering to users requiring multiple screen setups.
Network and Audio: Features a Gigabit Ethernet port for reliable wired network connectivity with MAC address pass-through, and a combo audio jack for audio.
Back Ports
Feature/Port

Description/Specification

1x USB-C (Upstream/Host Port)

Connects to the laptop

Slim-Tip Power Connector (90W)

Power supply that delivers up to 65W to your laptop

2x DisplayPort 1.4

Two displays: 2 x 4K @ 60Hz
Three displays: 2 x 4K @ 60Hz

1x HDMI 2.0 Port

One display: 8K @ 30Hz
Three displays: 4K @ 30Hz

2x USB-A 3.1 Gen 2 (10Gbps)

For connecting older USB devices, like flash drives

1x Gigabit Ethernet Port

For wired internet

2x USB-A 2.0 Ports

2 Ports, ideal for mouse and keyboard connectivity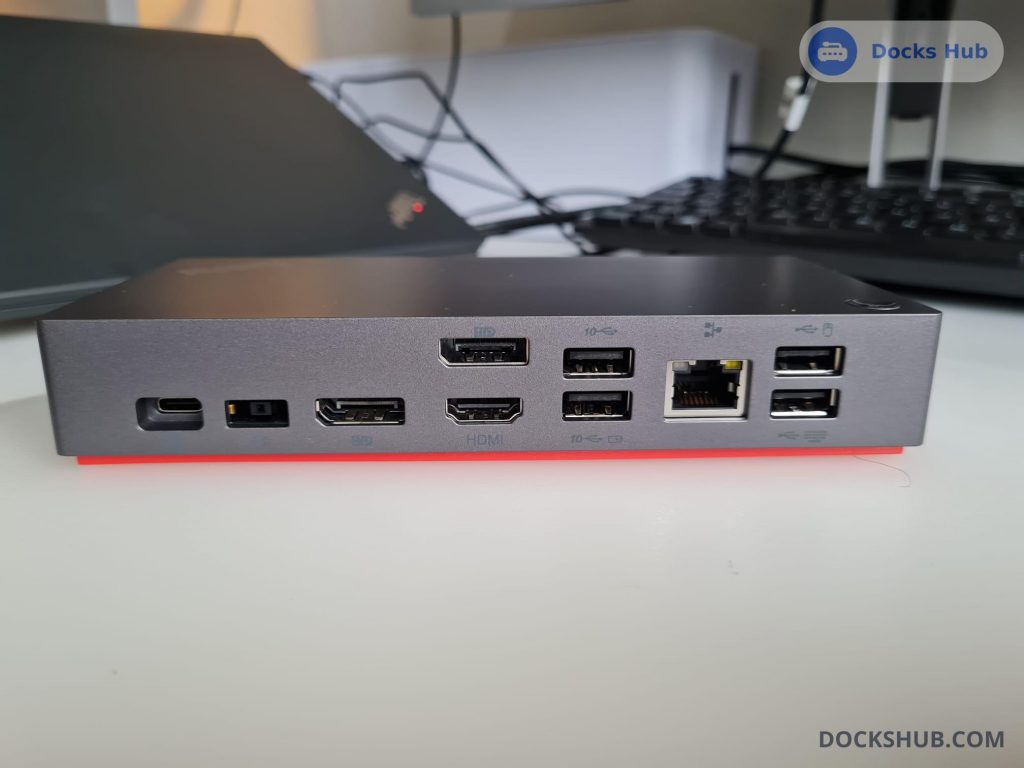 Front Ports
| Description/Specification | Details for Beginners |
| --- | --- |
| USB-C 3.2 Gen 2 (10Gbps) | For fast data transfer and connecting new devices (like smartphones) |
| USB-A 3.1 Gen 2 (10Gbps) | For connecting older USB devices, like flash drives |
| Combo Audio Jack | For plugging in headphones or a headset with a microphone |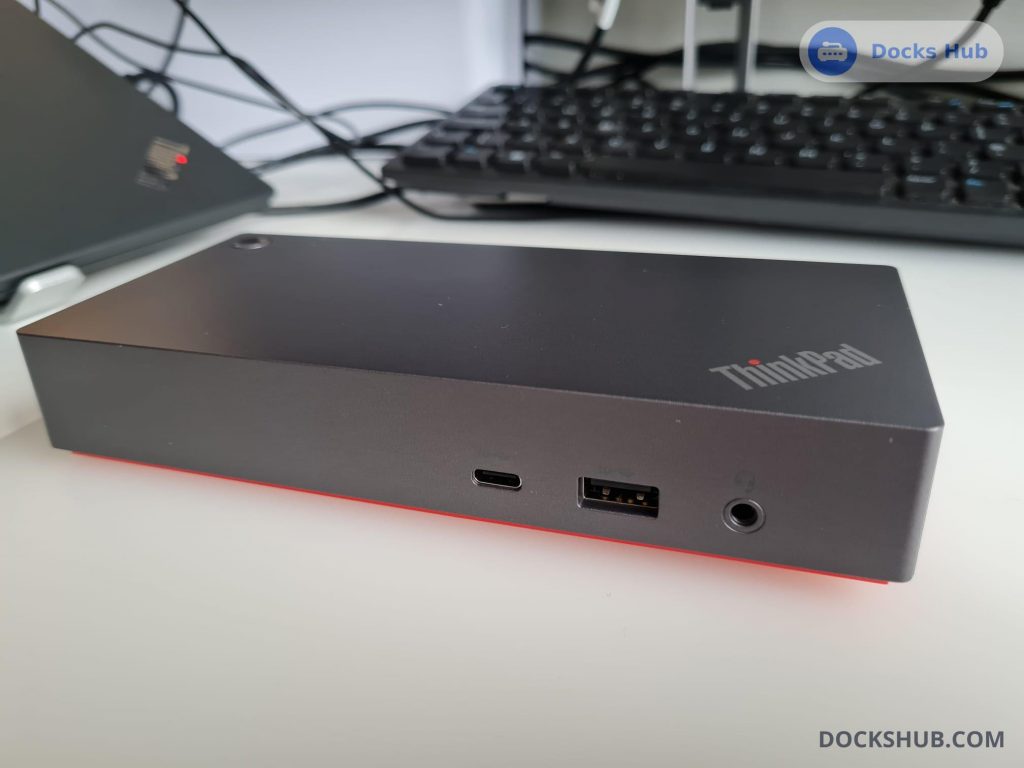 Side Ports
2x Lock slots for security
| Description/Specification | Details for Beginners |
| --- | --- |
| 2x Security Slots | Slots for attaching locks to secure your device against theft |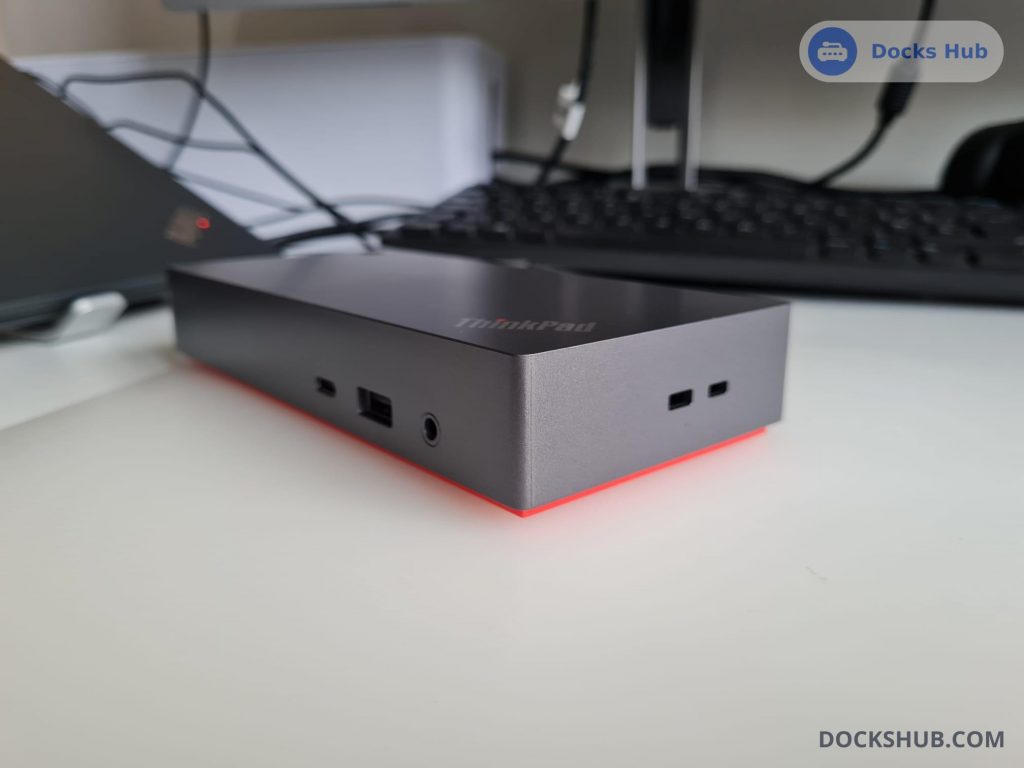 Performance
Dynamic Power Charging: The dock can charge devices faster by adjusting the power rate up to 100W if you use the optional 135W adapter (

sold separately

). So it customizes the charging speed for your device.
Automated Firmware Updates: The Lenovo Dock Manager software can automatically install the latest firmware updates and security patches for the dock. So you don't have to manually update the software to keep it working its best.
Usability
Advanced Plug-and-play: Offers a level of plug-and-play convenience, albeit the term "next-level" plug-and-play is more of a marketing phrase, it hints at an enhanced ease of use and automatic configuration.
Mirrored Power Button:
The dock has a power button that mirrors your laptop's, which is handy if you like to keep your laptop closed when it's docked. But this feature only works with most ThinkPads, not other Lenovo laptops or other brands.
Enterprise Management Features:

Supports PXE boot and Wake On LAN (WOL) making it an attractive option for IT managers.
Silent Reboot and Remote Device Queries are additional features which could be beneficial in a corporate setting, although the exact integration and functionality were not detailed.
Size and Dimensions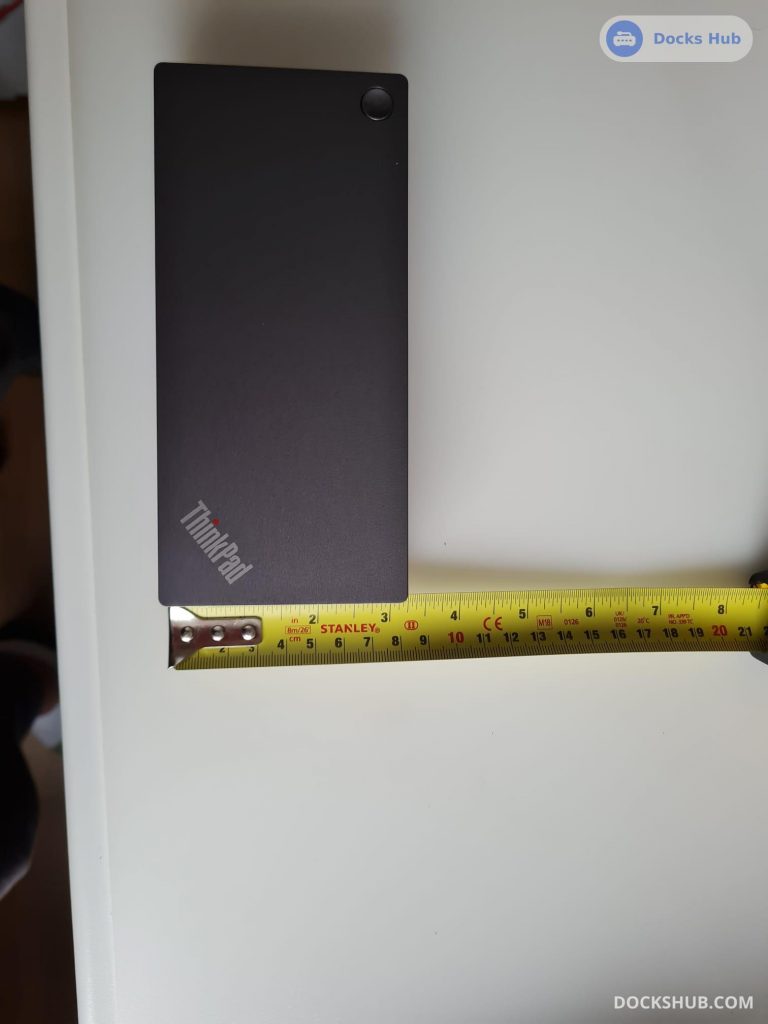 The images show the dimensions of the dock which is compact and can easily fit on a desk without occupying much space.
Conclusion
After trying out the ThinkPad USB-C Dock, I can confidently say it does what it's designed for – being a flexible docking station you can use at home or work.
It doesn't support Thunderbolt, which might be a dealbreaker for some people. But for the price, you get a lot of ports that worked reliably in my testing – USB-A, USB-C, display connectors, ethernet, audio, etc.
For corporate use, it has advanced networking features like PXE boot, MAC address pass-through, and for security it has 2x Kensington lock slot. So IT departments can manage and control the devices.
If you need Thunderbolt, look elsewhere. But if you want an affordable, versatile dock with good security, the ThinkPad USB-C Dock gets the job done.
It balances usability, connectivity, networking features, and value very well. I absolutely recommend it for professionals or businesses wanting those things. It hits a nice sweet spot.