Since more people have opted to work from home, laptop docks have become an essential part of the home office setup. These can turn a thin and light notebook into a desktop workstation. Thanks to USB-C, you can plug your laptop into the dock using a single cable and external monitors, peripherals, and storage devices. In this review, we cover the SD5750T Thunderbolt 4 dual 4K dock from Kensington and tell you what we like and dislike about it.
A Thunderbolt 4 dock is ideal for people that want to plug in their laptop to get a desktop workstation experience without having to compromise the portability that a laptop has to offer. You can use your laptop on the go, and when you are at your workspace, you can plug into the dock to connect your laptop to external monitors, storage devices, headphones, microphones, other peripherals, and even an external graphics card using a single Thunderbolt 4 cable. The cable also charges your laptop while you work. Then when you are ready to unplug and take your laptop with you, all you need to do is remove a single cable, and you are ready to go with your laptop battery charged up.
Pros:
Solid performance
No Thermal issues
90W power delivery for laptop charging
Supports 8K displays at 30Hz or two 4K displays at 60Hz
Plenty of ports
SD card reader
Power Button
Cons:
Thunderbolt 4 host connector is at the front
100W power delivery would be better
Expensive
Rear USB-A delivers less power
Specifications And Impressions
Ports
4 x Thunderbolt 4
3 x USB-A 3.2 Gen2
1 x USB-A 2.0 Gen1
1 x UHS II SD Card Reader
1 x 3.5mm mic/audio jack Gigabit Ethernet Port
Support
Windows 10 laptops with Thunderbolt 4 port or MacBooks running MacOS Big Sur 11 with Thunderbolt 3 port.
The Kensington SD5750T is very well-equipped with Thunderbolt 4 (USB4, DisplayPort, and PCI Express) and dual 4K display support. Thunderbolt 4 is backward compatible, so it will support Thunderbolt 3 and USB-C devices. The dock comes with an external power brick and needs to be plugged into the wall in order to work. The power brick itself is fairly large and about the same size as the dock itself.
You can connect your laptop to the dock using the provided Thunderbolt 4 cable, which also charges the laptop. Up to 90W of power delivery is supported for laptop charging which is enough to power a laptop such as the MacBook Pro 16-inch while doing intensive tasks such as video editing.
On the right side of the Thunderbolt connector, there are LED indicator lights and a power button. The lights indicate whether or not the dock is powered on and if it is connected properly to your laptop. Not all docks have the ability to turn on or off separately, so having a power button on the dock itself is a nice addition.
Towards the left of the Thunderbolt connector, there is a 3.5mm audio jack, a USB-A 2.0 port (5V/1.5A charging), and an SD card reader (UHS II). The memory card reader is ideal for content creators that need to move pictures or videos from their cameras to their laptops. The 3.5mm jack supports both headphones and microphones, allowing you to connect your wired headset to the dock rather than having to connect it to your laptop. There are two Kensington locks on the side of the dock.
At the bottom of the dock, there are rubber feet that keep the dock in place and keep it from sliding off slippery surfaces. At the back of the dock, there are three Thunderbolt connectors that allow you to connect devices directly, or you can daisy chain devices and connect up to five of them simultaneously. You have the option to connect an external 8K display at 30Hz or a pair of 4K displays at 60Hz. Three USB-A 3.2 Gen 2 ports (10 Gbps) and a 1 Gigabit ethernet port are also included at the back of the device. The USB-A 3.2 Gen 2 ports can be used to connect devices such as external hard drives, keyboard or mouse receivers, and audio interfaces.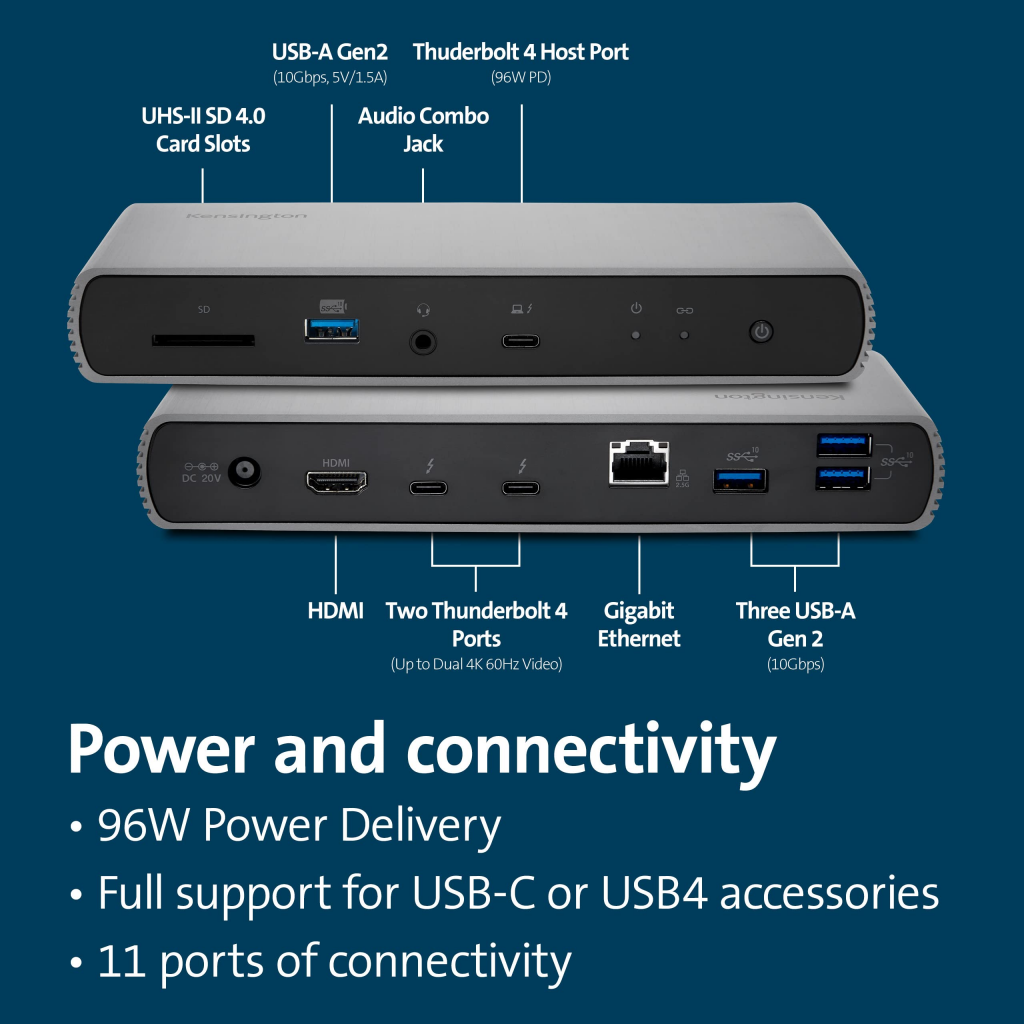 Design
The Kensington SD5750T sits flat on your desk and is fairly compact (7.7 x 2.95 x 1.2 inches) and lightweight (0.95 pounds). You have the option to mount it if you choose. Mounting holes are located at the bottom of the device, and you can mount the dock using the docking station mounting bracket, which is sold separately (22 USD). Using the bracket, you can mount the dock to your monitor stand or your desk, to hide it from view. This is a great solution if you are concerned with cable management and like to have a clean setup.
The dock does not have any sharp edges and is fairly rounded. The body is made of brushes aluminum which also helps to dissipate heat and eliminate any thermal issues.
While the dock itself is fairly compact, it does come with a large power brick, which is about the same size as the dock itself. This is necessary, keeping in mind the power that the dock needs to supply, but you will need to get creative to hide the brick if cable management is a concern.
Furthermore, the dock has rubber feet on the bottom, allowing it to stick in place and keep it from sliding off slippery surfaces.
Performance
I tested the dock using my M1 MacBook Air and connected it to an external display and a pair of SanDisk Extreme Portable SSDs via the dock. I also tested other devices, such as a Sony UHS 2 SD card. The following are all the devices that were used for testing:
LG 4K 60Hz monitor
Keyboard
Mouse
Wireless headset
SanDisk Extreme Portable SSD
Sony UHS 2 SD card
1Gbps Ethernet line
When transferring data from high-speed external SSDs such as the SanDisk Extreme Portable SSD over the USB-A ports on the back of the dock, there was some inconsistency, and transfer speeds would occasionally drop. I assume that this is due to a power limitation to these ports since the transfers worked fine via Thunderbolt 4 (1101 MB/s write, 2571 MB/s read). Slower flash drives and external hard drives worked fine. So if you have high-speed SSDs, then you should connect them via the Thunderbolt 4 ports rather than USB-A.
It is worth mentioning that if you have two high-speed external SSDs connected at the same time, then they will share bandwidth, and performance will not be the same as when using a single drive at a time. So you will need to be strategic in order to take advantage of Thunderbolt 4.
I also ran an internet speed test with an ethernet cable plugged into the dock and got 933 MB/s download, and 739 MB/s upload on a gigabit internet connection. Furthermore, I tested a Sony UHS 2 memory card and got 208 MB/s write and 220 MB/s read. These are obviously not as fast as SSDs, but the functionality of ease of use is still there if you want it.
The LG 4K 60Hz monitor connected as it should, and performance was as expected. I had no issue whatsoever with all these devices connected to the MacBook Air using the dock, apart from the slower performance of some drives when connected via USB-A. The performance via Thunderbolt was close to, if not on par with, the native MacBook Air USB-C port.
All the other peripherals, such as the keyboard, mouse, and receiver for the wireless headset, worked fine too, and there was no audio issue or any time that the keyboard or mouse became unresponsive. Everything worked as it should.
Drawbacks
While this is a great dock, there are some things that can be improved further. The power delivery, for example, can be increased to 100W or beyond to accommodate more demanding hardware and workflows. While I did not experience any issues with the 90W power delivery, more than 100W of power delivery would be a great feature to have that would future-proof my setup.
Furthermore, the Thunderbolt 4 host port is located at the front, and it can get in your way if the dock is close to you. It would have been better if this was located at the side or the back of the dock. It is also worth mentioning that this is a very expensive dock. Which makes you think about whether or not it is worth the money. If you have high-end 4K monitors and high-speed storage devices, then it does make sense. On the other hand, if you are using legacy devices or older storage devices that are not as fast, then you will not be able to take advantage of the performance that the Kensington SD5750T has to offer. In that case, you would be better off with a cheaper alternative.
It is also worth mentioning that while the dock did work with my M1 MacBook Air, only a single video output is supported. Furthermore, there are no HDMI or DisplayPorts on the dock, so unless your monitor supports USB-C, you will need to use an adaptor.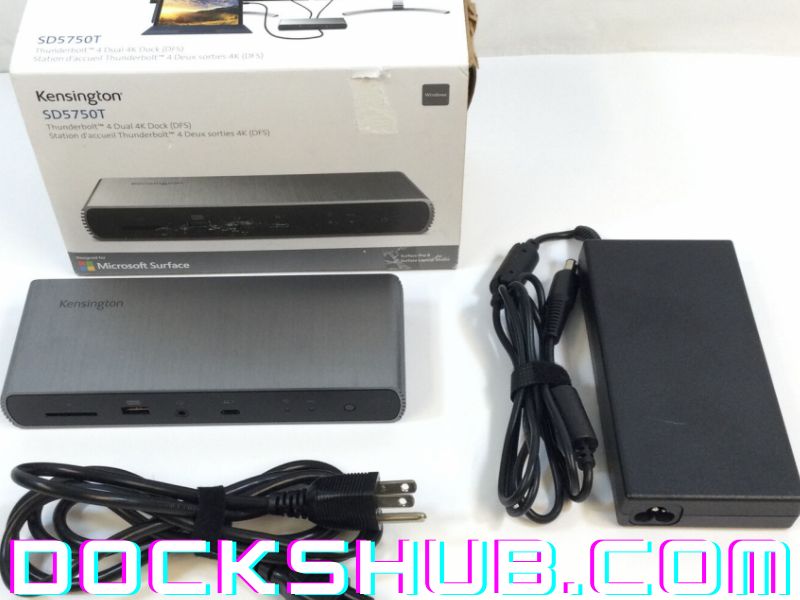 Compatibility
The Kensington SD5750T has been designed exclusively for the Surface, but you can use it with MacBooks and other laptops as well. If you want to use this with a Mac, then it should have a Thunderbolt 3 port, and you need to use the latest version of MacOS (Big Sur 11). For Windows devices, you need to make sure that your laptop has a Thunderbolt 4 port. If your Windows laptop has a Thunderbolt 3 port instead, then you will not be able to connect to the dock via the Thunderbolt 4 host connector.
Unlike some other Kensington docks (SD4700P, SD3650, SD3600, SD4000, SD3500v), the Kensington SD5750T does not require DisplayLink for video output. This makes it simple to use with a MacBook as long as you meet the requirements mentioned above.
With Thunderbolt 4, you get compliance across the broadest set of industry specifications, including USB4, DisplayPort, and PCI Express. So not only does the Kensington SD5750T dock with USB4 devices, but you can use an external graphics card with it as well.
Since the Kensington SD5750T was made in collaboration with Microsoft for the Surface lineup, you can connect it with Surface devices that have a Thunderbolt 4 port and have it work seamlessly.
Price Vs. The Competition
While the Kensington SD5750T is one of the best dual 4K monitor docks that you can get right now, it is rather expensive (390 USD). In comparison, the older Kensington SD5700T costs 241 USD and offers similar functionality, and even looks the same. The Belkin Connect Pro Thunderbolt 4 dock is another competitor that offers dual HDMI ports and a single Thunderbolt 4 port and is significantly cheaper at roughly 279 USD. Even Razer's Thunderbolt 4 dock, with similar functionality and the added RGB lighting, costs 330 USD.
With that in mind, you really need to see if you are going to use the Kensington SD5750T to its full potential before you bite the bullet and spend all that money on a docking station.
Conclusion
The Kensington SD5750T Thunderbolt 4 is built well and offers solid performance, but it also has a high price tag. If you own different peripherals and want to connect them all to your laptop using USB-C, then this is a great option that is worth considering. This is an ideal solution for people that want to plug in their laptop to get a desktop experience but do not want to compromise the portability of a laptop.