We may earn an affiliate commission if you purchase products through links on our website. As an Amazon Associate, we earn from qualifying purchases. Learn more.
Kensington SD5700T Thunderbolt 4 Docking Station Review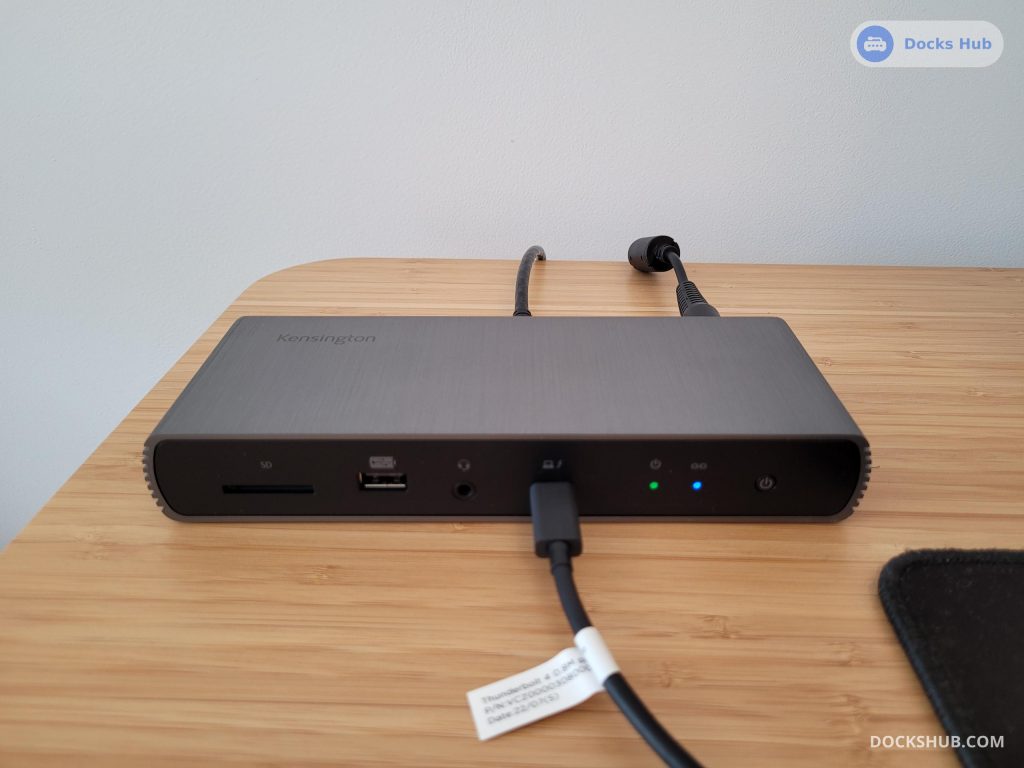 Thunderbolt 4 Powerhouse for High-End Laptops
The Kensington SD5700T Docking Station is a premium solution designed to maximize connectivity and performance for Thunderbolt 4 laptop users. With 40Gbps bandwidth, the SD5700T enables smooth 4K dual display support along with swift data transfers. As an innovative dock geared towards professionals, it offers robust productivity features to enhance modern workspaces.
Best For
High-end laptops equipped with Thunderbolt ports.
Thunderbolt 3, Thunderbolt 4, or USB4 devices running macOS 11 or later and Thunderbolt 4 devices running Windows 10 or later.
Professionals requiring dual 4K @ 60Hz displays for multitasking.
IT departments in corporate environments due to its plug-and-play compatibility.
Individuals looking for a durable and heat-resistant docking station.
Considerations
It's best suited Thunderbolt 4 devices.
Isn't backwards compatible with Thunderbolt 3 devices running Windows.
The power adapter is notably large, which might require additional space.
The absence of HDMI or DisplayPort means users need adapters if used with non-USB-C monitors.
Doesn't have Wake-on-LAN.
Our Verdict
The Kensington SD5700T Thunderbolt 4 docking station is a top choice for professionals with high-end laptops. Its ability to support two 4K displays at 60Hz enables seamless multitasking without sacrificing visual quality.
For IT departments in corporate settings, the SD5700T offers simple plug-and-play compatibility along with Kensington's trusted reliability. As an established leader in docking solutions, Kensington's reputation backs the dock's dependability.
The SD5700T's most impressive feature is its versatility, in my opinion. With three Thunderbolt 4 ports, users can adapt to diverse connectivity needs using adapters. Whether HDMI, DisplayPort, or other connections, the SD5700T readily accommodates various setups, making it a future-proof investment for tech-savvy professionals.
Connectivity & Ports
The Kensington SD5700T Docking Station opts for Thunderbolt 4 over dedicated HDMI and DisplayPort outputs. This minimalist approach leverages Thunderbolt 4's versatile protocol to connect monitors and peripherals through adapters rather than packing in an array of fixed ports.
While potentially limiting for some, the streamlined design keeps the SD5700T compact, affordable, and focused on flexibility.
Front Ports
| Feature/Port | Description/Specification |
| --- | --- |
| 1x SD Card Slot | Standard (SD4.0 UHS-II) |
| 1x USB-A 2.0 | 5V/1.5A Charging |
| 1x Combo Audio Port | 3.5mm (Audio/Mic) |
| 1x Thunderbolt 4 Host Port | Connects to your computer. Up to 90W Charging. |
| LED Power Indicator | Indicates power status |
| LED Connectivity Indicator | Indicates connectivity status |
| Power Button | Controls power to the dock |
The front of the Kensington SD5700T is equipped with an SD Card Slot, a USB-A 2.0 7.5W, and a combo audio port.
The Thunderbolt 4 host port, which you'd connect to your laptop, is also located here. While some might appreciate the front placement for easy access, others might find it obstructive depending on their desk setup.
It's a matter of personal preference and workspace arrangement.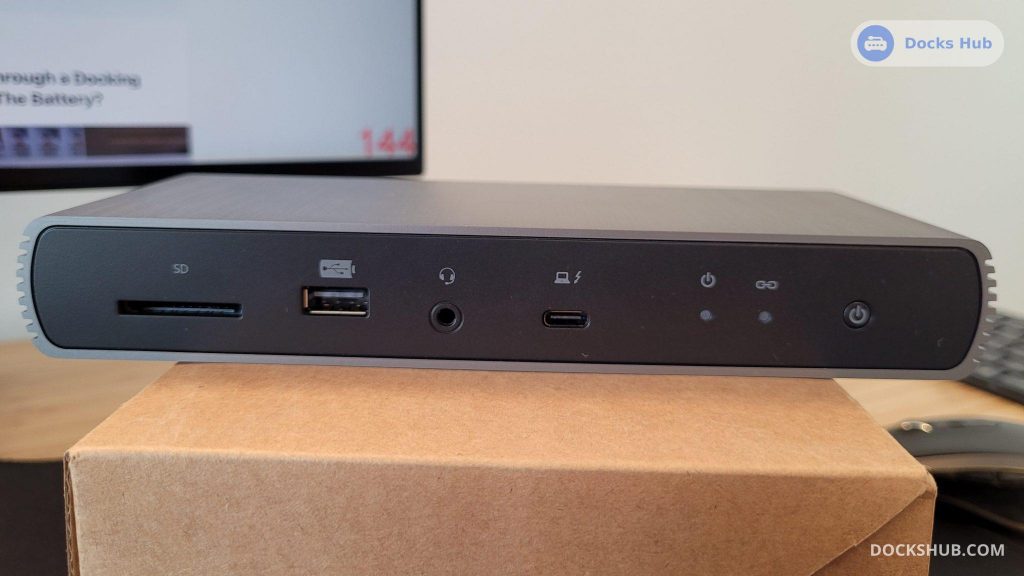 Back Ports
| Feature/Port | Description/Specification |
| --- | --- |
| DC Power Input | Provides power to the dock |
| 3x Thunderbolt 4 Ports | 3x (Supports displays up to 2x 4k@60z or 1x 8k@60z) |
| 1x Ethernet Port | Gigabit (10/100/1000 Mbps) |
| 3x USB-A 3.2 Gen 2 Ports | 10Gbps (shared between all 3) |
The back of the Kensington SD5700T is where you'll find the Thunderbolt 4 ports, which offer great versatility.
If you need HDMI or DisplayPort, these ports can easily accommodate that by using a USB-C to HDMI/DisplayPort adapter.
Additionally, the 3x USB-A 3.2 Gen 2 Ports share the same USB bus, meaning the 10 Gbps speed is distributed among them.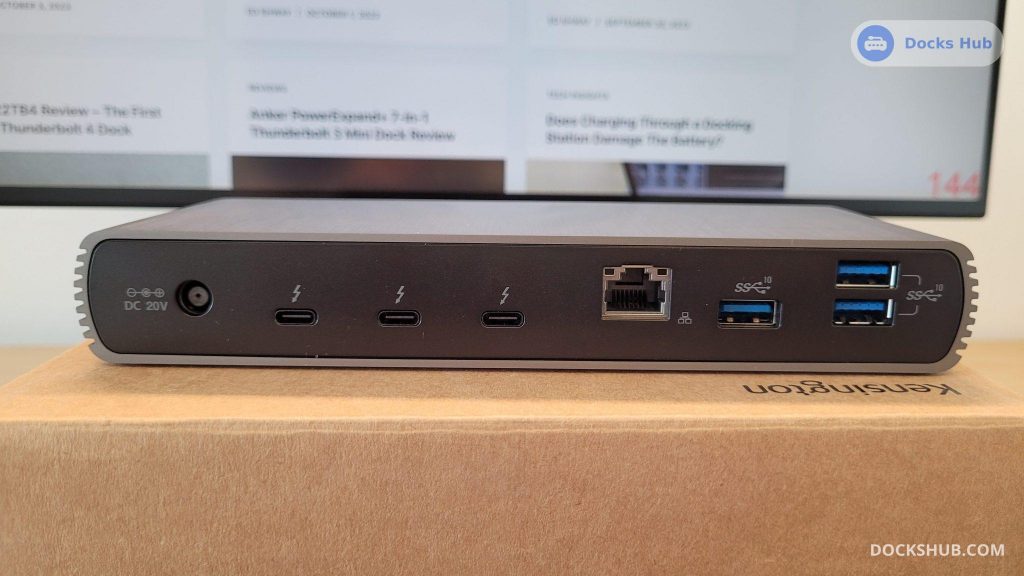 Left Ports
| Feature/Port | Description/Specification |
| --- | --- |
| Kensington Security Slot | Standard security slot |
| Kensington Nano Security Slot | Nano version of the security slot |
On the side is where you'll find the Kensington standard and nano security slots.
These slots are designed to attach security cables or locks, ensuring the docking station is anchored and safeguarded against theft, especially in shared or public spaces.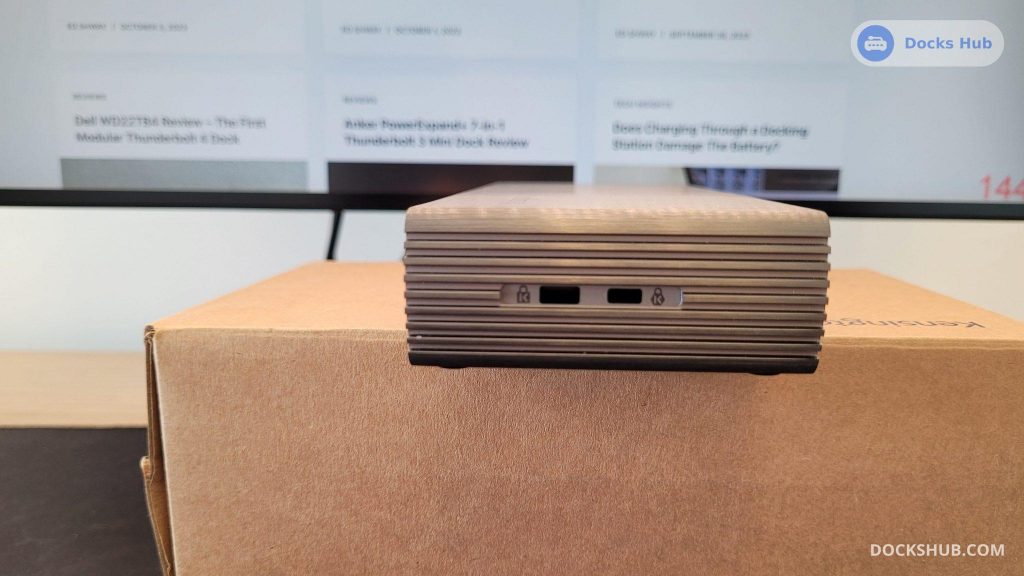 Compatibility
The Kensington SD5700T is plug-and-play compatible with Thunderbolt 4 and USB4 on both Windows 10 and macOS.
It also works out of the box with Thunderbolt 3 on macOS but not Thunderbolt 3 on Windows. For Windows users who require Thunderbolt 3 support, Kensington offers a separate SD5700 series model.
But the SD5700T covers Thunderbolt 4, USB4, and macOS Thunderbolt 3 with seamless plug-and-play functionality.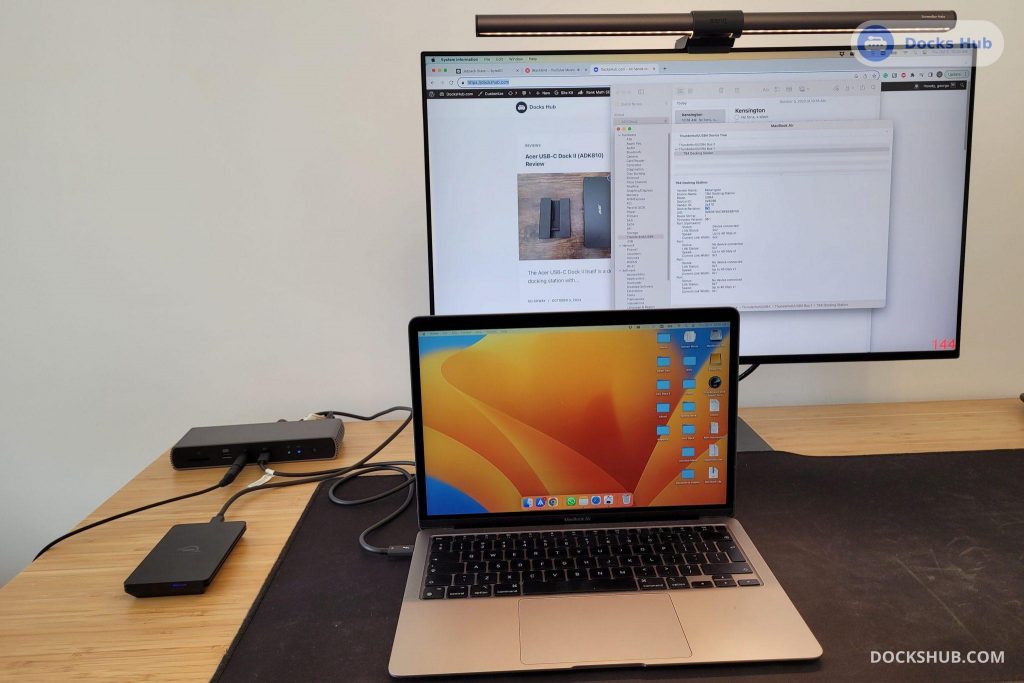 This cross-platform support makes deployment easy for IT staff working with remote users who need the devices to just work – no driver or DisplayLink software installation necessary. Users can simply connect the dock to start working.
Unboxing
The Kensington SD5700T docking station package includes:
The docking station unit
Instruction manual
Product paperwork
A detachable 2.6 ft (0.8m) Thunderbolt 4 cable
The 180W power adapter and power cable, capable of 90W power delivery to the host. Suitable for powering most laptops.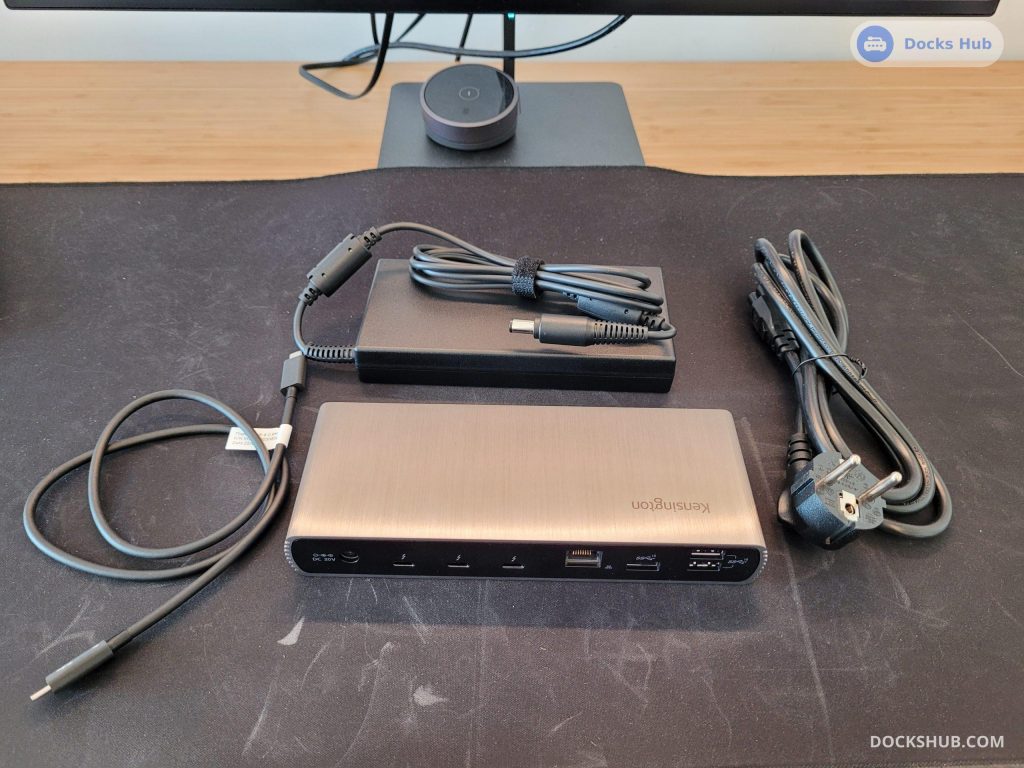 Setup, Installation & User Experience
The Kensington SD5700T docking station provides a seamless plug-and-play experience right out of the box. No DisplayLink is needed. This is great, especially for IT professionals who manage IT infrastructure for multiple users.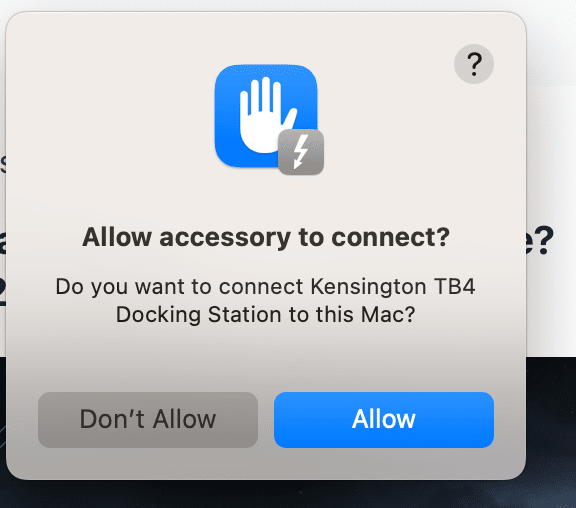 I was able to immediately connect my MacBook Air M1 to the dock via the Thunderbolt cable and get my 4K 144Hz display working with no additional setup required.
The Thunderbolt ports on the dock allow for max speed connections with external SSD drives, providing fast data transfers.
Having the host port located on the front is perfect for me.
While the dock lacks built-in HDMI/DisplayPort connections, the multiple USB-C ports can easily adapt to HDMI or DisplayPort with a dongle as needed. I actually prefer having more flexible USB-C ports versus dedicated video outputs. The dongles provide a cost-effective way to enable various monitor configurations when required.
If you have a Thunderbolt 4 capable laptop, with just a single Thunderbolt cable connected between the laptop and dock, you instantly have access to a display, keyboard, Ethernet, external drives, speakers, printers, and power. It enables excellent portability of your laptop while also simplifying transitions between mobile use and a robust workstation experience.
LED indicator lights on the dock provide visual status cues – a blue LED indicates a host connection, while a green LED shows power status. These are handy visual confirmations when plugging in devices.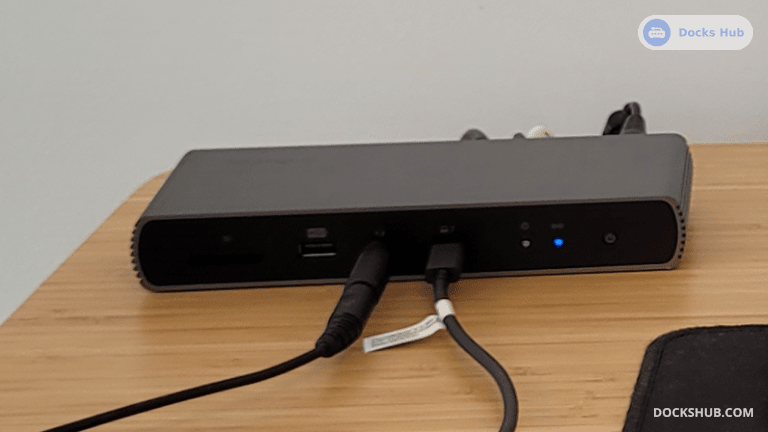 Noise
The dock has no internal fans, so it remains silent during operation.
There is a very faint coil whine sound if you put your ear directly on the dock, but it is negligible during normal use.
Heat Dissipation
After several hours of continuous use, it did get noticeably warm to the touch but not uncomfortably hot.
Displays & Graphics
I was able to get 4K @ 144Hz resolution with HDR enabled on my M1 MacBook Air using a USB-C monitor (Eve Spectrum 4K), not a Thunderbolt 4 monitor.
This required selecting the display setting to prioritize refresh rate over the built-in USB-C dock functions. Without adjusting this setting, I was limited to 60Hz refresh at 4K resolution.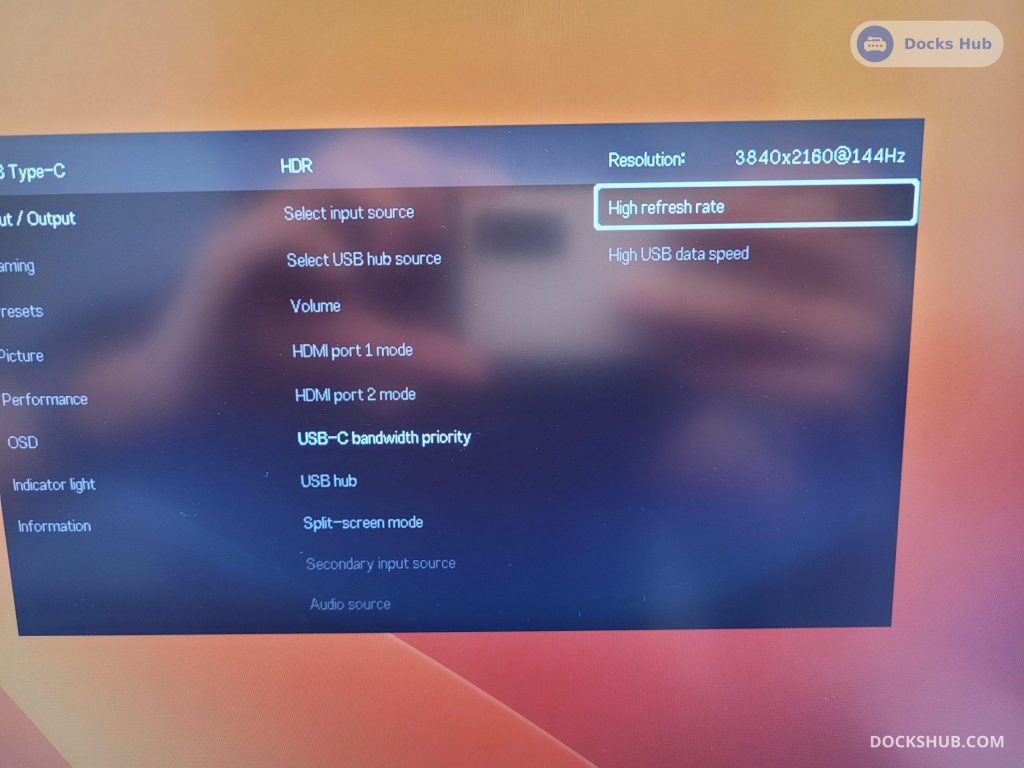 Multiple Displays MacBook M1
According to the official product page, the original M1 MacBook has limitations running multiple monitors when connected through this Thunderbolt dock. Only a single video output is supported on the original M1 chipset.
For multi-monitor setups on an M1 MacBook, Kensington recommends their Hybrid USB-C DisplayLink docking stations or DisplayLink adapters instead.
The important note is that the newer M1 Pro and M1 Max chipsets in the latest MacBooks fully support multi-monitor configurations on these Thunderbolt docks without issue.
So, for most modern MacBooks, you can achieve dual 4K displays at high refresh rates through this docking station. The limitations only apply specifically to the original M1 models.
Performance & Usage
Disk Performance
I tested disk performance by transferring a 5GB test file to and from an external SSD connected in different configurations:
SSD connected directly to M1 MacBook Air:
Write speed: 1940 MB/s
Read speed: 2458 MB/s
SSD connected to dock with 4K@144Hz HDR monitor:
Write speed: 1030 MB/s
Read speed: 2402 MB/s
SSD connected to dock with 4K@60Hz monitor (no HDR):
Write speed: 1152 MB/s
Read speed: 2400 MB/s
SSD connected to dock with no monitor:
Write speed: 930 MB/s
Read speed: 2390 MB/s
Interestingly, write speeds were reduced by ~10% without a monitor connected to the dock.
Power Delivery
The dock provides 90W of power delivery to the host laptop via Thunderbolt cable.

The external power brick is 180W, reasonably sized for the wattage, and connects to the dock via a barrel port.
Build & Design
The Kensington SD5700T dock has a durable gray aluminum body for the outer surface.
The machined gray aluminum looks premium, with a metal thickness of around 2mm.
The faceplates are quality black plastic. Typically, black plastic attracts fingerprints, but this one seems to handle them very well. I couldn't notice any prints after touching it with my sweaty fingers.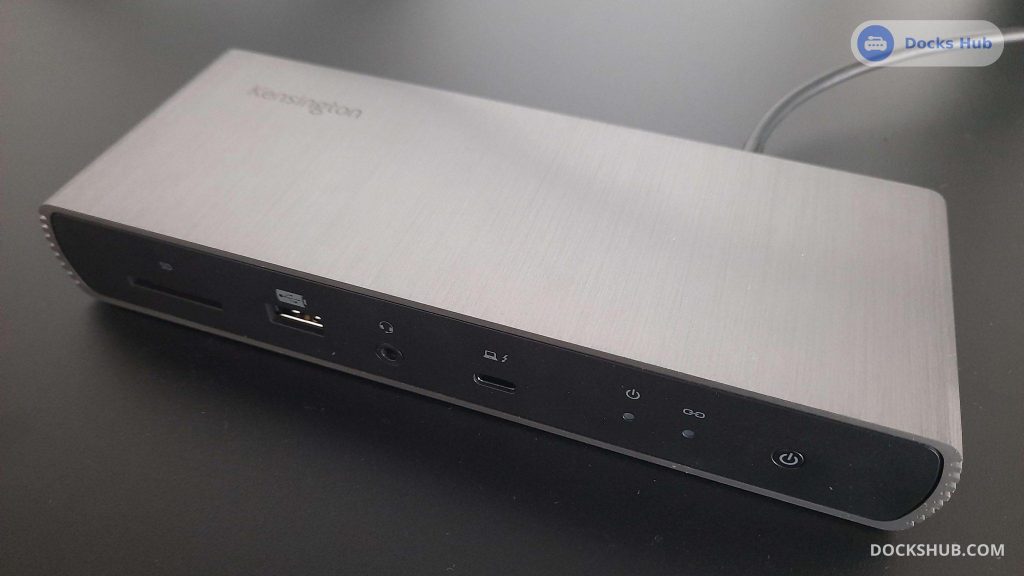 It has some subtle groove lines on the sides that add to the aesthetic and possibly improve heat dissipation.
On the bottom, it has rubber feet to make it stable when sitting on a desk.
It weighs 0.9 pounds with dimensions of 7.1 x 3 x 1.2 inches.
Overall, the dock has a premium feel and a durable yet sleek design that should hold up well to daily use.
Mounting Options
The dock has 2 VESA slots at the bottom, so you can mount it on the side of your desk or the back of your monitor.
Kensington sells mounting kits separately for this purpose.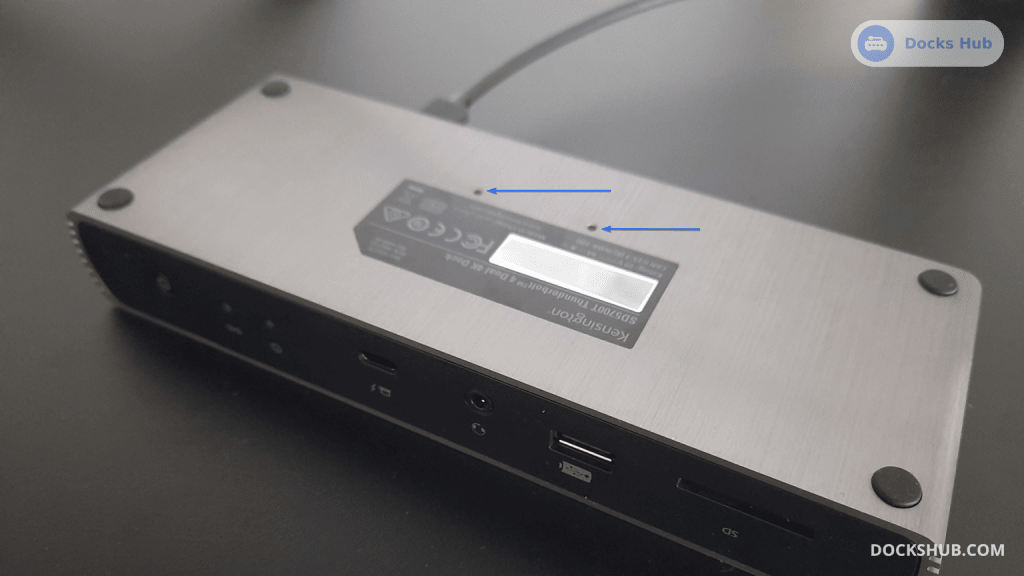 Having mounting options is useful if you want to do better cable management and keep cables out of view. The mounting versatility provides more flexibility in setup and helps keep the workspace looking clean.
Networking Features
The Kensington SD5700T docking station comes equipped with useful networking capabilities:
MAC pass-through allows your laptop to keep its same MAC address when using the docking station. This means the network recognizes your laptop as the same device, even when docked. This is important in corporate environments where they maintain secure networks.
Kensington also offers DockWorks, a free software that enables end-users to easily manage MAC pass-through and optimize the docking experience.
Additionally, DockView gives IT administrators a dedicated tool to remotely manage and monitor docks across the organization.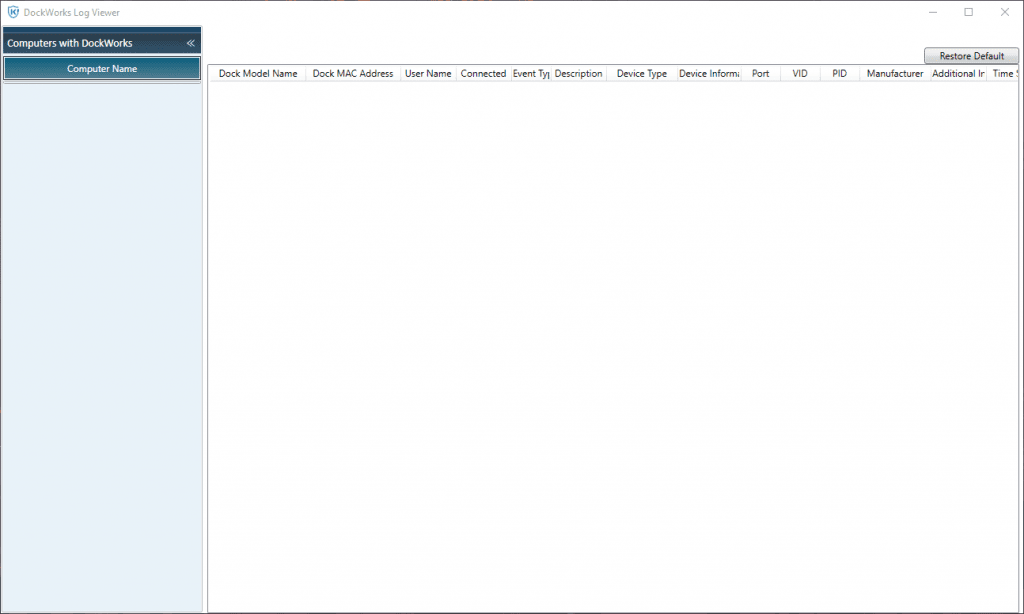 One notable absence is Wake-on-LAN support. This feature lets IT staff remotely power on devices over the network for easier maintenance. The lack of WOL may be a drawback for IT teams managing a large fleet of devices.
The SD5700T provides key network features like MAC Pass-Through and centralized IT management tools. But the missing Wake-on-LAN function could be a potential downside for some IT environments.
Brand, Support, & Community
Kensington is a top-notch brand with an excellent reputation in the docking station market. They have a strong presence and following in docking station discussions on platforms like Reddit, YouTube, and other community forums.
As a popular docking station, the SD5700T has an active user base, so you can find plenty of feedback from fellow owners online. This makes it easier to get insights from other experienced users if any questions arise.
Kensington provides stellar informational support on its website. The SD5700T product page offers thorough technical specifications, compatibility charts, videos, manuals, and support resources. This level of detailed information builds trust and confidence in the brand.
Helpful resources like the full user manual and DockWorks software can be easily accessed at the bottom of the product page.
The comprehensive documentation and community knowledge base surrounding the SD5700T dock are invaluable when researching the product and during ownership.
Price & Value
The Kensington SD5700T is fairly priced, in my opinion, given the significant functionality and performance it delivers.
With dual 4K display support, 90W host charging, and Thunderbolt 4 speeds, it provides strong value at the retail price point.
For professional use cases, and if you have a Thunderbolt 4 compatible device, I think the docking capabilities justify the investment.
Warranty
Kensington provides a 3-year limited warranty on the SD5700T docking station.
The extensive 3-year warranty period boosts the value proposition and provides peace of mind for business and professional usage where reliability is key.
IT departments making large equipment purchases will likely appreciate this assurance of support should any issues arise during the lifetime of the devices.