We may earn an affiliate commission if you purchase products through links on our website. As an Amazon Associate, we earn from qualifying purchases. Learn more.
Acer USB-C Dock II (ADK810) Review
The Acer USB-C Dock II itself is a decent docking station with connectivity good enough to satisfy standard requirements.
Released in 2019, this isn't a high-end, cutting-edge docking solution. Instead, it's a balanced dock that's good for your setup if you're not looking for speeds for high-end tasks.
Key Takeaways
Balanced Dock: Not the latest and greatest, but it provides a decent array of ports for standard use cases.
A bit outdated: It doesn't have Thunderbolt ports and DisplayPort is 1.2.
Build: The stand and overall build are robust. The inclusion of magnets in the stand is a thoughtful touch.
Setup Experience: Expect some bumps on the road, especially if you need to update firmware or drivers.
Community and Support: Acer's support for this dock feels sparse, and community discussions are limited.
Value Proposition: Considering its features and the user experience, the price is much too high in my in my opinion.
In this review, I'll dive deeper into my experience with the dock.
Unboxing and First Impressions
On opening the package, you'll find:
Acer USB Type-C Dock II

A USB Type-C cable with an attached USB-A adapter

(though it can be cumbersome if not needed)

AC 135W power adapter

and power cord

A metal stand

2 screws for the stand

, although optional. The stand is pretty sturdy by itself.

Documentation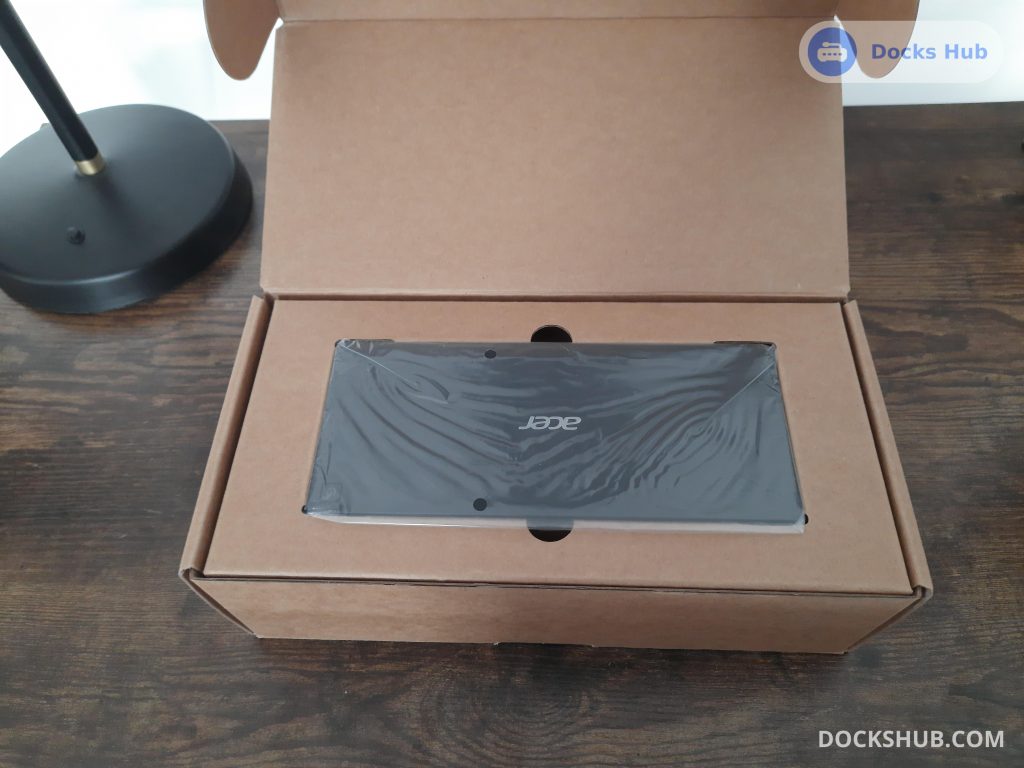 Design and Build Quality
The dock, predominantly plastic, feels durable. It feels light yet sturdy.
The stand is made of sturdy metal. It seems to have magnets that help secure the dock firmly. I like this feature and can confirm the magnets ensure the dock stays in place yet remains easily detachable.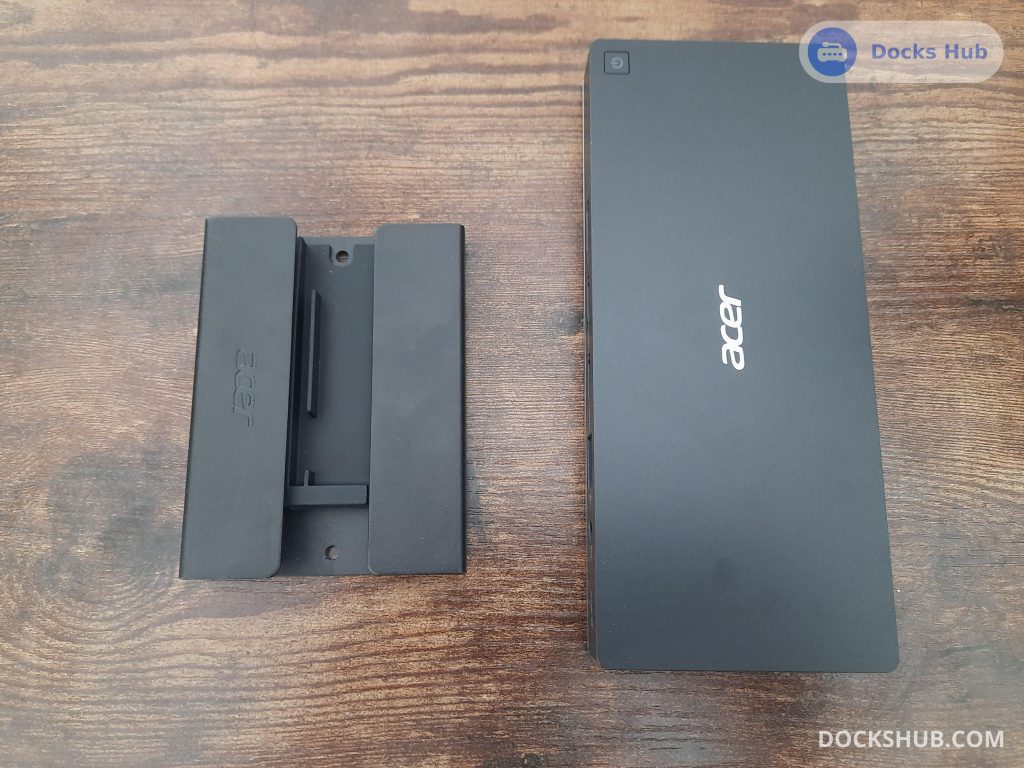 Connectivity
Ports
Ports available on the dock include:
1 x RJ-45 (Ethernet)
2 x HDMI 2.0
1 x Audio Combo
1 x USB-C
1 x Display Port 1.2
2 x USB-A 3.0
1 x USB-A 3.0 w/ Charging
1 x Kensington Lock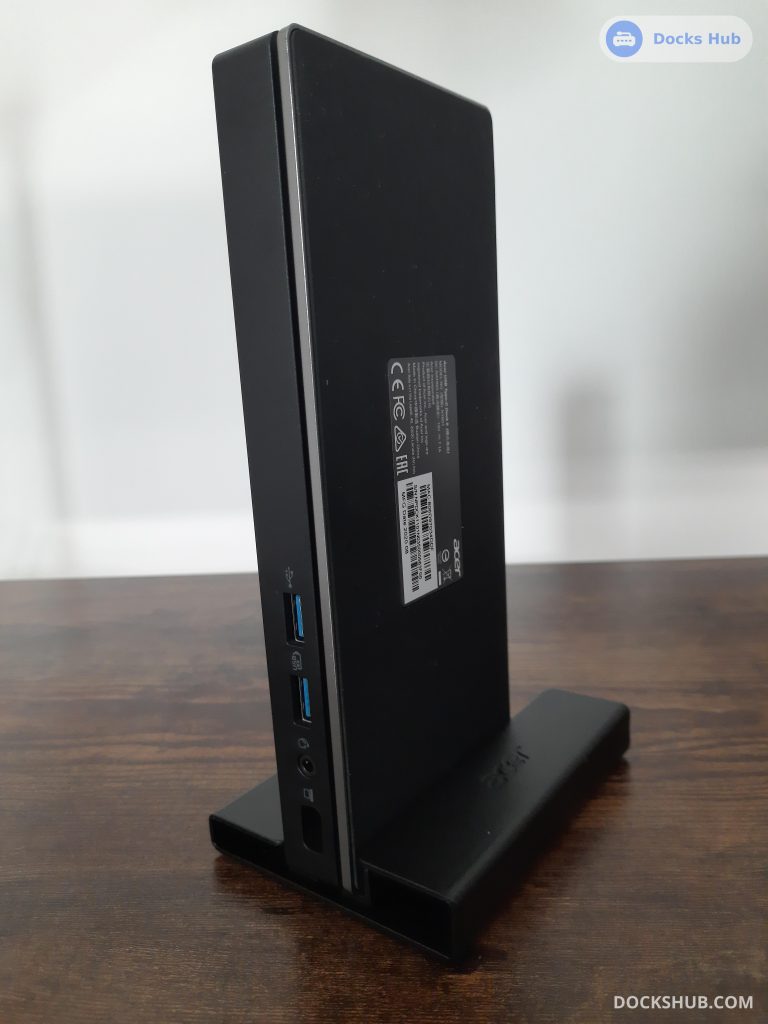 Power Indicator
The dock has a blue LED power indicator:
Pulsing – Dock has power but no host connected

Solid on – Connected to host

The LED provides immediate visual feedback on the dock's status. This is useful for quick troubleshooting.
The dock needs the latest firmware for full functionality when the host laptop is in sleep or hibernation modes. Update firmware for best performance.
Ease of Setup and Use
Setting up the Acer USB-C Dock II wasn't as seamless as I had hoped. Depending on your device and the specific dock you receive, your mileage may vary. While some users might find it a straightforward plug-and-play experience, I had to jump through a few hoops.
Firmware/Drivers
If the dock doesn't work right out of the box, you'll likely have to refer to the dock's PDF manual for guidance.
In it, they direct you to a specific link (https://go.acer.com/?id=17883) where you must enter the serial number of your dock to access the utility for firmware and driver updates.
This process felt redundant and outdated, to be honest. I tested it on multiple devices, and each time, I had to input that serial code. It gave me a feeling of dealing with legacy tech, reminiscent of the clunky software setups from the early 2000s.
Once you finally reach the utility for firmware and driver updates, the user experience doesn't get much better.
Here's a link to the download page for our docking station.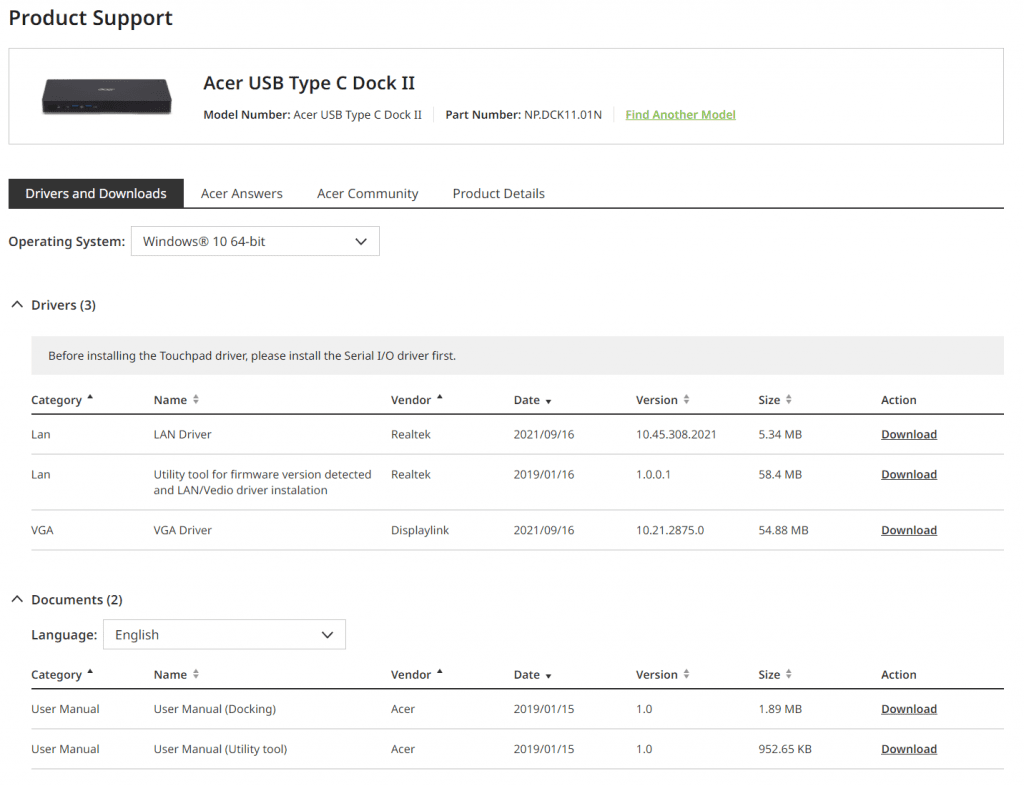 Another issue I have with this is that it says it's available for Windows 10 (not Windows 11), and no other information about other operating systems.
The user manuals are full of typos and English that doesn't sound native, and the whole experience is like I'm dealing with recent abandonware.
Acer Firmware and Driver Update Tool
The utility interface is not very intuitive. After installing the required drivers, such as DisplayLink and LAN, I was met with greyed-out buttons. This left me stuck in the utility with no clear way to exit, forcing me to resort to ending the task via the task manager.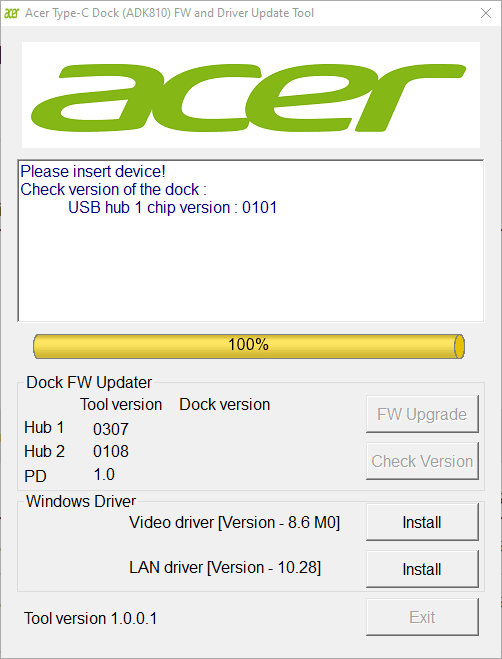 Compatibility
This dock should have universal compatibility, but always ensure your device specifications align with the dock's capabilities.
Additional Features
I'm quite impressed with the dock's advanced network features. Unlike the Dell WD22TB4 which only supports MAC pass-through for Dell-commercial laptops, this Acer dock offers it for any laptop. The features include:
Preboot eXecution Environment (PXE): This allows any connected computer with the right BIOS settings to boot from a server.
MAC Pass Through: The MAC address of the host laptop can pass through the dock.
Wake on LAN from Dock: The laptop can be awakened via the dock's LAN port when connected.
Pros and Cons
Pros
The dock has a good deal of ports, providing decent connectivity options.
It ticks a lot of boxes for someone with standard requirements.
I'm genuinely impressed by the build, especially the stand, which not only saves space but is also very sturdy.
Good networking features (MAC Pass-through, Wake on Lan, and PXE)
Cons
It feels a bit outdated to me without newer ports like Thunderbolt or DisplayPort 1.4.
I think the price is a bit high given the limited features, small user community, and its outdated feel.
Community and Support
Community for Acer docking stations seems practically non-existent.
The most community discussion I could find for any Acer dock was on Amazon reviews for a different similar model, which did have over 100 reviews to my surprise.
Conclusion
Overall, I can't say I recommend this Acer docking station.
The lack of support, outdated ports, limited features, and high price make it hard to justify.
It does have some pros like ample ports and sturdy construction. But the cons outweigh the pros in my opinion. If I'm missing some redeeming factor that makes this dock worth it, please let me know!
As it stands though, I don't think most people would be satisfied with this purchase. There are likely better options out there that won't leave you feeling like you overpaid for dated technology. Let me know if you have a different take.